As with most of the fruits and vegetables we enjoy today, the history of cabbage is centuries old. When we walk into our grocery stores, we are viewing produce that has been bred and cultivated over hundreds of years to arrive at that juicy orange or crisp apple. The apple it is believed to be from the forests of Kazakhstan. The orange: the depths of Southeast Asia, and the cabbage comes from the coasts of southern and western Europe. The original wild cabbage, enjoyed a solitary life on cool, remote limestone cliffs overlooking an expanse of ocean. This clump of thick leaves, not at all like the head of cabbage we recognize in our grocery stores, did not thrive with other plants nearby, hence its solitary existence. Life was tough on those rocky cliffs, therefore the wild cabbage held on to all the nutrients it could get.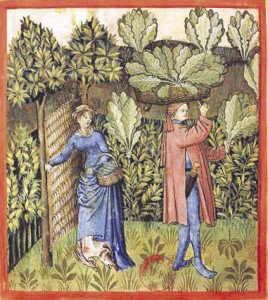 There is debate as to the origins of the cabbage, but it is widely accepted that cultivation was popularized by the Celts of central and Western Europe as early as 1000 B.C. From here, the road to that head of cabbage in your local grocery store takes many twists and turns. The original wild cabbage looked much like a clump of kale because they are part of the same family: the Brassicaceae, or Brassica. Brassica includes kale, cabbage, cauliflower, broccoli, turnips, Brussels sprouts, kohlrabi and bok choy—all unique.
After the cabbage was introduced by the ancient Celts, it became wildly popular and incorporated into most gardens, from the Roman Empire to the Greeks, throughout most of Europe, the Mediterranean and parts of Asia. Over time, popularity of this cruciferous vegetable grew amongst the Irish, Germans, French and Scandinavians. It was cultivated and bred to fit the predilections of each culture, which is why the Brassica are so distinct from one another, yet still part of the same family.
Eventually, a taste for the young, tender leaves led to the selective breeding that resulted in the "hard-headed" cabbage we use today. This development is believed to have occurred around the first century, but it became well documented around the 16th century, when cabbage found its way to America via Canada. Northern Minnesota gardeners know that most Brassica are easy to grow in our climate. Ideally, cabbage prefers a cool, humid climate and rich, loamy soil.
Early in its history, cabbage was used in the Roman Empire as a hangover cure. Later, it was used medicinally as a poultice to reduce risk of infection, so it was carried by men during times of war. It was also known for its anti-inflammatory properties. Today, we know scientifically that cruciferous vegetables help in many more ways. Cabbage is a great source of folic acid, vitamin C, chlorophyll, minerals and fiber.
The strong cabbage smell and bitter flavor come from sulfur compounds known as glucosinolates. According to the National Cancer Institute, "During food preparation, chewing and digestion, the glucosinolates in cruciferous vegetables are broken down to form biologically active compounds such as indoles, nitriles, thiocyanates and isothiocyanates. Indole-3-carbinol (an indole) and sulforaphane (an isothiocyanate) have been most frequently examined for their anticancer effects." Also, according to the National Cancer Institute, studies have shown that eating cruciferous vegetables with these compounds can help protect cells from DNA damage, help inactivate carcinogens, inhibit tumor blood vessel formation and tumor cell migration and are known for their antiviral, antibacterial and anti-inflammatory effects.
As a shopper, peak season for cabbage begins in the fall and runs through the winter. Cabbage is an easy addition to any dish, from soups and salads to a casserole. Fermented cabbage, such as sauerkraut or kimchee, are not only tasty, but are also prebiotics: foods that actually help "grow" the good bacteria in our digestive tract.
---
Sweet & Sour Beef Cabbage Soup
Kim Falter
1 tablespoon extra-virgin olive oil
1 pound ground beef
2 teaspoon caraway seeds
1 teaspoon dried thyme
1 cup bell pepper, chopped
1 cup onion, chopped
1 apple, diced
6 cups beef broth
1 14.5 ounce can diced tomatoes
2 tablespoons honey
1 tablespoon paprika
3 cups cabbage
2 tablespoons cider vinegar
Add salt and pepper to taste
Heat oil over medium heat in a soup pot. Add beef, caraway and thyme. Cook, stirring and breaking up meat, until browned, approximately 4 minutes. Add peppers, onion and apple. Cook, stirring 2-3 minutes. Stir in broth, tomatoes, honey and paprika, and adjust the heat so the mixture boils gently. Cook for 8-10 minutes to blend flavors. Stir in cabbage and cook until just tender, roughly 3-4 minutes more. Season with vinegar, salt and pepper to taste. Serves 6
---
Asian Cabbage Salad over Rice Noodles
Kim Falter
3 cups cabbage, preferably savoy, thinly sliced
3 cups red cabbage, thinly sliced
1 cucumber, seeded and sliced
6-ounces of snow peas, trimmed and thinly sliced
3 green onions, sliced
6-ounces rice noodles
Optional: 1 pound of steak or chicken
Marinade:
2 tablespoons tamari or soy sauce
2 tablespoons rice vinegar
2 tablespoons honey
Dressing:
6 tablespoons tamari or soy sauce
1/4 cup extra-virgin olive oil
1/4 cup rice vinegar
3 tablespoons honey
1 tablespoon toasted sesame oil
1 tablespoon fresh ginger, minced
2 cloves garlic, minced
Add red pepper flakes, to taste
If using meat, combine marinade ingredients and pour over steak or chicken. Marinate a few hours, preferably overnight. Combine dressing ingredients and pour over combined cabbage and vegetables. Cook rice noodles according to directions on the box, drain well. Add noodles to vegetables, toss well. Grill or broil meat to preferred doneness, then slice into thin strips. Arrange meat over noodle-vegetable mix and serve. Serves 6-8
---
Sauerkraut Sausage Casserole
Kim Falter
4 teaspoons extra-virgin olive oil
1 onion, sliced
2 teaspoons caraway seeds
1 apple, chopped
1 cup dry white wine
10 ounces sausage, cut into 1/2 inch slices
3 cups sauerkraut, rinsed
3 tablespoons cider vinegar
1 tablespoon stone-ground mustard
2 large yellow potatoes, thinly sliced
1 tablespoon butter
Add salt and pepper, to taste
Preheat oven to 400 degrees Fahrenheit. Heat 2 teaspoons of oil into a large skillet over medium heat. Add onion and cook until slightly browning, about 5 minutes. Stir in caraway and cook until fragrant, about 30 seconds. Add apple and wine, increase heat slightly, stirring until wine has evaporated, about 5 minutes. Stir in sausage, sauerkraut, vinegar, mustard and pepper. Transfer to a 9×13-inch baking dish. Toss potato slices with remaining 2 teaspoons oil, butter and salt. Cover the sausage-sauerkraut mixture with slightly overlapping potato slices. Bake casserole for 50 minutes to 1 hour, until potato edges get crispy. Serves 6