After a fun day of skiing or a winter adventure with your canine companion, a bowl of hot soup or chili hits the spot. And while soup may be thought of as a starter or side dish, many of our local restaurants make wonderful homemade soups that are the star of any meal. As a volunteer of the annual Empty Bowls fundraiser in Grand Marais, I'm happy to say that our local restaurants are very generous with donating soup and our community has been able to sample soup from across the community each fall. But November is a long ways away, so here are some spots to enjoy hearty and delicious soups in the meantime.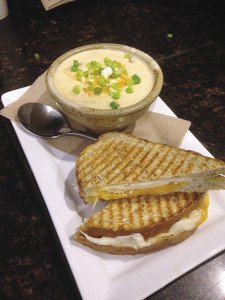 Having grown up in Two Harbors, I always keep up on new restaurants and foods to try when I visit home. Over the past few years, one restaurant has been getting a lot of notice by winning the Restaurant Chili Cook-off as part of Two Harbors' Winter Frolic festival. From 2013 to 2015, Kamloops Restaurant and Lounge at Superior Shores Resort won the Cook-off with their executive chef, Kevin Aho, at the helm.
Chef Aho has been working on his chili recipe since 1994 and it is now a staple on their menu. As he describes it, "I wanted to stray from the traditional hamburger chili, so I started infusing beef with Jack Daniels." Purportedly, the infusion of Jack Daniels gives the meat a smoky balance, while breaking down the muscle, giving it a unique, melt-in-your-mouth savory bite. It takes 72 hours from start to finish for the chili—which I admit, must help develop a great deal more flavor than my 30 minute quick chili recipe.
"With the infusion of unique ingredients, my chili has the classic tomato chili flavor, a smoky and sweet balance, and because I believe in big flavor, just enough spice to make it perfect. I like to say my chili has a flavorful hot, not a hurtful hot," Chef Aho said.
When you stop in to try the chili, you can either start your meal with a cup or make it a full meal. Eat a bowl with homemade tortilla chips, sour cream and cheese, spoon it over their sweet potato fries, or order a classic grilled cheese sandwich to have on the side for dipping. If you aren't in the mood for chili, Kamloops also serves a homemade soup of the day, which ranges from Classic Chicken Wild Rice to Pot Roast-inspired soups. They also have Cioppino, a seafood stew with mussels, shrimp, clams and cod, on their dinner menu. They have local brews on tap and a full bar to round out your meal. This year marks Kamloops 20th anniversary, so be sure to congratulate them on your next visit.
If soup is more up your alley, there is a café in Tofte calling your name. Coho Café and Bakery at Bluefin Bay serves unique bistro fare, including a homemade soup of the day everyday. Perfect for take-out or dining in, Coho Café serves breakfast and lunch seven days a week, and dinner Friday to Sunday during the winter. I used to work nearby and I may have developed a dangerous love for their Grilled Veggie Sandwich with a cup of soup.
While their creamy wild rice soup is a diner favorite, each day brings a new soup made fresh. Most of their recipes have been handed down over the years, but their cooks also get creative and find inspiration to develop new recipes. A recent inspiration was a staff member's dinner the night before, which led to the Peanut Curry Soup. The only challenge with inspired soup recipes, according to Nate Raway with Coho Café, is naming them.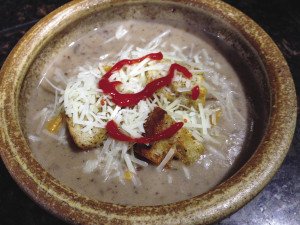 Even if you come for the soup, you won't be disappointed with the food and drink options. The Coho BLT and the Club are great sandwiches to pair with a cup or bowl of soup. Or keep it simple and enjoy it with the accompanying fresh bread baked at the café. Beer and wine are served and don't forget to peek in their pastry and bakery case. While enjoying your meal or before hitting the road, be sure to take a look at the art featured on the walls—it rotates throughout the year and is often local artists like Tim Young. And as Raway said, "We hope that every guest at Coho Café feels welcome and relaxed, we try to keep the atmosphere relaxed and friendly." That's my kind of café.
Another café has become recognized for their soups, especially for their easy take-out option. In Thunder Bay, the Bean Fiend Café and Sandwich Bar serves up two homemade soups everyday in the Bay and Algoma Neighborhood. Originally started as a fair trade clothing store, the owner Brian Hamilton realized that he had the makings of a great café after buying a lot of funky furniture on one of his trips to Nepal and Thailand. After extensive renovations, the Bean Fiend opened in spring 2010 with a new mission as a café.
The Bean Fiend is a casual café and lunch spot that serves coffee, tea, baked goods, sandwiches and soup. Almost every item on their menu is made from scratch, including their soups. They also use regionally produced ingredients when available. Since the start of 2016 they have been in high gear for soup exploration and development, adding at least 6 new soups to their regular offerings. So stay tuned to see what new soups 2016 will bring.
Their house favorites include Creamy Kale & Lentil and Curried Chickpea Chowder, and their classic Chicken N' Rice is becoming a customer favorite. Their most popular sandwich, the Chicken and Brie Sandwich with brie cheese, spinach, garlic aioli and apricot jam on Winnipeg rye, pairs well with all their soups. They also recommend pairing their grilled cheese when their chili is available. Also keep an eye out for their soups topped with their homemade croutons—yum!
In addition to offering a comfortable café for lunch, the Bean Fiend offers the option of take-out. Give them a call (807-768-BEAN) and provide your name, pick-up time, order, and you'll be all set for a quick to go lunch in Thunder Bay. About half of their soup sales are to go, so they are well prepared to take care of take-out customers. The café is open Monday through Saturday. As owner Brian quipped, "Awesome. It's what we do."
If you'd like to try your hand at making your own delicious chili, I'm sharing my recipe for Hearty Weeknight Vegetarian Chili. While it doesn't get the 72-hour head start of Chef Aho's chili, it is a hearty and delicious recipe that is great for a chilly weeknight evening. This month, I hope you enjoy some time in our beautiful outdoors and follow it with a hot bowl of soup to warm you from the inside out.
---
Hearty Weeknight Vegetarian Chili
Maren Webb
This hearty vegetarian chili will even please the meat lovers, especially with some great toppings at the end. Don't forget the cornbread!
1½ tablespoons olive oil
2 small onions, diced (about 1½ cups)
6 cloves garlic, minced
1 bell pepper, diced (any color is fine or use a mix)
2 cup water
4 tablespoons chili powder
1 tablespoon cumin powder
2 cans kidney beans, drained (15 ounce) or make your own in the crockpot
(note: kidney beans have to be boiled first before they are cooked in the crockpot)
2 cans chickpeas, drained (15 ounce) or make your own in the crockpot
2 cans diced tomatoes, undrained (14.5 ounce)
Toppings: shredded cheddar cheese, sliced green onions, sour cream
or Greek yogurt, etc.
Use a large soup pot and heat the oil over medium heat. Add the onion, garlic and bell pepper to the pot and sauté for 5 to 7 minutes, stirring regularly. If it is cooking too fast or sticking, you can turn down the heat a bit. Now add the water, chili powder, cumin, kidney beans, chickpeas and tomatoes to the pot and bring to a boil. Once it reaches a boil, reduce the heat and gently simmer uncovered for about 30 minutes. Stir occasionally as needed. Serves 4-6
Inspired by Chili Uno-Dos-Tres in the Student's Vegetarian Cookbook, Revised