Bluefin Grille offers delicious food with amazing views of Lake Superior.

| BLUEFIN GRILLE
---
Lake Superior is a magnificent sight, whether standing on her shores or seen from afar. The lake often serves as a muse for artists and even inspiration for chefs and restaurants that perch on her edge. For the diner and artist alike, proximity to this Great Lake allows one to experience all her moods, from the calm, mirror-like days to the raucous, turbulent waves on a blustery day. These waterfront restaurants each feature views and menus that highlight the natural setting on the lake, often using ingredients harvested and grown locally. Ready your senses for delight with the combination of beautiful views and delicious food waiting for you on the shores of Lake Superior.
Tucked into the Thunder Bay Marina is a not-so-hidden scenic gem, Bight Restaurant and Bar. The brainchild of owner and general manager Bianca Garofalo, Bight is aptly named. A nautical term meaning "a curve or bend in the line between land and water" and pronounced "bite," it provides a double meaning. Bight offers diners everything from a quick bite with a drink on the patio to a full meal at your leisure.
The marina and Lake Superior offer the perfect backdrop for Bight's seasonally-inspired menu. Walls of large windows frame the picturesque surroundings.
"It's like living art," said Garofalo.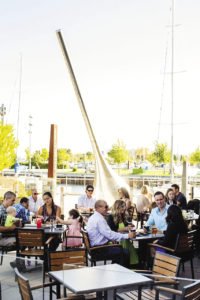 The restaurant is also located in the Water Garden Pavilion, with the popular summer splash pad and winter ice rink next door. If you aren't interested in joining in the fun of the seasonal splash pad/ice rink, do consider a stroll around the marina before or after your visit to Bight to take in the full surroundings, including views of the Sleeping Giant.
While Bight's menu changes with the seasons to take advantage of local foods, you can always expect flavorful options and some long standing favorites on the menu. The Tarrymore burger is a staple, named after Tarrymore Farms that raises the beef. The fish and chips, breaded with local Sleeping Giant Brewing Co. beer, and the shrimp and lobster pasta, made with fresh pasta from local Big Lakes Pasta, are two other favorites to try. For other seasonal dishes, head chef Joe Sposato draws inspiration from his childhood in an Italian family, where food was always a passion.
"He creates dishes for Bight based on seasonal influences, but always tries to keep it fresh and light," said Garofalo.
This fall, Sept. 26 through Oct. 7, Bight will be part of "Northern Delights," a restaurant prix-fixe special in Thunder Bay. If you can't make it to Bight this month, consider a visit this fall. Bight Restaurant and Bar (2210 Sleeping Giant Parkway, Unit 100, Thunder Bay) is open daily at 11:30 a.m. Closing times vary by day of the week (Sunday and Monday: 10 p.m., Tuesday and Wednesday: 11 p.m., Thursday: 12 a.m., and Friday and Saturday: 1 a.m.).
On the rocky Lake Superior shoreline of Cook County, another restaurant is bringing together stunning views and a regionally-inspired menu for a memorable dining experience. Bluefin Grille, located at the Bluefin Bay Resort, reflects its location on the beautiful Lake Superior cove.
The name, Bluefin Bay, stems from the lake and its fish. Ted Tofte, son of the founder of the town of Tofte, came up with the name, from the bluefin herring that was caught there in the past in great numbers. From the name to the menu: now other Lake Superior fish are highlighted on the Bluefin Grille menu. Currently, the seared Lake Superior trout served with smoked bacon, braised lentils and caramelized carrots, is a guest favorite. Executive chef Dan Dommer enjoys focusing on seasonal ingredients and sources locally, including the Lake Superior trout, duck, sausage, turkey, maple syrup and wild rice.
"There is nothing quite like enjoying a meal or cocktails while watching the waves crash in, seabirds in flight, or witnessing a storm roll over the lake and disappear over the horizon," said James Taylor, Bluefin Bay food and beverage director.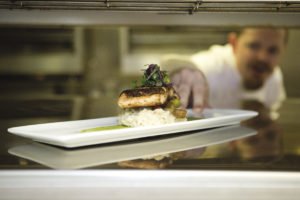 Diners are also welcome to enjoy more of the lake, with a quick walk down the Bluefin boardwalk, skipping a few stones, or sitting on the beach to watch the waves roll in. If you are looking for a meal even closer to Lake Superior, this summer Bluefin Grille will be hosting Friday night grill-outs through the month of August on its lakeside patio, 5-8 p.m. More information available by phone at (218) 663-6200. Resort guests, residents and visitors passing through Tofte are all welcome.
Bluefin Grille is located at Bluefin Bay Resort in the heart of Tofte (7192 West Highway 61). It is open daily, from 8 a.m. to 9 p.m., for breakfast, lunch and dinner. A late night menu is also available daily from 9-11 p.m. and the bar is open until at least 11 p.m.
Beaver Bay is touted as the oldest settlement on Lake Superior's North Shore, established in the 1850s. Cove Point Lodge, located in Beaver Bay, highlights this history and its connection to the lake. While maybe most well-known for its supersized Adirondack chairs along Highway 61, the lodge is situated on a beautiful Lake Superior cove, hidden away from the highway. The dining room features not only inspiring lake views, they also offer dining on the water with special brunch boat tours and lakeside barbecues.
"See this part of the shoreline, it's phenomenal," said Richard Selz, food and beverage director/assistant general manager.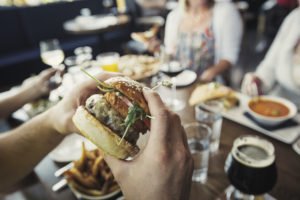 This shoreline and location on the lake inspires Cove Point to go local whenever they can. From the produce sourced from the Finland-based Round River Farm, to the herring caught and served on the same day, drawing from local vendors allows them to let the ingredient speak for itself with its quality and freshness. Even sumac makes an occasional appearance on the menu, which is not a common sight but is another local item available seasonally. A current summer special is a new appetizer called Sinner Fries, made with duck fat and rosemary. The appetizer is best served with a glass of sparkling wine or champagne, if you are looking for that special treat.
In addition to locally sourced items, Cove Point takes advantage of the local area with its special food events. This summer, they have partnered with North Shore Scenic Cruises to offer Sunday Brunch Cruise on the Wenonah through August. Each Sunday, 11 a.m. to 1:30 p.m., you can enjoy a Lake Superior boat tour and brunch ($50 per person, $30 per child under 12). Summer Thursday evenings are North Coast Cowboy Beach Barbecues, featuring favorites like smoked brisket, brats and corn-on-the-cob. Based out of Mickey's Fish House lakeside, live music and professional cooking over an open campfire offer a unique dining experience and fun for all ages ($25 per person, $12 per child under 12). If you are looking for a quick bite on your way through, Cove Point Lodge also offers casual atmosphere dining at its Crossing Bar and Grill right off Highway 61. Grab a burger or pizza and a local beer.
Cove Point Lodge dining room is open 5-9 p.m., daily (4614 Highway 61, Beaver Bay). For more information about their boat tour brunches and barbecues, or for reservations, contact (218) 226-3221.
This summer, be sure to enjoy some wonderful views and food at one of our waterfront dining gems. Try a locally-sourced dish and revel in the beauty nature provides while the season of bounty lasts.