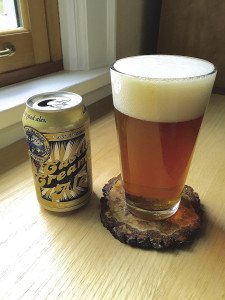 Standing in line, I hurriedly picked a Castle Danger brew without even knowing my choice. Later, I learned it was their Castle Cream Ale. It was a glass of clear, dark gold with a finely marbled head. A clean, straightforward drink that was smooth and sweet, it finished clean with only slight bitterness.
I asked Jeremy King, the head brewer at Castle Danger Brewery, what makes cream ale. He said it was the "most American" of beers with a non-barley grain element. King said that they first started brewing it in 2011 or 2012 as a summer seasonal. Because of the demand for this session beer, they made it one of their four year-round choices. I asked King to explain the concept of a session beer. "It's when you're sitting down just to drink beer. You might have one. Or two. You want beer with a light mouth feel on the crisp side with low alcohol content."
"It has flavor notes that aren't overpowering," said King. "It's easy drinking. The honey malt gives it a biscuit-like note. There's slight spice from the German hops. Kind of a fruit salad element from the yeast."
King said their Cream Ale fits well in taplines because it's not competing directly with macro beers or the IPA's. "It appeals to a craft beer drinker with a lot of flavor. But it's also a good entry-level beer. A 'welcome to the party' beer."
Join the party at the Castle Danger Brewery taproom in Two Harbors and give this unique beer a try.