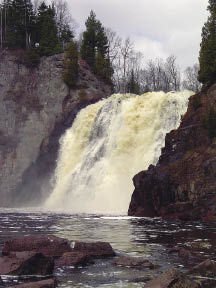 The 70-foot High Falls of the Baptism River has the distinction of being the tallest waterfall in Minnesota. (High Falls of the Pigeon River is higher, but half of it is in Ontario.) The Baptism's High Falls Trail rises sharply at first and soon intersects the Superior Hiking Trail. There, go right following a path that is well-groomed, though steep in spots. The trail follows the west side of the river, passing through birch forest carpeted in bunchberries and thimbleberries. After about 15 minutes, you'll arrive at a wooden overlook of High Falls. To your left, 67 wooden steps lead down to another observation platform. The view here is somewhat obscured by vegetation, though, so continue down 49 more steps for a better overview at the river bridge.
Cross on the springy suspension bridge and head downstream. A series of boardwalks and short runs of steps going up and down lead to varied views of the falls. One hundred and fifty-seven wooden steps take you to the river and a view looking up at the waterfall. Mist dances like spirits, high into the air. Awesome!
The suspension bridge is the only hiking bridge that crosses the river, so to return to the trailhead or to continue on to Two Step Falls, retrace your path back up all those steps, cross the bridge, then go right and return to the trailhead or go left to Two Step Falls and the campground.
Heading towards Two Step Falls, you'll come to a fork in the path and a sign, "1/8 mile to Two Step Falls, ½ mile back to High Falls." Take the left fork and proceed down 175 stairs. This falls is stepped. The first drop, about 12 feet, is split by a large rock, and tumbles into a pool, narrows, and breaks in two again for a smaller drop. The killer steps (especially on the heels of the trek to High Falls) definitely detract from the overall experience of Two Step Falls (or should it be called 175 Step Falls?). The climb back up is quite strenuous. When you get back to the sign indicating the distance to Two Step and High Falls, go left to the campground. Follow the road out of the campground, and when it splits, go right to the trailhead parking lot.