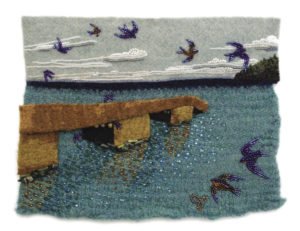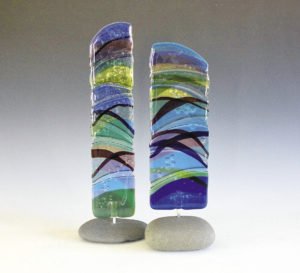 This month, we honor Lake Superior. Both beautiful and powerful, Lake Superior is more than just a lake. Many people depend on it for work. For others, it provides inspiration. Photographers and artists flock to it, hoping to capture the perfect image. Tourists plan trips around it. For me, it provides tranquility and serenity, even on the stormiest of days. Because even at its worst, there's something mesmerizing and empowering about Lake Superior.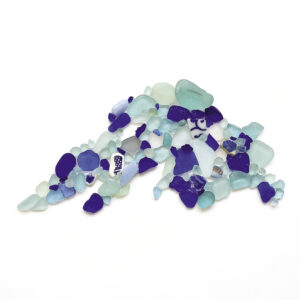 Nancy Seaton works with blown glass to create Lake Superior inspired totems [left]. Her work can be found at Sivertson Gallery in Grand Marais or Duluth. Visit www.sivertson.com for info. Seaton also works as an instructor for the Grand Marais Art Colony. Visit www.grandmaraisartcolony.org.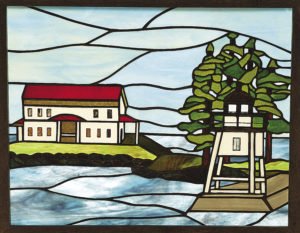 Fiber artist Jo Wood created a felt portrait of the Hovland Dock [far above].
Artist Anne Gorham uses polished glass, also known as "mermaid" or "fairy tears," to create images, such as Lake Superior [right]. To see more of her work, visit www.lakesuperiorbeachglass.com.
Shelly Bouquet creates stained glass images, such as this one [far left], depicting the Grand Marais harbor. You can find more works by Shelly by visiting Cedar Shores Stained Glass on Facebook. Or find her artwork at The Blue Moose store in Grand Marais; www.thebluemoosemn.com.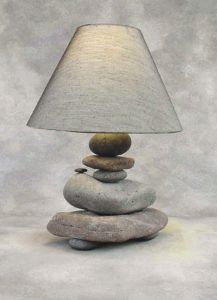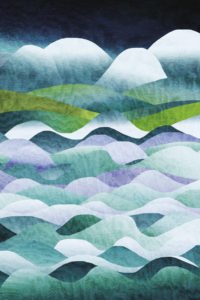 "Shoreline," an oil painting by Greg Murphy, depicts a cold Lake Superior day [far below].
"Windward Shore" by Marian Lansky [left], can be found at the Sivertson Gallery, located in Grand Marais and Duluth. Visit www.sivertson.com for details.
Lastly, Gail Anderson of Grand Marais creates original rock lamps [right] using stones from Lake Superior. To find more of her work, visit www.superiorlightsource.com.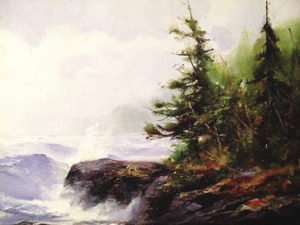 ---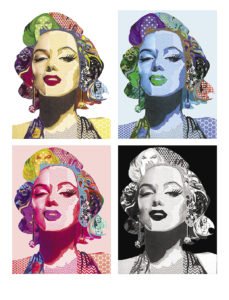 The Bayfront Art Festival will be held Aug. 18-21, from 10 a.m.-6 p.m., in Bayfront Park, Duluth. This year's show will feature 170 juried artists of all different mediums, from ceramics and jewelry-making, to painting and photography. The artists are then judged in the category of their choice. To select a winner, judges look at beauty, skill and technique, emotion, and the meaning of the art. Visit www.artinbayfrontpark.com for more info.
Collage artist Kristi Abbott is influenced by pop culture, as seen in her "Marilyn" print [left]. To see more, visit www.madebykristi.com.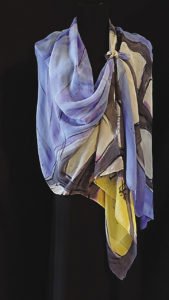 Dan Neff creates glass art, such as these bottle stoppers [far bottom]. His work can be found at Lake Superior Art Glass in Duluth, or by visiting www.lakesuperiorartglass.com.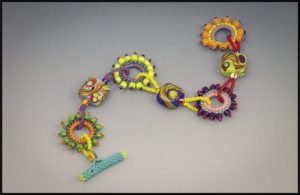 Sydney Krieger of Mystic Earth Designs uses dye and fabric to create wearable art, such as this silk scarf [right]. Visit her website at www.mysticearthdesigns.com.
The Bayfront Festival will include many jewelry artists, such as Sue Peoples, who creates her own glass beads [left]. Visit www.peoplesbeaddreams.com to see more artwork.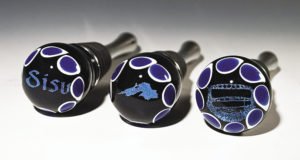 ---
Breana's Pick of the Month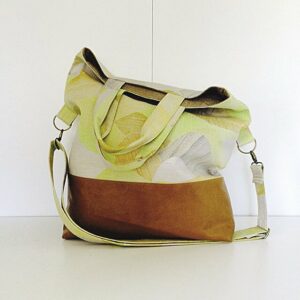 This month, I'm eager to show off the beautiful work of Brienne Moody from Grand Marais, who creates sophisticated leather bags, clutches and totes, and knits hats, sweaters, kids clothing and more, all from home. One of my favorites is this yellow leather clutch, perfect for a summer or autumn day. Her work can be found at www.handmadebybrienne.etsy.com.