Fort Under Siege
Aug. 20-21 Fort Under Siege represents one of the most dramatic chapters in Canadian history, recreating the epic confrontation between two mighty rivals, the North West Company (NWC) of Montreal and the Hudson's Bay Company (HBC) of England. Their violent struggle to dominate the fur trade in North America changed the course of Canada's history forever. Watch as the plot unfolds at Fort William Historical Park in Thunder Bay.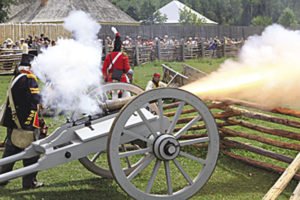 The arrival of the HBC to Fort William, led by prominent shareholder Lord Selkirk, is a result of the NWC's suspected involvement in the massacre of HBC colonists on the Red River. Will Selkirk take his revenge on the inhabitants of Fort William in retaliation for the death of his settlers?
Visitors will have the opportunity to interact with soldiers, join in the emergency meeting of the NWC Partners, help hide muskets and powder, witness the arrival of forces and help with a fort wide search to expose the plot. Kids can sign-up to join the forces of either the HBC or the NWC, but first they must learn how to march like a real soldier. There will also be axe throwing lessons, as well canoe paddling and spy lessons.
Admission is $14 for adults, $12 for ages 13-18 and seniors, and $10 for ages 6-12. Children ages five and under are free. The plot will unravel from 10 a.m.-5 p.m. both days. Visit www.fwhp.ca/fort-under-siege.
Summer Theater Festival
July 21-Aug. 14 The Grand Marais Playhouse will be performing Arsenic and Old Lace by Joseph Kesserling, and The Addams Family musical. Shows will alternate each night, beginning at 7 p.m. Thursday through Saturdays, and 2 p.m. on Sundays. Tickets are $20 adults and $10 for ages 18 and under. Advance tickets are available at www.tix.com. All seating is general admission. www.arrowheadcenterforthearts.org
Fisherman's Picnic
Aug. 4-7 The 87th annual Fisherman's Picnic festival in Grand Marais includes something for everyone; bingo, live music, a dunk tank, kiddy rides, vendors, demos, arts and crafts, the Crazy Daze Sales, and of course, the fishburger stand. There will also be dozens of contests—including the Big Fish contest sponsored by Buck's Hardware and Northern Wilds. The contest will be held July 30-Aug. 6. Visit www.buckshardware.net for more info. And don't forget to buy a raffle ticket for a chance to win $10,000! www.facebook.com/grandmaraislionsclub
Live From the Rock Folk Festival
Aug. 5-7 This annual music and arts festival, located in Red Rock, Ontario, began in 2002 and has become an annual tradition for over 2,000 music lovers. The festival offers music on four daytime workshop-style stages and an evening festival concert stage, as well as a family stage, open mic, and campfire jams. This year's lineup includes Tragedy Anne, The Young Novelists, The Moonshiners, Steve Poltz, Dirty Dishes, Roger Roger and more. There will also be a food court, vendors, a festival pub, an artisans' marketplace, and activities such as yoga by the lake. www.livefromtherockfolkfestival.com
Guest Speaker at Chik-Wauk
August 8, Monday Patricia Emerson will present a program on the underwater exploration of the Granite River done by the Minnesota Historical Society from 1963 to 1970. Emerson will speak about the history of the Quetico-Superior Underwater Research Project. She will have images of the exploration and will provide people with an opportunity to view artifacts that were retrieved during the project. She has some of the nested brass kettles to display and a few other objects. Bruce Kerfoot from the Gunflint Lodge participated in the diving and will add his comments too.
The discussion will start at 1:30 p.m. at the Seagull Community Center/Fire hall. The meeting is open to the public. Museum hours are 10 a.m.-5 p.m. and the new Nature Center is open from 11 a.m.-4 p.m., every day.
Mid-Trail Property Owners Fundraiser
Aug. 10, Wednesday Support the Gunflint Trail Volunteer Fire and Rescue department with the annual Mid-Trail Property Owners Fundraiser, held at noon at the Schaap Community Center, roughly 26 miles up the Gunflint Trail. Enjoy cupcakes and lemonade while browsing the flea market and boutique, followed by a live auction at 1:30 p.m. And don't forget to buy a raffle ticket to win a handcrafted "Gunflint Rocks and Waters" quilt, donated by the mid-trail quilting group.
Brew Ha Craft Beer Festival
Aug. 12-13 Enjoy a convoy of food vendors, live-local music, educational talks and demos, and of course, craft beer. Choose between a day pass for $20 or a weekend pass for $50, both of which include four sample tokens and a custom Brew Ha sample glass. This year's featured breweries include Sleeping Giant, Dawson Trail, Stack Brewing, Muskoka Brewery, Steam Whistle and Beau's. The festival will take place at Prince Arthur's Landing in Thunder Bay. www.brewhafestival.com
Free Sky Gazing
Aug. 12-13 The Royal Astronomical Society of Canada-Thunder Bay Centre is inviting people to join them for a weekend of sky gazing at Quetico Provincial Park. It will be held August 12-13 when the Perseid meteor shower will be at its peak. Free presentations will be offered both evenings. Viewing equipment will also be provided. Contact Brendan Roy at novationheart@hotmail.com for more info.
Bayfront Blues Festival
Aug. 12-14 Roughly 20,000 fans are expected to attend the annual three day Bayfront Blues Music Festival at Bayfront Festival Park in Duluth. More than 30 different acts will perform on two different outdoor stages. This year's lineup includes Pat McLaughlin, WAR, Reverend Raven & the Chain Smokin' Altar Boys, Jennie DeVoe, Javier & the Innocent Sons, Travis Bowlin and more. Ticket info available online at www.bayfrontblues.com.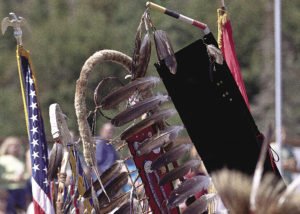 Grand Portage Rendezvous Days and Pow Wow
Aug. 12-14 This year's Rendezvous Days and Pow Wow will feature free tours of the Mist of Avalon and Mackinaw ships, anchored at Grand Portage Bay. Other events include dozens of workshops and demos, contests, an 18th century puppet show, presentations, reenactors and tours of the historic encampment, live music, storytelling, a scavenger hunt, a drum ceremony featuring the Stone Bridge Singers and regale dance. Events will take place at the Grand Portage National Monument. www.nps.gov/grpo
Kraus-Anderson Bike Duluth Festival
Aug. 13-14 Organized and sponsored by the nonprofit Kraus-Anderson Community Foundation, the KA Bike Duluth Festival is a family-oriented mountain bike racing event. Races will be held on Saturday and Sunday, August 13-14 at Spirit Mountain in Duluth. Saturday races include the Long and Short Enduro, Downhill, Kids Downhill, Youth Downhill, KA Dirt Ball, and Bike Tour races. Sunday is the Great Hawk Chase XC Race. Register online at www.bikeduluthfestival.com.
Pan Superior Rendezvous
Aug. 13-14 The annual Pan Superior Rendezvous with the Thunder Bay Yacht Club brings together boaters from around Lake Superior to share in the beauty of Porphyry Island and the lighthouse. Enjoy a weekend of barbecue bonfires, hikes around the island, and lighthouse tours. www.clls.ca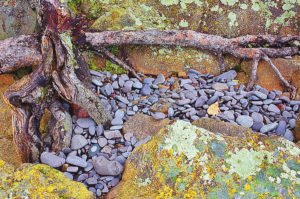 Under the Spreading Walnut Tree
Aug. 13-14 The annual Under the Spreading Walnut Tree Art Festival in Two Harbors will feature approximately 30 artists, along with this year's featured artist; photographer Vince Quast. Folk musician Thea Ennen will also provide live music. The festival will take place from 10 a.m.-5 p.m. both days. More info can be found on Facebook.
Watercross Race
Aug. 13-14 The 11th anniversary of the Watercross Race in Winton (near Ely), will be held Saturday and Sunday, August 13-14. Racing starts at 10 a.m. daily. There will also be family-friendly activities, food vendors, product vendors, and live music by Payback. Visit Facebook for more info.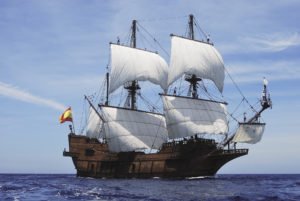 Art in Bayfront Park & Tall Ships Festival
Aug. 18-21 This year, the Art in Bayfront Park Festival in Duluth will be running in conjunction with the Tall Ships Festival. Guests can take a tour or sail Lake Superior on one of the many historical ships. There will also be educational programs, live music and entertainment, food vendors, over 150 art vendors, demos, a parade of ships and more. Visit www.artinbayfrontpark.com or www.tallshipsduluth.com for more info.
Lake County Fair
Aug. 18-21 The Lake County Fair in Two Harbors provides four days of non-stop fun, from a Truck Mud Run and the 3k Dirty Dash obstacle course race, to live music, street dances and the 4th annual Amateur Talent Contest. There will also be free games, prizes, drawings, commercial booths, a 4-H food stand, family movie night, a pie contest and auction, a shooters competition, Minnesota Old West Living History Camp, 4-H horse show, and exhibits. www.thelakecountyfair.com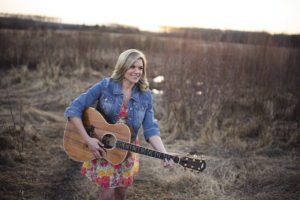 Murillo Fair & Country Fest
Aug. 19-21 The Murillo Fair in Ontario will feature a night of pure country at the Murillo Fairgrounds on Friday, August 19 at the Murillo Country Festival. This year's lineup includes The Road Hammers, Aaron Pritchett, Meghan Patrick and Shantelle Davidson. In addition to live music, there will be food, a beer garden, vendors and fair rides. The gates will open at 3 p.m. and music will be held from 6-11 p.m. on Friday. Purchase tickets online at www.murillocountryfest.com.
Wawa Salmon Derby
Aug. 19-21 Known as "Wawa's Superior Sporting Event," the 37th Wawa Salmon Derby on Lake Superior includes multiple categories and activities for the whole family, including a children's category. The winner of the Largest Salmon wins $6,000. Other prizes will be awarded at the Sunday ceremony. There is also a five day pre-fishing contest, August 13-17. www.wawasalmonderby.com
Harpeth Rising
Aug. 20, Saturday The (harp-free) female trio Harpeth Rising is often described as "modern progressive bluegrass" or "chamberfolk." These three classically trained musicians produce original music that's intricately arranged and lyrically rooted in the singer/songwriter tradition. Layered with the cello, violin and banjo, they create a sound that's familiar but impossible to categorize. They will be performing at the Arrowhead Center for the Arts in Grand Marais at 7:30 p.m.. Tickets can be purchased at the door or online at www.tix.com. www.northshoremusicassociation.com
Dragon Boat Festival
Aug. 26-27 The Duluth Dragon Boat Festival at Barker's Island is a family-friendly multi-cultural event that also features fantastic food, celebratory music, dancing, a craft fair, a parade, and fireworks. There will also be a magic show, Korean sword demos, a pancake breakfast and children's activities. An after party with live music by the Circuit Breakers will be held at 7 p.m. after the awards ceremony at the Barker's Island Inn. www.lakesuperiordragons.com
Ribfest with Car & Bike Show
Aug. 26-28 The annual Ribfest in Thunder Bay's waterfront district features Canada's finest ribbers battling it out. Also part of the festival is the Car and Bike Show on Sunday, August 28. Roughly 100 roadsters, show cars and antique automobiles will be on display, as well as 70 motorcycles and show bikes. Admission is free and participants can vote for the People's Choice Award winners for each category. Ryan Evans from Counting Cars will also be live in Thunder Bay August 27-28. The festival will include live entertainment, prize drawings, a beer garden, and more. www.ribfesttbay.com
Superior Man Triathlon
Aug. 28, Sunday Run, bike and swim your way to the finish line at the Superior Man Triathlon, held in Duluth at Bayfront Festival Park. There are two race distances to choose from. The long course features a 1.2 mile swim, 56 mile bike and 13.1 mile run. The 41.5 Triathlon features a .5 mile swim, 35.4 mile bike and 5.6 mile run. Register online at www.superiormantri.com.