Art Along the Lake
During Memorial Day weekend, May 26-28, various art galleries from Schroeder to Grand Portage will celebrate Art Along the Lake. Many of these galleries will have art demos, artist meet-and-greets, food, music and fun. There will also be new artwork on display, as well as exhibits and shows. For a list of events, check out visitcookcounty.com.
Betsy Bowen will hold a woodblock printmaking demo at her studio from 1-3 p.m. on May 28. Also at Betsy Bowen Gallery & Studios is the Spring Art Underground event, featuring various artists throughout the weekend. Her woodcut piece [above] is titled "Brook Trout, Mayfly and a Sense of Wonder."
Joy & Company in Grand Marais now features artwork by Tanya Beyer of Floodwood. This piece, entitled "Loons and Lake Shimmer," is a watercolor, gouache, pencil and ink piece [right]. Joy & Company will hold children's art activities from 9-11 a.m. on Friday and Saturday.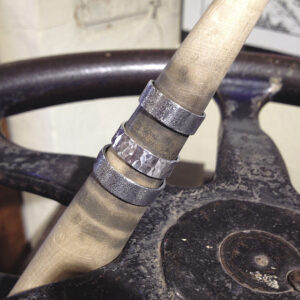 Jewelry artist Ron Piercy [left] will hold an open house from 4-6 p.m. on May 26 to celebrate the grand opening of his store, Ron's World Rocks: Silver & Gems. His store is located at 105 First Ave. W., across from the Arrowhead Pharmacy in Grand Marais.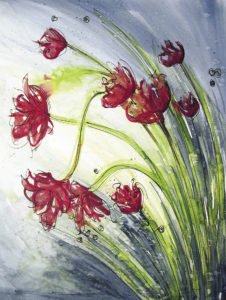 Check out the new artwork at Kah-Nee-Tah Gallery in Lutsen, such as this floral watercolor by Melinda Wolff [right]. The gallery will also hold art demos with Judy Christensen and Maggie Anderson May 27-28.
Art by Dave Gilsvik can be seen on display at Sivertson Gallery, such as "Trout Camp Dinner," [left]. Gilsvik will hold a painting demonstration, titled "Always Looking for Color," from 1-4 p.m., May 27-28 at Sivertson Gallery in Grand Marais.
Artist Mary Bebie created this glass coaster [right]. Bebie will be teaching a Class Coasters Class from 9-11 a.m. and 1-3 p.m. on Saturday, May 27 at the Grand Marais Art Colony.
---
Breana's Pick of the Month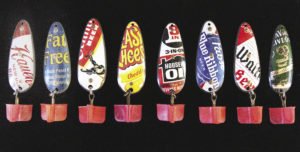 Metalsmith artist Tedd McDonah creates original recyclures; handmade fishing lures comprised of preprinted steel and copper. McDonah also creates jewelry, among other things, and will teach a class on Low-tech Metal Forming and Brooch Building on June 11 at the Grand Marais Art Colony. He will also hold an Artist Talk on The Brooch: Ideation, Design, and Execution; held June 10 at 2:30 p.m. McDonah's work can be found at the Grand Marais Art Colony, or visit metalmonger.blogspot.com.