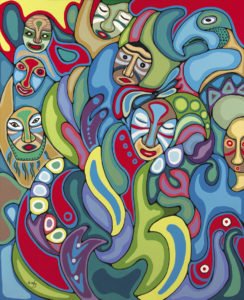 Oh Canada
With this issue dedicated to Canada's sesquicentennial, it made sense to showcase Canadian artists and the upcoming events and exhibitions being held throughout Thunder Bay.
The Thunder Bay Art Gallery will feature 150 artists in the upcoming Canada 150 exhibition, The Perspective from Here. The annual Waterfront Art Exhibition and Sale will be held June 2-25 at the Baggage Building Arts Centre, and the current exhibitions at Definitely Superior Art Gallery be on display until June 17. Don't miss out!
The Thunder Bay Quilters Guild recently held their annual Quilt Show. This year, the quilt show challenge focused on Canada's anniversary. Shown here [above] is the winning challenge quilt, created by Jennette Bradshaw. Learn more about the guild at: thunderbayquilters.org.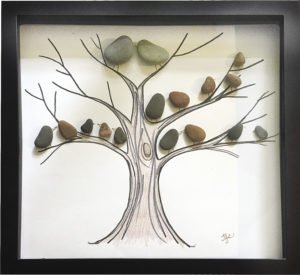 "The Grand Entrance," by Daphne Odjig [above right], will be featured at the Thunder Bay Art Gallery exhibition, The Perspective From Here, held from June 22-Sept. 24.
Raeghan Howard Judge creates art using Lake Superior beach stones and driftwood, such as this piece [left], titled "Family Tree." Judge does most of her rock collecting on the North Shore of Lake Superior, between Grand Portage and Grand Marais. You can find her business, The Family Stone, on Etsy and Facebook.
"Chop Canadian," by artist Chris Stones [below], will also be featured at the Thunder Bay Art Gallery's Canada 150 art exhibition. To learn more about the exhibit, visit: theag.ca.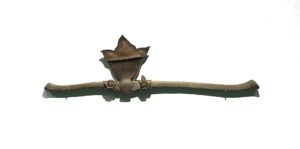 "Lake Superior Shoreline, Marathon Ontario" by Brian Holden [below]. Holden is a printmaker and visual artist. His work can be found online at, brianholden.ca.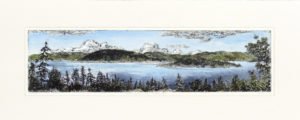 ---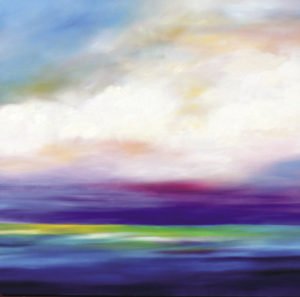 Breana's Pick of the Month
Artist Mary Johnston, alongside many other talented artists, will be showcasing their masterpieces at the annual Park Point Art Fair in Duluth, held June 24-25. The show will feature artists throughout the Midwest, as well as local favorites. Johnston is a contemporary landscape artist who currently resides in Indiana, but grew up in Duluth. Her oil piece is titled "Clouds Over Water." To learn more about Johnston, visit maryjohnstonart.com.