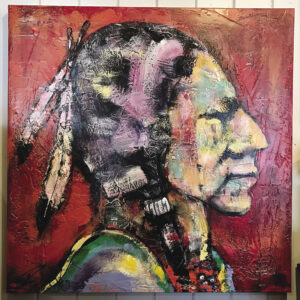 The Art Spotlight: January 2017 column by Breana Roy features both well-known and emerging artists along the entire North Shore, ranging from Duluth to Nipigon.
A Fresh Start
For many of us, a new year means a fresh start; a time to start over, make changes and set resolutions. A new year provides hope and something to look forward to. And while many of us tend to break our resolutions (I plead guilty), something you can always depend on is a plethora of new artwork, which can be found at numerous galleries and gift shops along the Shore.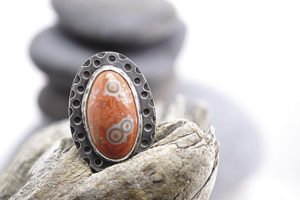 "Owl Always Love You," [top] was created by Jill Terrill and can be found at Joy & Company in Grand Marais. Find more from Joy & Company at joy-and-company.com.
North Dakota artist Rando created this original acrylic [above left] as part of his "American Brave" series. It is the newest piece at Kah-Nee-Tah Gallery in Lutsen. Visit kahneetah.com for more info.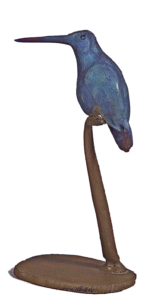 Great Gifts in Lutsen sells earrings, necklaces and rings [right] by Superior Jems artists Emily Cihlar and Jerr Saethre.
Artist Tom Christiansen recently created this bronze hummingbird statue [left] as a tribute to his mother. It can be found at Last Chance Gallery in Lutsen. Visit lastchancefab.com for more info.

Watercolor artist Ken Crawford recently created "Sunset on a Northern Lake" [right]. It can be found at Gallery 33 in Thunder Bay.
Breana's Art Spotlight: January 2017 Pick of the Month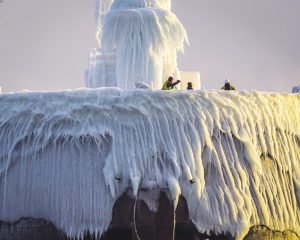 Look closely and you'll see that under all that ice is a ship. In mid-December, Christian Dalbec captured this photo of the Indiana Harbor arriving in Two Harbors Agate Bay just before sunset. "It was loaded down with ice built up from a wavy journey across Lake Superior for their cargo of taconite pellets," said Dalbec. To see more from Christian Dalbec Photography, visit cdalbecphotography.com.