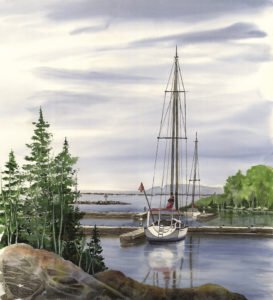 Introspective Visions
On Saturday, April 22, Lakehead Art Collective (sponsored by Six Degrees of Freedom) in Thunder Bay will present Introspective Visions, a juried exhibit featuring 11 local artists. Held from 10 a.m.-4 p.m. at the Airlane Hotel, the exhibit was organized by watercolor artist Biljana Baker and features mediums of all kinds. The exhibit will then be on display at the Etobicoke Civic Centre Art Gallery in Toronto from May 2-30.
Participating artists are Lee Fidler, Julie Cosgrove, Keith Bowey, Biljana Baker, Danielle Kantola, Lesli Shaw, Tom Shewchuk, Stephanie Siemieniuk, Cree Stevens, Eugene Vandal and Greg Zelinski. Visit sixdegreesoffreedom.ca for more details.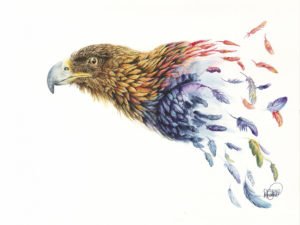 Watercolor artist Lee Fidler created "Stepping Out" [top]. Fidler is a permanent artist at Six Degrees of Freedom.
Also a watercolor artist, Biljana Baker is a member of Lakehead Visual Arts, Artisan's Northwest, Thunder Bay Art Gallery and the Pictograph Gallery in Atikokan. She is also the co-founder of Six Degrees of Freedom. Her piece [above right] is titled "Thunder Bay Harbor."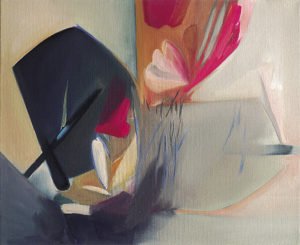 Danielle Kantola, also a watercolor artist, created this stunning piece [above left] titled "Winds of Change."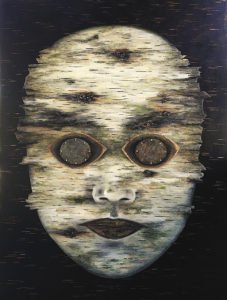 "Curious Encounters" [right] created by acrylic artist Julie Cosgrove. This will be Cosgrove's first exhibit.
"Wiigwaas Transformation Mask" [left] is a mixed media painting on wood panel, created by Cree Stevens.
Eugene Vandal created this original acrylic painting [below], titled "Forest Floor." Vandal is a permanent artist with Six Degrees of Freedom.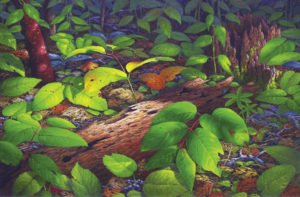 ---
Breana's Pick of the Month
In this issue, we have stories for the beginner gardener, fisherman and camper. But what about artist? Well thanks to painting classes, you too can try your hand with a paintbrush. On The Rocks Art Studio and Gallery, located in Duluth, offer group classes with step-by-step instruction from an experienced artist, allowing you to create your own acrylic masterpiece. Sue O'Quinn and her family recently took advantage of this opportunity. For more info, visit ontherocksart.com.