Art From One End to the Other —This month we travel along the shore from Duluth to Thunder Bay, to find a wide variety of art by numerous artists, many of whom will be exhibiting together at upcoming art exhibits and festivals.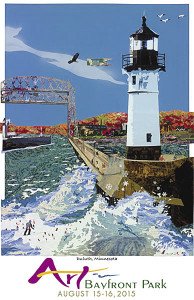 We begin with the Art in Bayfront Park festival in Duluth, Aug. 16-17, with over 150 artists. To participate in this art fair, your work must be hand-picked by a jury. Featured artist Kristi Abbott will be presenting her photo collage of Duluth tourist attractions, which incorporates photographic imagery, spray painting and paper on wood panel. Abbott was commissioned to produce this piece, which will be the collector's edition piece at the fair. Visit www.artinbayfrontpark.com for more info.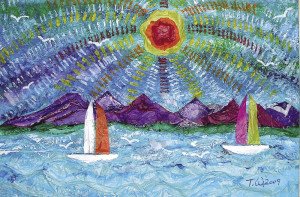 Next, we stop in Two Harbors for the Under the Spreading Walnut Tree Art Fair on Aug. 1-2, featuring over 25 artists, including featured clay artist Jedd Peters. Artwork of all sorts will be on display and available for purchase and free art classes for all ages will be available from 2-4 p.m. Folk musician Thea Ennen will set the mood with live music both days. The fair will take place from 10 a.m. to 5 p.m. at the P.K. Anderson House on Hwy 61. For more info, check out Facebook.
In Canada is the Lakehead Visual Arts, the longest running art club in Thunder Bay. They will be holding an art exhibit throughout August at the Baggage Arts Centre on the marina. They will also have an ongoing exhibit at Gallery 33 until January. The club contains 35 members and to become a member, your artwork must be juried. Visit www.thunderbay.ca/artscentre for more info.