There's a large blue and white striped tent perched in the northwest corner of Thomas Owens Park in Two Harbors. Most Saturday mornings, this is where you'll find Ian Fritz and his dog Pretzel.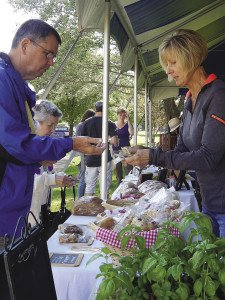 "Every week I try to buy something. Last week I bought some maple syrup. This week I bought a book and will get some baked goods," said Fritz.
Fritz is shopping the Two Harbors Farmers Market, and just bought a book titled "Agates," by poet Shelley Getten. "This is a wonderful opportunity for small vendors and small business people to sell, so I try to support it as much as I can," said Fritz.
Four years ago, Two Harbors resident Bianca Seay and her partner Alex Deters joined forces with a couple other vendors to start a mini farmer's market and encourage people to purchase locally grown food. The group showcased their wares on one long table placed in an empty lot along Highway 61, right across from the Dairy Queen. Occasionally, people would wander over from DQ and ask them if there was a farmer's market in town. "We had humble beginnings," laughed Seay, "but it's doubled in size as far as vendors each year."
The market got the support of the city and has since moved to Thomas Owens Park, where it has seen great success. "There is a lot of enthusiasm from the public," said Seay. "People like seeing where their food comes from, and they can talk to the grower."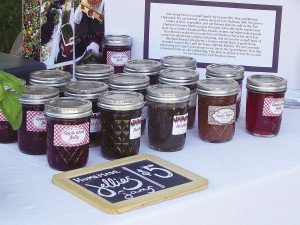 The market takes place on Saturday mornings. Each week, about 10 to 15 vendors arrange their tables and greet their loyal customers. Some days, up to 100 people visit and shop the bright, locally grown vegetables, fresh-baked treats, granola, sugary maple syrup and unique art.
Markets promoting locally-made products are common on the North Shore. The Cook County Farm and Craft Market takes place on Saturday mornings in the parking lot of the Senior Center in downtown Grand Marais.
The atmosphere is vibrant; more than 100 customers peruse the wares most weekends and the vendors are close-knit. "Everybody knows each other," said Hana Senty, a market board member and vendor. "A lot of the times, the vendors are talking to each other across the parking lot. It's very friendly."
The market is in its 18th season, and this year, boasts 27 local vendors. Some individuals have been involved since the beginning and continue to sell.
The market is unique, Senty said, because it isn't a typical farmer's market. There are few food vendors, due to the limited growing season in Cook County, so the majority of vendors craft and sell handmade items, but that's built the market a loyal customer base.
"Every single vendor at the market has a customer, if not many customers, who come back every year and want to know what was done over the winter," said Senty.
The market is full of variety. Customers can shop for birdhouses, furniture, hand carved items, handmade jewelry, locally roasted coffee, hand woven rugs, traditional needle work, mittens, dog treats and a variety of baked goods, like those found at Senty's booth. Her business is called "Hands of Harvest," and she puts distinct twists on simple recipes to create mouth-watering confections.
"I am very picky about what I put on my table. If it doesn't stand out to me and my family when we try out recipes in the winter, I walk away from it," said Senty.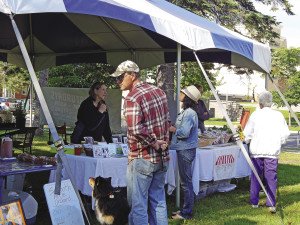 Her lemon bars are by far her biggest hit; they're a sweet lemon bite with a lemon frosting glaze on top. The recipe has been passed down in her family for generations. Senty has sold at the market for four years, and she said it's been a great way to build a business. She hopes to eventually expand into farming.
Senty credits the farmer's market for helping her get this far. A strict association runs the event to ensure the vendors are local and that their products are checked for quality. "It's important for the original board members that this is a local event…It gives customers the connection to the little town of Grand Marais."
Meantime in Finland, food is the focus at their community farmer's market. "It just has to be food related or agriculture related. That is what customers are expecting," said Honor Schauland.
Schauland is the director at the Clair Nelson Center in Finland and organizes the market, which kicked off last year. The event is set for Thursday evenings to accommodate the Finland Farmer's Market's primary vendor, who hoped to sell produce on the same days that they pack their CSA coolers full of fresh veggies. "This year, you can tell people are really excited and chomping at the bit to sell and buy produce," said Schauland.
The market is a small operation; up to 50 people visit each week for canned relish and sauerkraut, homemade bread, fresh herbs, garden vegetables and more. It takes place next to the Clair Nelson Center's new building.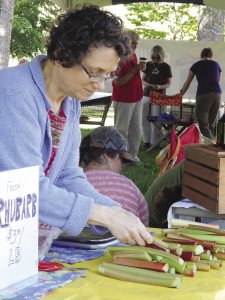 Schauland said in 2013, the center got about $10,000 from the Lloyd K. Johnson Foundation to organize and promote its kitchen, which is set up and certified as a business incubator. It can be used to make food products for sale, so long as people have the proper licensing.
The farmer's market was designed as a project to tie in with the commercial kitchen. Organizers are seeking producers to prepare products in their facility and then sell at the market. Schauland said that's in the works; the Finland Cooperative is hiring a baker who will use the space to make bread and sell at the co-op and farmer's market. The fresh bread preparation "wouldn't be happening unless we had a business incubator kitchen," said Schauland. "We are really hoping that other things like that develop."
Then, there's the largest, most visited farmer's market around—the Thunder Bay Country Market. It's set up in the Dorothy Dove Building at the Canadian Lakehead Exhibition Grounds Building. Every Saturday, from 8 a.m.-1 p.m. (also on Wednesday evenings during the summer), vendors display their handmade wares from food to art to hair pieces. Six thousand people visit the market each week and shop the 100 vendor booths. The market, which has been around about 20 years, proudly promotes that it sticks true to its motto, "We Make It, Bake it, Grow it!"