There's nothing like biting into a juicy, ripe peach on a hot summer day. Hard to believe it began as a small, fuzzy, sour fruit in China. Although the botanical name, Prunus persica, finds its origins in Persia (present day Iran), peaches originate in China, where wild peach trees are still found today. Wild peaches are mentioned in Chinese culture as far back as 10th century B.C. Cultivation into the varieties we see today began around 1000 B.C. Trade routes sent the peach on its way throughout China, Turkey and Persia, reaching Greece by 300 B.C. Once the Romans were able to cultivate and produce peaches, they moved throughout the countries of Europe, where they were considered an expensive treat.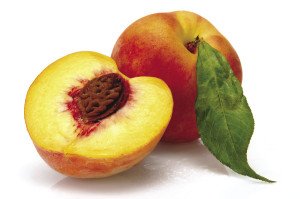 The peach arrived in America around the 16th century. Historians believe the Spanish brought it here via South America. Other accounts have it arriving through Alabama or Louisiana by the French. It has also been noted that a horticulturist from England established the peach tree in the early colony of Virginia. Nevertheless, the Native Americans and early settlers spread the peach tree throughout the southern regions of early America. It became so vigorous and well established that new arrivals to the Americas assumed the peach was native to these lands.
We all know that peaches are highly perishable. Sometimes it is difficult to get them home without some damage. Imagine getting a ripe peach from California to northern Minnesota. In order to achieve commercial production, only a couple of varieties are grown: the clingstone and freestone. The clingstone peach has a pit that 'clings' to the flesh. The freestone does not. Commercial producers favor less fuzzy peaches with deep red coloring of the clingstone variety because they can be picked firm and shipped easily. However, flavor develops as the peach ripens on the tree. So when the fruit is picked while it's still firm, we lose out in the flavor department.
Light and sweet, peaches are full of nutritious minerals, especially potassium. A great source of antioxidants, Vitamins B and C, this perfect summer treat also gives a healthy dose of fiber. When choosing the perfect peach, the color is no indicator of ripeness, but any greenish coloring indicates the fruit was picked too soon. Pick a fruit that yields slightly to your touch. If a ripe peach is not available, simply place your firm peach in a paper bag for a few days to ripen.
---
Peach Bellini
The Bellini was named for the 15th century painter Giovanni Bellini around 1940 by Giuseppi Cipriani in Venice, Italy. The peachy color brought to mind the color of the garments of St. Francis in one of Bellini's famous paintings.
1 part peach puree
2 parts sparkling wine
Pour peach puree into a champagne flute, then top with sparkling wine. Enjoy!
---
Chunky Peach Popsicles
3-4 peaches, pitted and halved
¼ cup orange juice
¼ cup sugar, or to taste
¼ teaspoon vanilla extract
Coursely chop peaches, or run briefly through a food processor. Transfer 1 cup of peaches to a medium bowl. Add lemon juice, orange juice and sugar into a food processor and puree until smooth. Add to the bowl with the chunky peaches and stir in vanilla. Divide mixture among 12 freezer-pop molds, or into 2-3-ounce paper cups. Freeze until beginning to set, about 1 hour. Insert frozen-treat sticks and freeze until completely firm, about 1 hour.
---
 Peach Melba
Created by French Chef Auguste Escoffier, in London, for the opera singer Dame Nellie Melba in 1892.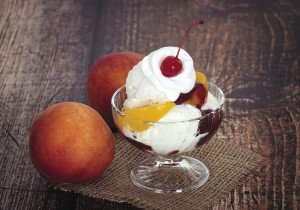 2 cups fresh raspberries
fresh lemon juice
powdered sugar
2 large ripe peaches
8 scoops vanilla ice cream
Puree raspberries and run press through a sieve. Add a little squeeze of lemon juice and a dusting of powdered sugar to sweeten. Cover peaches with boiling water for 4-5 seconds. Remove, then slip off the skins. Halve peaches, then slice. Place two scoops of ice cream in four individual bowls. Top with peaches and pour raspberry puree over the top. Serve immediately.