Eating mushy peanut butter sandwiches with her grandfather on Saturday mornings ranks among Julie Collman's most treasured memories from her youth. Rain or shine, the duo would often head out before 5 a.m. to go fishing among the many scattered lakes in central Minnesota. And while this might not sound pleasant to some cartoon-watching youngsters as a means to spend their Saturday mornings, Collman said one thing sticks out above the rain-soaked sandwiches and the constant early mornings.
"We always caught fish," Collman said.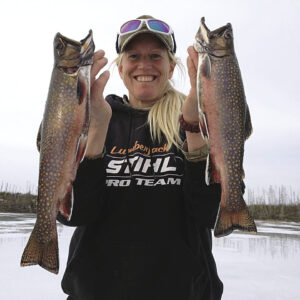 The Cook County woman shares the love of fishing with her own daughter. Collman says she's more active than ever when it comes to angling and the pursuit of fish.
"I get out on all my days off," she said. "Part of it is just to get out of cellphone range where I can't be interrupted. And yes, it's about fishing, but I also have the best experiences with wildlife while I'm out there. Watching eagles, learning more about the outdoors, weather patterns, all of it. Every time I go fishing, I learn something about nature."
Collman is among many North Shore anglers who go fishing simply because it's what they enjoy doing. It's how they get away from work and other responsibilities of everyday life. Though they fish often, anglers of this caliber are not necessarily fishing guides or so called "professionals." Nor do they want to be. Some people like to go fishing simply because it's what they want to do with their time. It's not about money. It's not about fame. For these men and women, it's about embracing the many joys of fishing, not just the catching.
Another angler of this stock is Grand Marais resident James Peterson.
"As far back as I can remember I've enjoyed fishing," he said. "I remember my dad taking me as a little kid and I guess I just got hooked."
Much like the dedicated staff of the United States Postal Service, neither rain nor sleet nor snow will keep this breed of fishermen and women away from their selected honey holes once the mood strikes. Often times, this desire to fish and experience all of nature's elements seems to be something ingrained in them from an early age.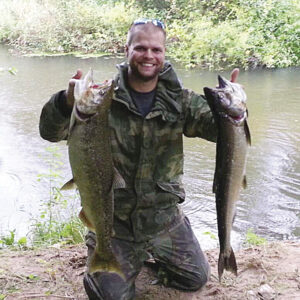 "I remember begging my dad to take me fishing even if it was storming outside," Peterson said.
And while there are a good number of anglers ranging from Two Harbors to Thunder Bay who have a deep passion for fishing, others come to the region who possess the same fishing drive but must travel to get here. And often times it's worth the trip.
Take Lukas Leaf, for example.
Leaf, a resident of Minneapolis, makes several trips to the Boundary Waters Canoe Area Wilderness each year with fishing rods always in tow. During the past year, Leaf has spent more than 30 days fishing in northeastern Minnesota.
"For me, fishing is such a release from everyday life. It helps to shed stress and clear your mind," he said. "My father calls venturing into the outdoors 'going to church' and I couldn't agree more. Everyone, regardless if they know it or not, needs that opportunity to tighten their connection to nature."
And while the potential to land a trophy or stock a freezer with fish seems to be the lure pulling many anglers to the water, it can also simply be a catalyst to get people away from the grind and into the woods. Echoing the sentiments of the late Montana-based novelist Norman Maclean, author of A River Runs Through It, Collman described fishing as the ultimate escape.
"When you have a fish on, the whole world is a fish," she said. "You don't think about anything else."
In addition to the physical side of actually getting to a body of water to fish, there is also the preparation aspect of angling. And despite decades of experience fishing for a variety of species, the preparing for and thinking about fishing never seems to grow old in the hearts of many anglers.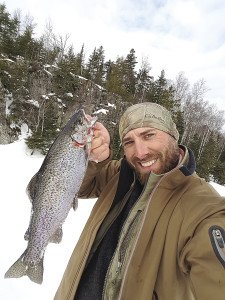 "In some form or another I think about fishing on a daily basis," Leaf said. "I'm always looking to increase my knowledge and discover new techniques and gear. I feel like I learn something every time I fish."
Peterson said fishing is both relaxing and exciting, a seemingly rare combination for a hobby in these modern times and one that does not often involve the use of gadgets and technology. In fact, the unexpected remains part of the biggest attraction for most anglers.
"One time I was jigging for walleyes near a river mouth and hooked into a 22-inch smallmouth bass," Peterson said. "At first the fish stayed down deep and I wasn't sure if it was a big walleye or not, but man what a fight!"
It seems what distinguishes the weekend-warriors, including those who only go fishing when the sun is shining and the winds are calm, from those who feel something stronger pulling them out to enjoy the sport, is the ability to enjoy fishing even when the fish aren't biting.
"Getting away from all the craziness of life and enjoying nature is probably what does it for me the most," Peterson said.
If more people had the mindset that fishing, or any outdoor activity for that matter, isn't about conquering, but rather a means to get outdoors and simply have fun, then perhaps the planet would be in a different condition than it is.
"Fishing is such a great way to spend time with friends and family, as well as to meet new people," Leaf said. "There is absolutely no doubt in my mind that the world would be a better place if everyone could slow down, relax and get a line in the water."