Cranberry Pecan Butter Tarts
By Kathy Toivonen
Preheat oven to 400 degrees F.
Filling:
In a small saucepan, place the following and heat for 20 seconds on medium heat.
1/3 cup dried cranberries
2 tablespoons orange juice or rum
In a bowl, whisk:
2 eggs
¾ cup honey or corn syrup
½ cup brown sugar
¼ cup melted butter
3 tablespoons flour
2 teaspoons vanilla
Pastry:
2 cups flour
2 tablespoons sugar
½ cup lard
¼ cup soft butter
½ teaspoon baking powder
½ teaspoon salt
Cut together pastry ingredients with a pastry knife until crumbly. Then add 1 egg yolk and anywhere from 8-14 tablespoons of cold ginger ale (depending on how bubbly the pop is when poured). Roll out the dough on waxed paper and cut into circles for tarts.
In each uncooked tart shell, place 1 heaping teaspoon of orange juice or rum soaked dried cranberries, and 2 pecan halves. Then pour in the corn syrup mixture until ¾ full.
Bake the tarts for 18-20 minutes or until the filling is bubbling and golden. Cool completely before removing from the tin. Recipe makes 12 large tarts or 24 mini tarts.
---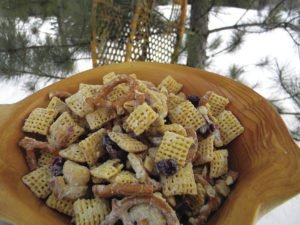 Snowshoe Trail Mix
By Kathy Toivonen
2 ½ cups Honey Nut Chex cereal
1 ½ cups Tiny Twists Pretzels broken up (some pieces will even look like little snow shoes)
1 cup slightly chopped roasted cashews with sea salt
1 cup dried cranberries
6 oz (170 g) Baker's white chocolate
In a large bowl, combine dry ingredients. Then, melt the white chocolate and pour over the dry ingredients. Mix well until everything is coated in white chocolate.
Line a cookie sheet with waxed paper and spread the mixture on the cookie sheet. Refrigerate for at least 10 minutes to firm up the white chocolate. Break apart the larger pieces and serve in a bowl as a party mix.