Located just outside of Grand Marais, Skyport Lodge and Raven Rock Grill opened this past December, bringing new life to the former Devil Track Resort. This new family-run business is welcoming neighbors and visitors alike to try their menu and enjoy the beautiful views of Devil Track Lake.
Local residents Cory and Rachelle Christianson dreamed of one day running a lodge up the Gunflint Trail. Instead, a great opportunity presented itself to them on Devil Track Lake. This local family has long-time connections to the area, as well as in hospitality and food service. The new name of the restaurant and bar is the radio handle for Rachelle's family cabin on Saganaga Lake, and homage to Rachelle's grandfather, Judge Ronald Hachey. Cory and Rachelle first met on the Gunflint Trail, after Cory moved to the area to help Sarah Hamilton and family when they purchased Trail Center. Hamilton, her mother, and Christianson worked together at the Drake Diner in Iowa, Cory's home state. Rachelle's family history brought her to the Grand Marais area. Now, they've made this area their home, with their two children and dog, Maggie.
The Christianson family is not only running the business, their experiences are also inspiring its menu and direction. The current menu has many of their favorite dishes, such as the roast beef Skyplate Special, which would be known as the Blue Plate Special in Cory's native Iowa. And from their time living and guiding in Key West, Florida, you'll find several entrees with blackened fish, a staple in Key West.
"The homemade blackened seasoning was our favorite spice to use on fresh fish in the Florida Keys," said Rachelle.
Blackened fish is prepared with their own Cajun-type seasoning and cooked in cast iron. The menu will change seasonally, making use of locally available products.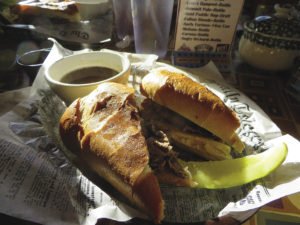 On my recent visit to Raven Rock Grill, my party enjoyed the French dip, vegetarian black bean burger, and the sauteed vegetable sandwich. The veggie sandwich has a great pesto mayo to add that extra zing and the fries have a nice special seasoning. Homemade is the name of the game.
"We handmake everything" said Cory, with their roast beef being prepared in house and their soups and salad dressings made from scratch.
The lunchtime menu features burgers, sandwiches, and salads, and the dinnertime menu has entrees like the Canadian walleye dinner, 10-ounce ribeye steak, and walleye tacos. One of their rotating soups, the beer cheese soup, has become a fast favorite and their chili is available every day. The chili, called Tommy's Chili, is named for the uncle who provided the recipe. They also offer a full bar to complement your meal.
Kids are heartily welcomed by this family business, with a kids menu. It includes spaghetti with meatballs, grilled cheese, and a wee burger, the perfect size for your little sidekick.
Family and the local community have been key for the opening of the lodge and restaurant: from a local family connection who designed their logo, to the server aprons made by Chelsea's Aprons—a Grand Marais enterprise owned by Chelsea Pusc. Their dessert menu also features locally made favorites, with key lime pie from the Pie Place and chocolate truffles from the Gunflint Mercantile (where Chelsea's Aprons are also available for sale). Raven Rock Grill also features local beers on tap from Voyageur Brewery and Castle Danger Brewery in Two Harbors. The Christiansons also recognize their neighbors, cabin and home owners on Devil Track Lake, for the support they have offered. Some have even taken to Facebook, sharing their excitement about having the restaurant within a paddle, ski, snowshoe or pontoon ride from home.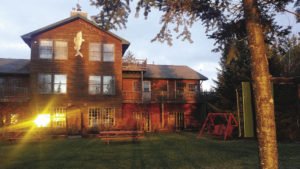 Fun outdoor activities do pair well with a meal and drink at Raven Rock Grill. Staying true to the location's history, the place welcomes snowmobilers with parking and even convenient helmet storage inside. The lake and nearby trails offer a wealth of opportunities, from skiing to dog sledding, to build up your appetite before your meal. Or warm up with a hot beverage or an adult beverage at the bar. The lodge also offers rooms for nightly and weekly rental, perfect for those visiting from out of town or looking for a little getaway.
If you are looking for a special meal with your Valentine in February, this Valentine's Day, Raven Rock Grill will have two specials, including a Surf and Turf with a 10-ounce cut of prime rib and shrimp, served with a seasonal vegetable, choice of potato and soup or salad. Sit by the fireplace for some extra romance with your special someone.
"We are happy to have this opportunity to own and operate this beautiful lakeside lodge and to have our family living and working under the same roof," said Rachelle.
It is a family affair, with Rachelle out front, Cory in the kitchen, and their children, Sophia and Bo, rolling silverware.
Raven Rock Grill is open seven days a week and is located 15 minutes from Grand Marais, on Devil Track Lake
(205 Fireweed Lane). For more information, visit the Skyport Lodge Facebook page or skyportlodge.com.