A recent statewide news story bemoaned the loss of Minnesota's family-owned resorts, but such operations remain the norm along the Gunflint Trail, north of Grand Marais. This summer, three resorts are celebrating a combined 195 years of family-owned operation. In fact, nearly all resorts on the Gunflint and nearby North Shore of Lake Superior are family owned and operated. A change to that situation doesn't appear likely to happen anytime soon.
Nor'wester Lodge, 85 years

Luana Brandt recalls marrying her husband, Carl, on a Saturday. The newlyweds came home to the Gunflint Trail on Tuesday evening. On Wednesday morning, Luana served breakfast for 26 people at the resort that was her new home. That was on June 22, 1966. She's now been married to Carl and catering to guests at the lodge for 50 years.
But the lodge had already been in existence for 35 years before Luana came on board. Carl's parents, Carl and Alis, founded Balsam Grove Resort in 1931 to house the fishermen who were venturing to the area. It was rustic, but adequate to serve the guests of that era.
"When we took over, some of the cabins didn't have running water," Brandt said. "We put in bathrooms and kitchens."
The first summer she was there, ice for the guest's fish was available in the ice house, where it was stored after being cut in the lake the previous winter. Guests were fed three times per day: breakfast and dinner at the lodge, and a packed lunch to take when they went fishing. The second generation changed the name to Nor'wester Lodge in 1968.
She said outdoor gear has improved over the years. She remembers when the lodge switched to aluminum canoes, which were much lighter than the wood/canvas canoes they replaced. Today, aluminum canoes have long since been replaced by ever-lighter models. The same is true for the tents, sleeping bags and packs used by canoe country adventurers. However, Brandt says her mother-in-law Alis, who lived to be 102, saw even greater changes during her lifetime.
Fifty years ago, traveling 30-60 miles down the Gunflint Trail to Grand Marais was something Trail residents did infrequently. Brandt said she almost went crazy during her first winters on the Trail, because there were few people her age. Back then, beaver and mink trapping were common topics of conversation.
"We've become much more urban than before," she says of present-day life on the Trail, where many summer home owners and vacationers come from the Twin Cities and beyond.
Another change has been the make-up of summer help. It used to be easy to find college students who were eager to spend a summer working up north. Now the seasonal staff is comprised of foreign exchange students.
Trout Lake Lodge, 70 years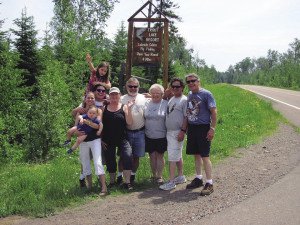 They came from Chicago in 1946. Bud and Charlet Kratoska, and their two young daughters, moved to a rustic lodge on Trout Lake. They brought along a 32-volt light plant and batteries, which eventually provided electricity to their home (a converted boat house/workshop) and the guest cabins. Telephone service with a party line, came later. The family heated with wood and cut ice from the lake for summer refrigeration. They didn't get connected to the electrical grid until 1956.
Early resort owners were an independent bunch who often viewed one another, rather than other destinations, as competition. It took time to get them to work together to promote the area. Bud Kratoska was the secretary of the Gunflint Trail Association and organized the Tip of the Arrowhead Association to promote all of Cook County. He and Charlet represented the organization at sport shows and handled information requests.
Bud died suddenly in 1986, which triggered the passing of the resort to the next generation. Daughter Nancy Waver returned to care for her mother and operate the resort. This allowed Charlet, who died at age 92, to continue living there. Waver's children have entered the business as well. In 2007 the lodge was devastated by fire, so the family has worked to rebuild it. Family members now involved in the business include Waver's sons, Guy and Craig, and Craig's wife Kathy, as well as her daughter Karen and her son, Rusty. Children and grandchildren of the Kratoska's original guests still vacation at the resort.
"It's a lot of work," Waver said of running the resort, "but what else would we do?"
Golden Eagle Lodge, 40 years
When John and Irene Baumann bought Golden Eagle Lodge in 1976, they rolled up their sleeves and went to work.
"It was basically dilapidated," said their son Dan, who now operates the resort with his wife Teresa.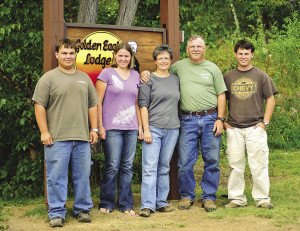 The four original cabins dated back to the resort's beginning in the 1940s and were summer-only. The Baumann's updated and winterized the existing cabins and built a workshop. In less than a decade, they expanded the business to 10 year-round cabins. Between 1980-83, they added a new water system, a new sewage system and a new LP gas system. Over the years, they've built three homes on the property, as well as staff housing.
In 1994, Dan and Teresa purchased the resort. The infamous 1999 blowdown storm ravaged the forests along the Gunflint Trail, but it didn't deter Golden Eagle's growth. The family added a campground that year and replaced a cabin with a brand-new one. Over the years, they've continued to grow.
"We're always investing in improvements and looking for expansion opportunities," Baumann said.
Today, larger expansions are necessary to achieve an adequate payback from the project. He said that instead of adding just one unit, he now must look to adding several units as well as additional staff. He is currently hoping to hire two full-time staffers, but says it is difficult to find people who want to live in the woods.
As for the Baumann's, the Gunflint Trail is home. John, 83, and Irene, 80, live at the resort. Dan and Teresa's three children, Brianna, Zachary and Johnathan, remain in the area, too. Dan believes it is possible that one or more of the kids will someday become the third generation of Baumanns to own Golden Eagle Lodge.