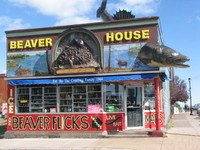 In Minnesota, many small towns define their greatness with cartoon monuments. Mythical logger Paul Bunyan looms over a couple of towns. Elsewhere, you can saddle up and ride a leaping walleye. Around the state, other outsized creatures include a prairie chicken, an otter and a Canada goose. But only in Grand Marais can you see a walleye swimming out of building.
The Beaver House is known to anglers and non-anglers alike as the building with a monstrous walleye sticking out of it. The walleye was created by local artist Jim Korf and has drawn curious visitors into the Beaver House for more than 20 years. This fall the Grand Marais institution is closing its doors. After serving anglers since the 1960s, the Cronberg family is selling the Beaver House building. "It's primarily due to my parent's health," said Tyson Cronberg, who has been the main man behind the counter for many years. "The business is their major asset, so the sale will allow them to stay in their home."
The Beaver House has always been the sort of place an angler would call a fishing store, but anyone else wandering around Grand Marais would probably call it a classic tourist trap. In addition to the
emerging walleye, the building's exterior featured colorful murals of outdoor scenes and another Korf sculpture of two beavers working on (what else?) a beaver house. Inside was a fishing shop like no other. In addition to an eclectic, yet comprehensive tackle selection, there were shelves with old bottles, antiques and one-of-a-kind items, like a homemade "walleye call."
When it came to tackle, if you couldn't find it anywhere else, most likely they had what you were seeking at the Beaver House. They also had an impressive selection of hand-made spinners and live bait rigs, including the Cronbergs' signature Beaver Flicks, which are guaranteed to catch fish.
The Beaver House didn't begin as a fishing store. Cronberg said his father, Bill, and his uncle, the late Guyal Anderson, bought the building, formerly housing a co-op, in 1964. They started as a shoe repair and clothing retail business. During the long winters, they began making fishing lures, which they soon found attracted more customers than clothes and shoes.
"Guys were standing in line to get the lures, so they decided to focus on the fishing business," said Cronberg. It turned out to be a life-defining decision for Tyson, who was born in 1965. He grew up packing worms and leeches in the Beaver House basement. He also made ice (with a machine) for the family's ice business. Later, when he was old enough to drive, he delivered ice to resorts along the Gunflint Trail.
"We had the ice business until this year," he explained. "When we decided to give it up, it was a big relief to know I didn't have to make ice this spring."
For customers, Tyson has long been a familiar face in the Beaver House. His brother, Marty, who currently lives in Chicago, has been involved in the business and comes in now and then to help out. His
sisters Bambi (Wiki) and Jenni (Morawitz) have worked there, too. His nephew, Steve, built the Beaver House website. Many other family members were involved over the years, too. A number of Grand Marais boys, now grown men, worked at the Beaver House as well.
"They all grew up to be pretty good guys," Cronberg said.
The Beaver House wasn't the only fishing business operated by the Cronberg family. They purchased Bjchee's Resort on Devil Track Lake and operated it until the mid-1990s. It was there Tyson learned about a different sort of fish. During his teenage years, he became an accomplished pool shark.
"Older guys would come in and play a game with me. I'd let them win the first one. Then we'd play some more and I'd take their money," he recalled with a laugh.
Tyson hasn't played pool for a few years. He isn't sure what he's going to do next spring, when the Beaver House won't be opening for business. The family is continuing the Beaver House website, where they sell fishing tackle. Tyson is considering becoming a fishing guide or simply teaching people to fish.
"After all, teaching people about fishing is what I've always done," he said. Still, he is very cognizant of another change that contributed to the demise of the Beaver House, as well as many other small bait and tackle shops throughout Minnesota. Simply put, it's hard for Mom-and-Pop tackle shops to compete with massive mail-order operations and sporting goods box stores. Add to that the plethora of gas station convenience stores that carry bait and basic tackle and little room is left for the Mom-and-Pops to carve out a business niche.
As an angler living in Grand Marais, I admit to being guilty of buying gear from catalogs and box stores, and picking up bait at the gas station. But I'll miss the Beaver House and Tyson's familiar, friendly greeting when I walked through the door. More than once, the Beaver House had a specific tackle item on hand when I needed it. Just being in the place delivered me back to a time when fishing—and life—were simpler. In that regard, we're losing more than a tackle store when they close the door.
At this writing, the Beaver House building was still in the process of a sale. The walleye in the wall is being sold with the building and hopefully will continue to be a downtown Grand Marais landmark.