It's not surprising that northern Ontario has some of the same problems in its forests as northern Minnesota. The moose population is in decline. Commercial timber harvest is down, but the risk of uncontrolled wildfire is up. Bats are battling the deadly white nose fungus. Et cetera, et cetera.
In Minnesota, some of the issues are addressed by the DNR, which has management authority over wildlife and state-owned forests. Others, especially forestry issues, are addressed by large forest landowners, including counties, corporations and the U.S. Forest Service. By and large, we rely on the political process to hold public agencies accountable and the advocates of conservation and environment to ensure that they do. It's an imperfect system, but it's what we've got.
In Ontario, the situation is different, because the provincial government has broad management responsibility for lands, waters and wildlife. Those duties are spread across 15 government ministries, though most responsibility is held by the Ministry of Natural Resources and Forestry (MNRF), with a budget of about $750 million Cdn. Natural resources are a cornerstone of Ontario's economy—from logging and mining, to Great Lakes shipping and tourism.
Ontario is different in another respect as well. The province has an Environmental Commissioner who serves as the government's environmental watchdog, reviewing the policies and performance of the provincial ministries. The position was created over two decades ago with the passage of the Environmental Bill of Rights.
Every year, the Environmental Commissioner reports to the Ontario Legislative Assembly on the ministries' compliance with the Environmental Bill of Rights and progress on environmental issues. The newest report was issued in October. I followed up with a conversation with Environmental Commissioner Dr. Dianne Saxe, specifically talking about the portion of the new report addressing how well the MNRF initiatives conserve biodiversity, specifically through the incorporation of wildfire into forest management and dealing with a declining moose population.
In the north, healthy forests are the cornerstone of biodiversity. According to the report, northern Ontario's forests aren't as healthy as they could be, largely due to the suppression of wildfires. The province has emphasized timber production and is thus reluctant to allow wildfires to burn merchantable trees. However, the timber supply exceeds demand and is growing old, which leads to a build-up of excess fuels, increasing the risk of a catastrophic fire like the one that roared through Fort McMurray, Alberta last spring.
Fire can be incorporated into forest management in two ways: allowing natural fires to burn and starting fires to create prescribed burns. But fire presents risks to human life and property. If more fires are allowed to burn in northern Ontario, the government must play a larger role in protecting people and property from fire. Currently, Ontario has a limited program called FireSmart (similar to FireWise in Minnesota) that provides property owners with the information, and to some extent, assistance for creating defensible space around structures surrounded by forest. Saxe says the program needs to be expanded and made mandatory to reduce the risk of having a situation similar to Fort McMurray.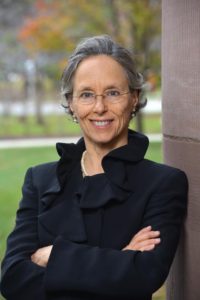 The commissioner isn't calling for replacing logging with fire, because logging can reduce fire risk, but may not have the overall beneficial ecological benefit for the forest. Saxe said one way to increase the timber demand is to use more wood in building construction, which has an added benefit of reducing the carbon footprint of housing. The population of southern Ontario is projected to increase 50 percent during the coming 25 years. Currently, wood construction is allowed for buildings up to six stories in Ontario, while Quebec allows wood to be used up to 12 stories. Changing Ontario's rule could create a greater market for dimensional lumber produced in the province.
While logging plays a role in forest renewal, it won't work everywhere. Saxe said logging is not allowed in almost all protected areas, such as provincial parks and conservation reserves, which were often set aside to preserve ecologically important areas. For these places, the province once had a prescribed burn program, but it lost funding in the 1990s. Restoring controlled burns to these areas is key to their ecological health.
Of course, healthy forests also support wildlife, such as moose. Ontario's moose population has declined 20 percent in the last 10 years. In some places, such as near Thunder Bay and Cochrane, the population has dropped 50 to 60 percent in the same time period. Presently, Ontario has 93,000 province-licensed moose hunters, which is about equal to its entire moose population. It may have some issues related to hunter harvest. First, a general moose license allows every hunter to kill a calf in most parts of Ontario, while there are harvest quotas for killing bulls and cows. But the Ontario moose population isn't producing enough calves to replenish itself. Second, Aboriginal moose hunting is not regulated by the province and provincial biologists don't know how many moose they are taking. As Minnesotans know, there are no easy answers to stopping the moose decline. But Ontario is falling short on baseline information; such as knowing the total annual kill from all hunters in the province and poachers. Saxe says closer coordination between the province and individual First Nations is necessary to best understand the harvest issue. Recent action to reduce the calf harvest using a shorter hunting season must be monitored to determine if it is working. The Ministry may need to take steps to eliminate roads and possibly not allow hunting in newly logged areas.
The Ministry also needs to do a better job of addressing habitat concerns. Both fire and logging can create the young forest habitat that attracts moose. However, extending roads into roadless areas, such as creating new logging access, does not benefit moose as it increases hunter access and predation.
The Environmental Commissioner's report did commend the Ministry for not attempting to increase wolf and coyote harvests as a means to improve moose numbers, pointing out there is no evidence that predator control would lead to more moose. Instead, doing so might further disrupt an already altered forest ecosystem.
It is difficult to say whether Ontario's method for judging the provincial government's environmental performance is any better than our own. The recent legislative audit of Minnesota's deer management program comes to mind. In both Ontario and Minnesota, the government role in natural resources management is so vast that watchdogs can point out problems, but lack the wherewithal to follow through and ensure government agencies effectively act upon criticism and recommendations for improvement. Sometimes nongovernment advocates can fulfill this role. But more often than not, we have to count on the bureaucracy to do the right thing.