If you fish for brook trout, one word can set your imagination on fire: Nipigon. If there is a Nirvana for brook trout anglers, this is the place. For 150 years, anglers have traveled to the community of Nipigon beside the mighty Nipigon River, a Lake Superior tributary flowing from a lake of the same name. Both the river and the lake have a legendary reputation for outsized brookies, including the 14.5-pound world record caught by Dr. J.W. Cook in 1915.
The river changed significantly over the ensuing century with the construction of hydroelectric dams along the river, which flooded a series of formidable rapids. The dams, and more importantly the severe river drawdowns associated with hydropower generation, as well as overfishing, nearly overwhelmed the system's brook trout population. Fortunately, we can fast-forward to the present and say the brook trout are back. Fish-friendly flow regimes from the dams, coupled with restrictive regulations allowing anglers to keep one brook trout with a minimum length of 22 inches, has allowed the population to recover. Fish large enough to be the brook trout of a lifetime for the vast majority of anglers are now routine catches.
No wonder Dan Johnson of Oakdale was excited to go fishing there. Dan is an expert fly-fisher and guide who specializes in smallmouth bass in rivers, especially waters near the Twin Cities such as the upper Mississippi and the St. Croix. Although he doesn't have a lot of experience with fishing for large trout, he became fired up with what the North Shore has to offer when I introduced him to steelhead fishing in 2017. We talked about Nipigon's brook trout and decided to make a trip there this year. We booked accommodations with my friend Ray Rivard at Quebec Lodge in nearby Red Rock, along with a day of guided fishing with another friend, outdoor writer Gord Ellis of Thunder Bay.
I was excited, too. I've caught Nipigon brook trout over the years, but mostly with spinning tackle or steelhead gear. How you hook them doesn't matter to the fish, but it does matter to this angler. All of my time on the water at Nipigon has been with spin-fishermen, so I've never had a chance to fly-fish for the legendary brookies. As a fly-fisher, Dan isn't intimidated by strong flows like the Nipigon. I was looking forward to spending time on the water with him.
The first morning we headed out with Ellis in his 17.5-foot Lund, making an 11-mile run from the access at Pine Portage Dam to the now-inundated Virgin Falls, near the river's outlet from Lake Nipigon. Since it was after Labor Day, the river downstream from Pine Portage, as well as Lake Superior and all of its tributaries, were closed to brook trout fishing to protect the fall spawners. The water upstream from Pine Portage is considered part of Lake Nipigon, which remains open to brook trout fishing until Sept. 15.
Using a GPS activated electric trolling motor, Ellis positioned the boat beside a rocky bar, visible beneath six feet of clear water. Using sinking fly-lines, we cast weighted streamers on the shelf and then retrieved them. It took just a few casts before I set the hook into a heavy fish. Since barbless hooks are required, I played it carefully against the current, taking my time to guide it into the net. Soon we were admiring an impossibly big and colorful 20-inch brookie—an average catch on the Nipigon.
We tried, but didn't find any others along the rock bar, so Ellis moved to another spot.
Brook trout are common in the Nipigon River, but you won't catch them just anywhere. In my experience, they are mostly found where the current washes along a rocky shoreline, especially where shoals and bars are visible. Although the river is blocked with dams, it is by no means tamed. The river is defined by powerful currents and deep flows. In places, the water is over 100 feet deep. You may find lake trout in the depths, but not brook trout.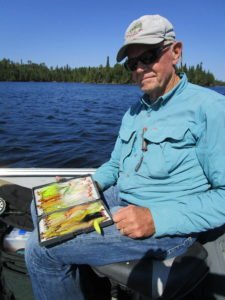 I caught a second brook trout, an inch longer than the first, on another shoal and then a 5-pound pike. Dan hadn't had a strike, even though the only difference in our techniques was that he used a somewhat heavier fly line. Finally, he connected with one, a 17-incher, which was bigger than the vast majority of brook trout you might catch anywhere else, but "small" by Nipigon standards. He said that he didn't want to take a picture with such a lesser trout. The fish gods didn't like that.
I caught one more brookie while fishing with Ellis, a 19-incher that rose to crack a streamer drifting just a few inches beneath the surface. Although it was the smallest one I landed on the Nipigon, the exciting strike made it the most memorable.
The next day we used Dan's boat and fished the same waters. Call me superstitious, but it seemed clear that the fish gods were upset with him. Strong winds knocked the boat around. Dan spent much his fishing time dealing with tangled lines and other foibles. His low point occurred when a fly line broke in his hands as he tried to pull the curls out of it. I had never seen that happen before. At the end of the day, I'd landed and released a pair of 20-inchers. Dan caught nothing. Remarkably (and admirably), his humor remained intact.
Northwest winds kept us off the water on the third day, so we explored the scenic Lake Superior shore. On the last morning, we wade-fished a nearby river, catching and releasing some walleyes on flies. Prespawn chinook salmon were breaking the surface in a deep hole, but we couldn't coax a strike from any of them. The fish gods tossed one last lightning bolt at Dan. He broke the handle on a fly reel. I've never seen that before, either.
You might think that he headed home discouraged and dejected, but that was not the case. He spent a lot of time talking about the grandeur of the river and the landscape, and what he will do on his next visit there. Dan has fished for brook trout now. And the Nipigon River set his imagination on fire.