Mike Schrage of Duluth can easily explain why he enjoys going hunting in Africa. On a trip to Namibia with his wife, Jen Smith, a couple of years ago they spent the first evening overlooking a waterhole, watching for game. Jen spotted a herd of elephants approaching. She pointed them out to Mike, who in turn alerted their professional hunter, who said they had to return immediately to the truck. The elephants were cows with young calves. If they continued watching the waterhole until sunset, they faced prospect encountering a herd of protective Mama elephants blocking their route to the vehicle in the dark.
"That doesn't happen in Minnesota," Schrage says.
Schrage, who is the wildlife biologist for the Fond du Lac Ojibwe Band, enjoys Africa's abundance and diversity of wildlife, as well as the adventures that come from being in a place that is entirely different than his usual, northern Minnesota haunts. He first traveled to the continent as a child and later as a college student to visit family members who were stationed there. In the last 10 years, he's made five trips, mostly for hunting.
"Last year, my wife and I visited Tanzania. We climbed Mount Kilimanjaro, and visited two national parks to see the wildlife: Serengeti and Nogoro Crater. It was pretty cool," he said. "But walking through the bush carrying a rifle is way cooler. You experience the country and animals more intimately."
Schrage has hunted on private farms, which are so expansive that they would be called ranches in this country, in Namibia, South Africa and Botswana. He hunts for plains game, including several antelope species, warthog and zebra, usually with the same 30.06 he uses in the Minnesota deer woods.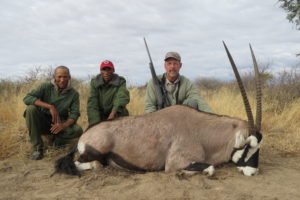 A typical hunting day begins before sunrise with a sumptuous breakfast, so hunters are ready to head afield at daybreak. They begin by driving around in a vehicle, looking for distant game. Schrage says this is by no means "road hunting," because once hunters see game they must stalk and try to approach it. They also hike to high spots or places overlooking waterholes and use binoculars to spot game animals.
What I like is you are not sitting and waiting for game," he says. "You are mostly moving about and looking for them."
That said, African professional hunters are trained to accommodate the desires and physical abilities of their customers. Archers, for instance, are often posted near waterholes where game animals are likely to approach within bow range. In contrast, Schrage likes to wander across the landscape to see all manner of African fauna and flora, simply for the experience.
"The abundance and variety of wildlife is just jaw-dropping," he says. "Here you would have to go somewhere like Yellowstone National Park to see something like that."
Typically, he takes 10-day hunts, which are long enough to "get into the flow of things." The hunting isn't easy, because the wildlife, while abundant, is also wary. The manner of hunting, Schrage says, is "old school." Instead of relying upon technology or commercial products like camouflage clothing and bottled scents, African hunters rely upon their experience and skills to find and get close to their quarry. He marvels at the skills of the native trackers, called bushmen. The professional hunters he's been with were local, experienced hunters who must go through rigorous training in order to receive their professional hunting license.
The hunt is hard, but not without comforts.
"At the end of the day, you go back to camp, eat some good barbeque and have ice in your drinks," he says.
The menu is largely comprised of wild meats. It is against the law to bring home meat from Africa, only heads, hides and horns are allowed. Schrage has sampled many kinds of African wild game while in hunting camps, saying all of the antelope species are good to eat. Among his favorite meats are gemsbok and zebra. While he hasn't brought home meat, he has brought home heads from animals he's killed.
"My wife has been very gracious with my African taxidermy," he says. "We have four and a zebra hide displayed in our small house."
Hunters must pay a "trophy fee" for the animals they kill. Even so, the costs of travel, hiring a professional hunter and trophy fees are not beyond the reach of an average hunter. Schrage first became interested in African hunting when he learned that an African trip costs no more than a guided elk hunt in the American West.
"I have to save to do it," he says. "But the cost of an African hunt is not out of reach."
He also believes his money is well spent. Following our telephone conversation, Schrage sent me the following email:
"We talk about the importance of hunters and hunting to the conservation of wildlife in North America. I really believe this is doubly important in Africa. Africa doesn't have the luxury of valuing wildlife for its own sake the way we can in North America. Not many people in Africa are able to buy a 50-pound bag of sunflower seeds just to fill a backyard bird feeder.
"Hunting gives value to wildlife in areas away from the National Parks where the typical wildlife viewing safaris are held. Most of these areas aren't especially scenic and aren't likely to ever draw many photo safaris, but they are often just as critical to maintaining intact healthy ecosystems and wildlife populations. I've seen for myself how wildlife is treated when it has value in these places. If it pays, it stays. If not, it's little more than competition for grass and water or a threat to crops, livestock and human safety. When wildlife in Africa provides jobs and income to the local people, they put resources back into habitat management and anti-poaching patrols and tolerance for wildlife goes way up. I feel strongly that well-regulated hunting has a crucial role to play in the long-term protection of wild things and wild places in Africa, and I feel good knowing my hunting dollars there have gone towards doing that."
Clearly, for Schrage, hunting is more than simply the thrill of the chase. It is a path to a deeper interaction with nature as an active participant and a way to contribute to the conservation of the natural world.
SIGN UP to receive Shawn Perich's Points North
articles in your inbox.