Under a dusty shaft of sunlight in his rural Wisconsin forge, Cody Myers runs a calloused, sooted finger across the polished surface of his latest Damascus steel knife.
Distinguished by banded lines and wavy mottling, the ancient welding technique fashioned weaponry for warriors throughout Asia and the Middle East for centuries. For the 33-year-old bladesmith, his craft draws parallels with an intimate personal history of canoe routes and summers spent in untamed wilderness.
"The patterned steel reminds me of looking at a Boundary Waters Canoe Area Wilderness topographic map," he tells me, noting the contoured lines that indicate elevation changes. "I grew up going into the Boundary Waters often and have continued to do so into my adult life."
Damascus steel is Myers' specialty. Stacked like a deck of cards, hundreds of layers of steel are forge welded under intense heat and pressure to form a single piece. Reputed for their strength and resilience, Damascus blades blend aesthetic appeal with reliable performance in the field.
That connection inspired him to design a series of custom-forged knives in support of the Sportsmen for the Boundary Waters, a coalition of hunters, anglers and other stakeholders dedicated to protecting the one million-plus acre wilderness area from potential mining activity in a region that shares the same watershed.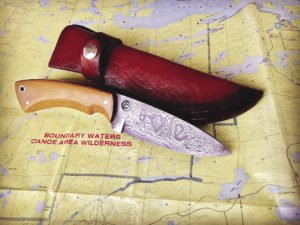 From the knife's fish-like profile to its canvas Micarta handle that matches the look of Kevlar canoes, everything about the Boundary Waters Canoe Area Pack Knife points to thoughtful, functional craft. For every knife sold, Myers is donating 30 percent of proceeds to support the organization's efforts.
"The end goal that we would love here is…a permanent withdrawal of any mining efforts within the watershed of the BWCAW, specifically sulfide-ore copper mining," says Lukas Leaf, executive director of Sportsmen for the Boundary Waters.
Chilean-owned Twin Metals is seeking the renewal of expired mineral leases and to submit a plan for a proposed sulfide-ore copper mine site within a few miles of the southwest border of the wilderness area.
The project raises concerns over surface and groundwater contamination that would threaten wildlife habitat and an industry supported by hunting, fishing and outdoor recreation, says Leaf, but he makes it clear that the organization isn't against mining absolutely.
"We're talking specifically about sulfide-ore copper mining," he said.
According to a 2016 report from the U.S. Forest Service, a review of water quality impacts from 14 operating U.S. copper sulfide mines found that all sites experienced pipeline spills or accidental releases; 13 of 14 mines' water collection and treatment systems failed to control contaminated mine seepage, and tailings spills occurred at nine operations.
"Because of the hydrology and hydrogeology of the [BWCAW], should contamination occur, it could cover a very broad region," reads the report.
The organization is working with state legislators and congress to raise awareness of the issue, said Leaf.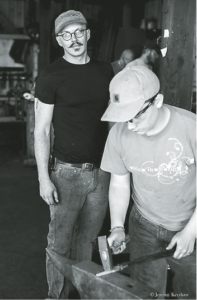 Meanwhile, Myers continues to produce commissions between trips to Grand Marais, where he instructs courses at North House Folk School. His classes have drawn students from all over the continent to learn Damascus steel blade forging, blacksmithing basics, axe forging and toolmaking.
"I feel that reconnecting to our past and the traditional craft that comes along with that connection is one of the most important missions of our time," he tells me. "The youth are growing up without that community, without that knowledge of their surroundings and the environment that was present throughout our history."
But when he's not teaching or working at his own forge, Myers escapes to the familiar place of his formative years.
"I have had the best fishing, swimming and hiking in the Boundary Waters; the most beautiful campsite and the most gourmet meals shared with some of my closest friends," he says. "I love the Boundary Waters probably more than anywhere on earth."
The first thing he packs is obvious: his knife.
To learn more, visit: wolfheartironworks.com and sportsmenfortheboundarywaters.org.