While driving on the highway one day after work, long-time friends and musicians Pat Eliasen and Mike Pratt were following a vehicle with an 'Oversize Load' banner on the back. While many people wouldn't think twice about this sight, the duo had an "a-ha" moment.
"We thought, 'let's name our band Oversize Load so we get all this free advertising along the highway,'" laughed Eliasen. "We were going to name it 'Free Beer', but no one advertises for that."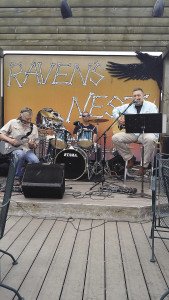 Though recently re-branded under the name MYsterious WAYs, the group includes members who have been playing together for upwards of 25 years. Originally formed in 1991, the band now consists of three long-time members: Pat Eliasen on lead vocals and guitar, Matt Bronikowski on drums, and Mike Pratt on guitar and back-up vocals. Though losing their bass player about a year and a half ago to a job relocation forced the band to transition to a new sound (and was the impetus for the name change), it wasn't too much of a challenge for the group to bounce back.
"It wasn't a bad transition because a lot of the hard rock music we played before we just play acoustically now," Eliasen said. "The new name is based on a song that Mike wrote. A lot of it is just because of all the different configurations we've gone through. We spent hours trying to come up with a new name."
The group has a definite following in Cook County and beyond. Gigs typically include stage time at Grandma Ray's, the Gun Flint Tavern in downtown Grand Marais and various locations along the Shore. They have played at spots on the Iron Range as part of their touring repertoire and have traveled as far as Kettle River for shows. Musical influences include Eddie Van Halen, AC/DC, David Lee Roth and Stevie Ray Vaughn.
"The music we play makes us unique, especially in Grand Marais. We play classic rock, hard rock and blues. We don't do much country or bluegrass," explained Eliasen. "Out in public we only play four or five original songs and the rest are covers."
Though long-standing friendships aren't always enhanced by the formation of a musical group, Pratt and Eliasen's relationship has withstood the test of time. The pair has been hanging out together since 1976 and playing guitar with each other since 1982. They had a band together in the Twin Cities and met Bronikowski at a garage jam session when they moved back up to Grand Marais.
"It's just fun. We've always had fun. Of course we don't see each other every day but we've never had a rift," said Eliasen, proudly. "We have a good time and…"
"There's good chemistry," finished Pratt. "We are like a bowling team without a lane."