A strong and vibrant regional art scene and the renewed energy of summer on Lake Superior's North Shore means opportunities galore to see art on display and in action. Establishments both large and small have unique showcases, both planned and in progress; from the Duluth Art Institute and the Thunder Bay Art Gallery, to the Cross River Heritage Center and Johnson Heritage Post. With mediums ranging from photographs to Anishinabe regalia to landscape painting, the exhibits display north-inspired works.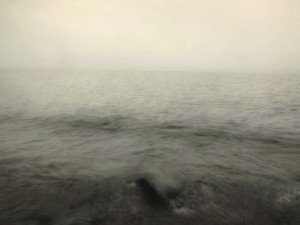 The Duluth Art Institute (DAI) is currently showcasing a series of black and white photographs as part of an exhibit in the John Steffl Gallery, entitled In & Out of Context. The exhibit, which opened on June 16, correlates to artist, photographer, writer, and community organizer Tim White's book of the same title. Both his book and the exhibit feature White's photographs, alongside the words of 21 Northland poets, songwriters, and prose artists. The book was released at the DAI last January 21.
The DAI also hosts In & Out of Context events throughout the summer: a poetry evening on Thursday, July 7, an ephemeral poetry workshop on Saturday, July 23 and a music performance by violinist Gaelynn Lea on Thursday, August 25.
On exhibit in the DAI's George Morrison Gallery are Jen Dietrich and Robb Quisling's three-dimensional installations that investigate sports as a ritual that builds connections. The work, which engages other senses such as sound and smell, can be seen through July 7.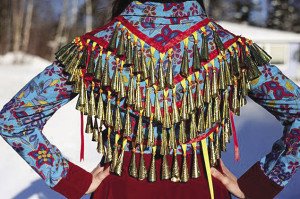 Lake Superior's grandeur and Duluth's postindustrial buildings will be the inspiration for forty artists in mid-July as part of Plein Air Duluth: Paint du Nord. The event, which is also a product of the DAI, will see the painters practicing their craft outdoors from July 10-15 in various locations around Duluth. Potential observers should keep an eye on social media for the hashtag #DuluthPleinAir16 to track down the artists at work. The exhibit will be on display at the DAI through September 9.
Lastly, the DAI and the Red Herring Lounge will showcase Duluth Street Photographer: a black-and-white photo exhibit by D.R. Martin. An opening reception will be held at the Red Herring Lounge from 5-7 p.m. on July 21, and the exhibit will be on display through August 17.
Anishinabekwe artists Celeste Pedri-Spade and Leanna Marshall blend Anishinabeg photography and traditional regalia in their The Teaching is in the Making exhibit at the Thunder Bay Art Gallery. For the artists, the photographs and regalia are important tangible markers of Anishinabe art, story, spirituality and knowledge. Through the display, the artists consider the continued presence of ancestors in their lives and use the art as a means through which to visit ancestors and listen to their stories. Their work is on display through September 24, following the opening ceremony on Thursday, July 7 at 7:30 p.m.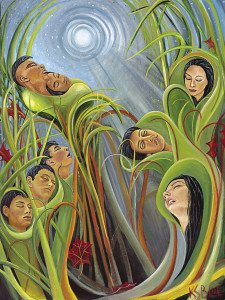 Running now through July 24 is the Karen Savage Blue exhibit at the Johnson Heritage Post Art Gallery in Grand Marais. Last year, Karen Savage Blue was awarded an Arrowhead Regional Arts Council Artist Fellowship and her work is represented in the distinguished permanent collections of the Tweed Museum of Art, North Shore Bank of Commerce, Fond du Lac Administration and Minnesota Historical Society in St. Paul. Blue has been featured on WDSE's "The PlayList" in recognition of her self-imposed challenge to create one painting every day for one year. She recently finished the project, and many of these works are on view with large-scale paintings.
The gallery is operated by the Cook County Historical Society and features revolving exhibits, as well as a permanent collection of original art by Anna Johnson, an early 1900s artist.
The Cross River Heritage Center in Schroeder maintains a goal to present exhibits that will inform and engage visitors. Their summer exhibit showcases artists Bruce Palmer, David DeGree and Thomas Spence, until July 15. The art on display in the gallery and gift shops are available for purchase.
Learning the North Shore's history is another benefit of visiting the Cross River Heritage Center. One room reflects the character of the Stickney Inn of the 1930s and another room represents a cabin designed by Edwin Lundie, a celebrated Minnesota architect.
With over 70 local and regional artists bringing work to display, the 26th annual Grand Marais Arts Festival weekend offers a big bang for a viewer's proverbial "buck." Demonstrations also serve to satisfy a curious audience during the special event held by the Grand Marais Art Colony. Taking place on July 9 from 9 a.m.-5 p.m. and July 10 from 10 a.m.-4 p.m., the festival includes awards for Best Booth and Best in Show.