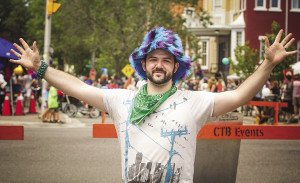 Buskers Festival
Festivities galore will occur over the span of two days, from July 23-24, at the 4th annual Valley Fresh Buskers Festival, located in the Bay and Algoma Neighborhood in Thunder Bay.
According to the dictionary, a busker is someone who entertains by singing, dancing or reciting on the street or in a public place. And with over 40 performers rotating through 10 stages outdoors, there will be no shortage of family-friendly entertainment.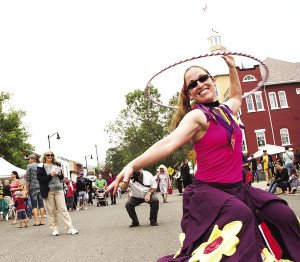 This year's festival will include street performers of all kinds, including magicians, clowns, hoola-hoopers and musicians. There will also be sidewalk sales and craft vendors, as well as a free Kid's Zone, which will include balloon animals, street chalk, face painting and bouncy castles. And what's a festival without lots of food? Enjoy the food truck alley with your favorite festival foods and fresh fruit.
The festival will also be running in conjunction with the Definitely Superior Die-Active Yart Sale, otherwise known as a yard art sale. Visit www.definitelysuperior.com for more details.
The festival will be held from 10 a.m.-5:30 p.m. both days. For more info and a full list of events, visit www.bayalgoma.com/buskers-festival.
Hovland Arts Festival
July 2-3 The 11th annual Hovland Arts Festival will feature over 25 local artists, covering everything from painting and photography to basket weaving and glass blowing. There will also be live music and food provided by Trinity Lutheran Church. The festival takes place from 10 a.m.-4 p.m. at the Hovland Town Hall. www.hovlandartsfestival.com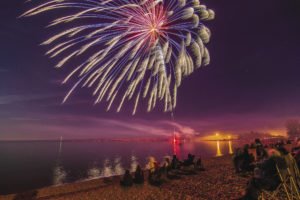 Independence Day
July 4, Monday Head to Tofte this year for a full line-up of family-friendly events, beginning at 11 a.m., including food, bingo, an arts and crafts show, minnow races, a dunk tank, beer garden, live music by Cook County's Most Wanted, and a parade at 2 p.m. There will also be a spaghetti dinner at the Zoar Lutheran Church at 5 p.m. Head to the First Congregational Church in Grand Marais at 6:30 p.m. for an ice cream social. Enjoy live music in Harbor Park by the Splinter Tones at 8 p.m. At 10 p.m., find a spot in either Grand Marais, Tofte or Grand Portage for the fireworks show. www.visitcookcounty.com
Run/Walk Races
July 4, 8, 9 Register for one of the many races occurring the month of July, beginning with the annual Tofte Trek 10k Trail Run on Monday, July 4. Registration begins at 8 a.m. and the races will be held at 9 a.m. Visit www.sugarbushtrail.org for details. Next up is the Midsummer Mudslinger Mudrun at the Kamview Nordic Centre in Thunder Bay on Friday, July 8. For more info, visit www.tbnordictrails.com. Lastly, the Bay to Bay Run and Walk is at 8:45 a.m. on Saturday, July 9, during the Bay Days Festival. Registration is at the Mary MacDonald Building in Silver Bay at 8 a.m. www.bay-days.org.
Bay Days
July 8-10 This year's Bay Days Festival in Beaver Bay and Silver Bay will include a 7 a.m. pancake breakfast on Saturday, vendors, live music, a carnival and dunk tank, and a classic car and motorcycle show at 8 a.m. on Sunday, followed by the parade at noon. www.bay-days.org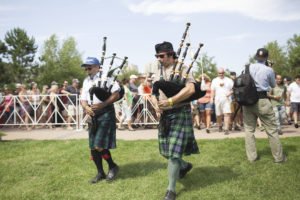 Beer Festivals
July 8-9, 23 & Aug. 12-13 Calling all beer lovers! July is full of craft beer festivals, each featuring live music, great food, activities, brewer meet-and-greets, and of course—beer! We begin with the Hopped Up Caribou Beer Festival at Lutsen Mountains, July 8-9. This year's brewers include Castle Danger, Voyageur Brewing, Gun Flint Tavern, Surly, Bent Paddle, and more. Visit www.caribouhighlands.com for more info. Next, is the 5th annual All Pints North Summer Brew Fest, hosted by the Minnesota Craft Brewers Guild, from 3-7 p.m. on Saturday, July 23 in Duluth. Tickets are $45 in advance or $55 at the gate (if available). Visit www.mncraftbrew.org for more details. And don't forget the Brew Ha Craft Beer Festival, August 12-13, at Prince Arthur's Landing in Thunder Bay. Visit www.brewhafestival.com for more info.
Thunder Bay Blues Fest
July 8-10 The 15th annual Thunder Bay Blues Festival is sure to entertain this year, with over 20 blues artists performing, including Tom Cochrane with Red Rider, Colin James, Burton Cummings, Serena Ryder, April Wine, Steve Hill, Gowan and many others. The festival will take place outside at Marina Park. Tickets can be purchased online or at the gate. www.tbayblues.ca
Lundie Vacation Home Tour
July 9, Saturday The 12th annual Lundie Vacation Home Tour provides attendees with a rare opportunity to see designs by Edwin Lundie. The tour will include six historically significant sites in the Tofte and Schroeder area, five of which reside on Lake Superior. Attendees will also enjoy the famous "Picnic on the Ledge Rock" with a beverage bar. Transportation will be provided. RSVP is required. www.crossriverheritage.org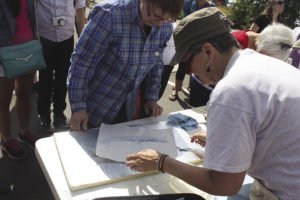 Grand Marais Arts Festival
July 9-10 Over 70 local and regional artists will show off their unique handcrafted work during the 26th annual Art Festival in downtown Grand Marais. This year's artists include Jeff Niesen, Bob Husby, Lissa Flemming, Gail Anderson, Mary Bebie, Betsy Bowen, Tim Pearson and many others. There will be food, demos, vendors, entertainment and fun. Also occurring is the Clothesline Art Sale Fundraiser at the Grand Marais Art Colony; 5×7 sale of artwork donated by talented artists in support of the Art Colony. Price is $35 each. www.grandmaraisartcolony.org
Unsalted Seas Exhibit
July 15, Friday The largest sturgeon touch tank in North America is coming to Duluth this summer as part of a new permanent exhibit at the Great Lakes Aquarium. The new exhibit, "Unsalted Seas" will open on Friday, July 15 and showcase large lakes of the world, the animals that call them home, and their importance as global freshwater resources. There will also be a large cichlid tank, a bronze sculpture of a freshwater Nerpa seal, and an interactive model research vessel based on the Large Lakes Observatory's R/V Blue Heron. www.glaquarium.org
Fort Fest
July 15-16 The Fort William Historical Park's amphitheater will rock once again during the Fort Fest community music event. Taking the stage this year will be The Cult Starship featuring Mickey Thomas, as well as Platinum Blonde, Sass Jordan, Cinderella's Tom Keifer, Helix, and more, including a variety of local talent. Gates will open at 5 p.m. on Friday and noon on Saturday. Make reservations online at www.fwhp.ca.
Bayfront Reggae & World Music Fest
July 16, Saturday Celebrate the sounds of world music at the Reggae and World Music Fest at Bayfront Park in Duluth, starting with DJ Sound of Fujun at noon. Gates will open at 11 a.m., rain or shine. Help spread the message of love, hope and equality for all people worldwide. Tickets are available online or at the gate.
www.bayfrontworldmusic.com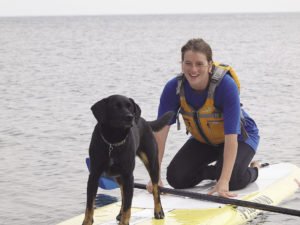 Water Festival
July 16-17 Stone Harbor Wilderness Supply in Grand Marais is hosting the North Shore Water Festival on Lake Superior. Boat and equipment demos include kayaks, canoes, paddle boards, car racks, camping gear and accessories, clothing and paddling gear. Be sure to sign up for stand up paddle board yoga classes. The festival will be held in the harbor from 9:30 a.m.-4 p.m. on Saturday, and 10:30 a.m.-3:30 p.m. on Sunday. Location may change depending on the weather. www.stoneharborws.com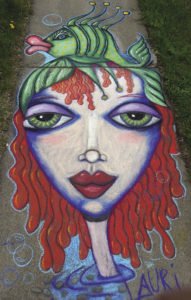 Chalk.a.Lot
July 16-17 The 5th annual Chalk.a.Lot Art Festival in Two Harbors is the only sidewalk chalk event along the North Shore. There will be free sidewalk drawing demos, make-and-take art booths, live entertainment, and food vendors. Featured artists will instruct attendees on technique. Registration is required for participating artists. The festival will take place at Thomas Owens Park in Two Harbors. In the event of rain, the festival will move to the Lake County Arena. www.facebook.com/chalk.a.lot.twoharbors.
Lake Superior Salmon Classic
July 16-17 The 16th annual Salmon Classic Fishing Tournament, hosted by the Silver Bay PTSO, will take place in the Silver Bay Marina. Prizes and raffle tickets will be available. Entry fee is $20 per person. www.silverbay-marina.com/salmon.php
Can-Am Police-Fire Games
July 16-24 Meet your fellow first-responders and put your abilities and skills to the test at the Thunder Bay Can-Am Police-Fire Games. Choose from over 30 sports and activities, featuring everything from basketball, track and field, and ice hockey, to pistol shooting, Texas Hold 'Em and a chili cook-off. These games promote the friendly rivalry that naturally exists between various law enforcement and emergency services. The games will begin with an impressive opening ceremony at Marina Park and activities will be held throughout Thunder Bay. www.thunderbaycanam.com
Gunflint Canoe Races
July 20, Wednesday The Gunflint Trail Canoe Races began in 1976 to raise money for worthy causes. This year's goal is to raise more than $20,000 to support the Gunflint Trail Volunteer Fire Department. Events include a live and silent auction, more than 100 raffle items, a kayak raffle, a food tent, kid's games, and 16 canoe races for multiple ages and agility levels. There will also be fun activities for non-racers of all ages. For more info, contact Vi Nelson at vi@vinelson.com.
Summer Theater Festival
July 21-Aug. 14 The Grand Marais Playhouse will be performing Arsenic and Old Lace by Joseph Kesserling, and The Addams Family musical. Shows will alternate each night, beginning at 7 p.m. Thursday through Saturdays, and 2 p.m. on Sundays. Tickets are $20 adults and $10 for ages 18 and under. Advance tickets are available at www.tix.com. All seating is general admission. www.arrowheadcenterforthearts.org
Jerry Seinfeld
July 22, Friday America's premier comedian, Jerry Seinfeld, will be performing his signature stand-up routine at the Duluth DECC. Seinfeld has been hailed for his uncanny ability to joke about the little things in life that audiences everywhere can relate to. The show will begin at 7 p.m. Tickets can be found online at www.decc.org.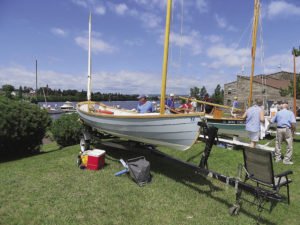 Lake Superior Classic & Custom Boat Show
Saturday, July 23 The 18th annual Boat Show will be held at Barker's Island Marina in Superior, Wisc. at 10 a.m. The show features wooden, metal and fiberglass vintage boats of all kinds—pulling boats, power boats, sailing boats, canoes, and kayaks. The public is invited to vote for the "Best of" in four boat classes, as well as "People's Choice" award for best in show. The show is free and will also feature old time fiddle and banjo music by Four Mile Portage. www.lsccbs.info
Household Hazardous Waste Collection
July 23, Saturday Safely dispose of household hazardous waste and pick up usable household products, free of charge, from 9 a.m.-1 p.m. at the Grand Marais Recycling Center. Acceptable wastes include (but not limited to) aerosols, adhesives, home and garden pesticides, fluorescent tubes, acids and bases, paints and stains, and automotive products. Types of wastes not accepted are tires, explosives, alkaline batteries, radioactive material, compressed gas, empty containers or business waste. Call (218) 387-3630 for more details.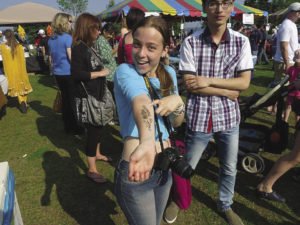 Festival of India
July 23-24 Enjoy a feast of dance, music, color and culture with the Festival of Color on Saturday, July 23 and the Festival of India on Sunday, July 24. Enjoy a free vegetarian feast, chariot parade, henna tattoos, a transcendental art exhibit, yoga, live music and dancing. Both festivals will take place from 3-8 p.m. at Marina Park in Thunder Bay. Entrance is free, but donations are welcome. www.tbayfest.com
SUNORA Regatta
July 23-30 This year is the 21st anniversary of the family-oriented low stress Lake Superior race, sailing the traditional route to Rossport and anchoring along the way. The proposed route from Thunder Bay includes possible stops in Finlay Bay, Root Bay, Irvine, Woodbine Harbour, Vein, Wickam Bay, Pleasant Harbour and Porphyry/Walkers Channel. All boats are prize contenders. www.tbyc.on.ca
Kayak Festival Races
July 29-31 The Two Harbors Kayak Festival is the oldest established kayak and racing event on Lake Superior, continuing the tradition with the 19th annual family-friendly event July 29-31. There will be three competitive races on Saturday, July 30; the John Abraham 18-mile Marathon, the Ellen Anderson 10-mile Race, and the 5-mile Betty's Pies Kayak and SUP Race. There is also kids' kayak sprint races, stand up paddle boarding, tours of the bay, kayak demos and safety clinics, live music, a brown bag auction, kayak raffle, hors d-oeuvres, and an awards ceremony. www.kayakfestival.org.
Celebrate Nipigon & Blueberry Blast
July 29-31 The Blueberry Blast will be part of a fun-filled street party celebrating everything Nipigon. This year's events includes a Paddle to the Sea Jubilee, celebrating the 50th anniversary of the film and 75th anniversary of the book, from 11- a.m.-5 p.m. on Friday, July 29. There will be activities for all ages, free cake, and the grand opening of the new Paddle to the Sea splash-pad. Also part of the festival is the Parks Canada artESCAPE: an interactive, open air art gallery featuring seven local artists, from July 30-31. Other events include live entertainment, food and music. www.nipigon.net
Blueberry Art Festival
July 29-31 The 36th Blueberry Art Festival in Ely will feature 270 artists and crafters, activities for kids, a blueberry pancake breakfast, a food court, and a beer garden. There will also be live music all weekend played by Bill Maxwell and Cowboy Angel Blue, the Everett Smithson Band, and Timmy Haus. The festival will take place at Whiteside Park from noon-7 p.m. on Friday, and start at 10 a.m. on Saturday and Sunday. www.ely.org
Fisherman's Picnic
Aug. 4-7 The 87th annual Fisherman's Picnic festival in Grand Marais includes something for everyone: bingo, live music, a dunk tank, kiddy rides, vendors, dozens of contests—including the Big Fish contest— demos, arts and crafts, the Crazy Daze Sales, and of course, the fishburger stand. And don't forget to buy a raffle ticket for a chance to win $10,000! www.facebook.com/grandmaraislionsclub