Michael Monroe's new album is a departure from his earlier, original roots. Folk Legends, which he's releasing at the Chanhassen Dinner Theatre on April 10, is a collection of folk music classics. Why the change?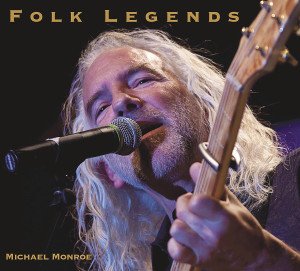 "Folk music, that's my roots," Monroe says. "I learned the guitar by playing my favorite songs."
Certainly, he's not the only one who calls these songs favorites. Tunes on the album include Simon and Garfunkel's Feelin Groovy, John Denver's Leaving on a Jet Plane, You've Got a Friendby Carole King and Gordon Lightfoot's If You Could Read My Mind.
While Monroe has recorded cover songs in the past, the impetus for this collection was the Chanhassen Dinner Theatre.
"Chanhassen does tribute shows and they asked me to do one," Monroe says. "I thought, why not do a CD as well?"
He decided to add a couple of guest artists to the project. Gordy Johnson plays string bass on a number of tunes. Adding percussion and harmonica is Noah Hoehn, who joins with Monroe on the vocals of an upbeat version of Cat Stevens' Father and Son. Interestingly, all three musicians have their own recording studios and use the same recording software. Each musician recorded in their own studio.
This CD will be available at Monroe's concerts. It will also be sold at the Birchbark Gallery in Grand Marais and www.michaelmonroemusic.com.