The art renaissance currently spreading throughout Thunder Bay is being represented in part with Gallery 33 moving to a new location down the road from Grandview Mall. Now situated in a residential area at the corner of Balsam & River Street, the art gallery, gift shop, and classroom exhibition site fills a 2,000 sq. ft. footprint. The Painted Turtle is accompanying Gallery 33 in the move.
The new location is better suited to Gallery 33's daytime hours. Kristen Wall, owner, gallery director, and manager, says, "For a business like Gallery 33 and The Painted Turtle, which are open during the daytime, it's better for us to be in this new area. We're more visible, we have parking, and we're a lot closer to all of our customers, including students and families."
All artwork on display is by local artists, with an entire wall dedicated to Lakehead Visual Artists' creations, an exclusive to Gallery 33. Founded in 1945, Lakehead Visual Artists is a Thunder Bay artist collective promoting visual arts.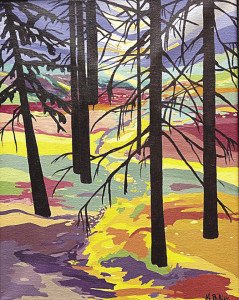 "Many of the artists who are well known in Thunder Bay have not only followed me here, but have also dedicated themselves almost completely to this location," says Wall.
Along with artwork, Wall's gift offerings include jewelry, books, and much more.
"We have a reputation for helping people find gifts, whether it's an anniversary, retirement, wedding, or graduation gift," according to Wall.
The classrooms within Gallery 33 are integral to the gallery's purpose. Wall says, "Our expanded classroom and meeting area is where we do workshops for children and other local residents who want to learn a new skill or hone those they already have."
Wall plans to offer classes on a consistent basis. "We have some oil painting classes coming up as well as getting a drawing instructor in here. Because we're on one floor, when people come in to shop, they also can see what people are creating," she says.
Gallery 33 celebrates their grand re-opening on Saturday, April 18, from 4 p.m. to 7 p.m. The gallery is providing live acoustic music by local musicians,light snacks and refreshments, and door prizes from gallery artists and companies with which Gallery 33 is affiliated.
Ruth Tye McKenzie works in many mediums including pen & ink and acrylic paints. She belongs to the Lakehead Visual Artists and is the founder of the Painted Turtle Art Shop.—Deke Burnham