Plucking their way to the Grand Marais Gun Flint Tavern in January is guitar/fiddle duo, the Yellow-Bellied Sapsuckers.
Making up half the band is Joe Hart, a guitarist and vocalist whose ties to the Northland include a youth spent in Grand Portage and teenage years attending Cook County High School. Lending her skills on the fiddle, guitar and vocals is partner Nikki Grossman. Hart and Grossman have a mutual connection to the Shore through Hart's family commercial maple sugaring operation in Grand Portage.
"We originally were trying to come up with a band name that had something to do with the good memories Nikki and I shared working in the sugar bush. When Nikki tossed out the 'Yellow-Bellied Sapsuckers', that was ultimately what stuck," said Hart.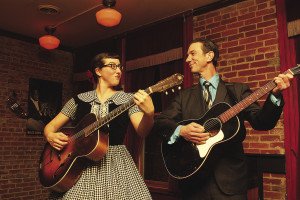 Having enjoyed individual musical success for a number of years in old-time, folk, rock and country bands, Hart and Grossman decided to combine their passions to form the Sapsuckers in 2013. The couple performs frequently, working as full-time musicians. In addition to the thrills in their musical careers, they are also expecting to add a baby band member in March.
Based in Soldiers Grove, Wisconsin, the pair performs both original songs and fiddle music inspired by the classic hillbilly, western-swing and old time fiddling traditions. Touting themselves as providing a "brand new take on old-time country," they also perform covers of songs from those same genres.
Though the music they play represents sounds from across the country, the Scandinavian flavor of their hometown region provides a strong influence on their fiddling selections.
"Our special emphasis, when it comes to fiddle tunes, is on the Scandinavian-influenced regional tunes of the upper Midwest, many of which we've picked up from old-timers in the hills around our Wisconsin home," explained Hart.
The Sapsuckers can be seen performing in a variety of venues and events, including as the dance band at square and contra dances, listening rooms and bars. Regular performers on their local community radio station's live variety show, they demonstrate an ease and lightheartedness that engages audiences.
The band has released two albums in the same number of years. Their second album, "Ocooch Mountain Home" (March 2015) has received high praise from numerous bluegrass and country music reviews, including fROOTS and Bluegrass Today.
The Sapsuckers are swinging by the Tavern on Jan. 17 for a free show as part of their "Frozen Solid" tour. The tour, which also includes stops in Eau Claire, Duluth/Superior, Finland, Ely, St. Cloud and Minneapolis, runs from Jan. 14-25.
"We know first-hand how long those winter nights can be. January nights can be awful cold. We thought it would be a nice way to warm up the winter with some country music," says Hart.
The Yellow-Bellied Sapsuckers will be joined by the new country-folk combo A Kin. To learn more about the duo, visit www.sapsuckersmusic.com.