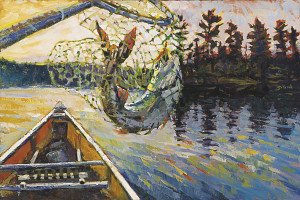 For many folks, May means fishing opener. The snow melts, ice disappears from the lakes, and the forest wakes from its winter's sleep. And while the weather tends to be unpredictable, one thing is certain; the fish are biting. This month, we bring you all things fishy.
---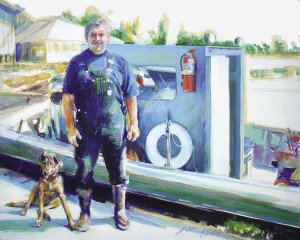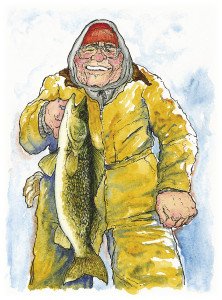 Many Cook County folks might recognize this local fisherman from Dockside Fish Market. "Harley Tofte and Cisco," was recently painted by artist Jan Attridge.
"Arvid and Walter," by printmaker Kari Vick, can be found at Sivertson Gallery in Grand Marais.
---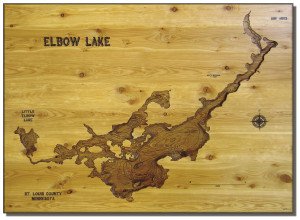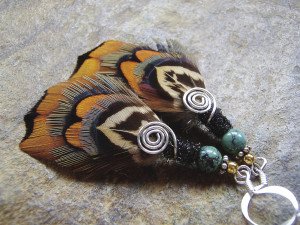 Self-taught artisan Todd Ronning of Two Harbors creates hand-routed wooden models of lake basins. Visit www.lakecarvings.com for more info.
Jessica Pearson at River Blend Studio in Two Harbors creates fly fishing earrings.
---
Art Along the Lake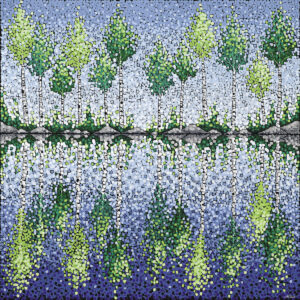 Not a fisherman? Then spend your Memorial Weekend exploring the vibrant art galleries along the shore, from Schroeder to Grand Portage, many of which will provide art demos, classes, exhibits, food and beverages, and live music. For a gallery guide or more info, check out www.visitcookcounty.com.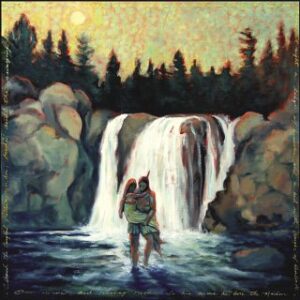 "The Music on the Lake," painted by Aaron Kloss, can be found at Sivertson Gallery in Grand Marais.
Jane Dierberger of Stillwater, MN created this painting, "Minnehaha." It can be found at Kah-Nee-Tah Gallery in Lutsen.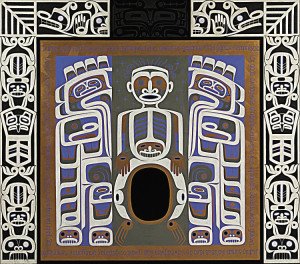 On display at the Thunder Bay Art Gallery is, "Storytellers: The Art from the Northwest," featuring artwork by Jim Johnny, Bill Reid, David Neel, Lawrence Paul Yuxweluptun, Marianne Nicolson, and others. Nicolson created this acrylic mixed media on wood, titled "A Prayer Before the House of Ghosts.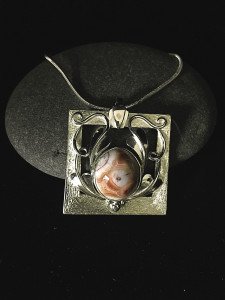 Thomsonite Beach Jewelry Shop features one-of-a-kind jewelry, each containing thomsonite found along Lake Superior beaches.
Breana's Pick of the Month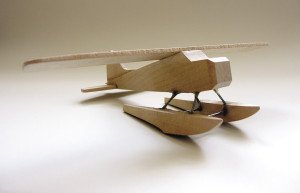 Aviation has always been a big part of my life. Many childhood memories include riding my bike around the airport while my dad worked as the FBO and mechanic. And I'd spend evenings in the restoration shop "helping" my parents turn a pile of junk parts into a beautiful, flying piece of art: a restored historic plane. As I've become older, my helpful contributions and love of airplanes have grown. When searching for the May Pick of the Month, I was excited to find this wooden plane.
This month, the Thunder Bay Art Gallery is featuring sculptural and installation work from Anishinaabe artist Frank Shebageget. Born in Upsala, Ontario, a small unincorporated community north of Thunder Bay, Shebageget's work details the past history of the region. His childhood memories include bush planes bringing children to residential schools, such as this model Beaver. This wooden plane is part of a bigger installation that features 1,692 models. The exhibit is titled "HOME | works," and is on display now until May 29. Visit www.theag.ca for more info on the Thunder Bay Art Gallery, or visit www.frankshebageget.com for more info on the artist.