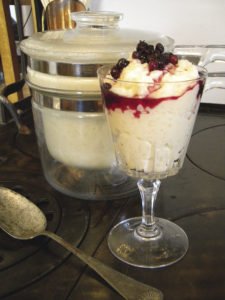 By Kathy Toivonen
Rice Pudding for Filling
1 cup uncooked short grain white rice
1 cup water (or just enough to cover the rice)
1 tablespoon salt
1 tablespoon butter
Combine above in the top pot of a double boiler. Cook over boiling water from the bottom pot until the water is absorbed by the rice in the top pot. Then add 4 cups milk and 2 teaspoons sugar.
Simmer for two hours or until all the milk is absorbed. Stir occasionally until the rice is creamy. Take off heat and then stir in 1 cup cream.
Crust
In a bowl, combine:
1½ cups warm water
2 teaspoons salt
2 tablespoons olive oil
2 cups rye flour
Mix well and then add 1½ cups white flour. Knead until smooth.
Separate the dough into 24 small balls. With a rolling pin, roll out each ball to about 6 inches in diameter on a floured surface.
Spread about 2 tablespoons of the rice filling on the dough and then fold and pinch the edges. Bake on a greased cookie sheet at 400 degrees F. for 10-12 minutes.
In a saucepan, melt and keep warm:
¼ cup butter
1 cup milk
Dip the piirakka in the mixture of butter and milk and then set aside to allow time to absorb the liquid. Makes 24 piirakkas.