The holiday season is now upon us, with more wintery weather, holiday cheer, and tasty treats. No matter what the holiday is, food always seems to be a mainstay of celebrations. Sweet treats are especially important this time of year and many are tied to long held traditions. For many of us, part of the tradition is making cookies and other baked items as a family or with friends. For others, knowing which bakery or restaurant sells the best cookies and breads makes the season a little less stressful.
My family created a new tradition over the past few years with a new cookie recipe: Lingonberry Cookies. Don't worry—you needn't be Scandinavian to enjoy these homemade morsels. They are even "award winning" as my brother won the Christmas Cookie Contest at Gustavus Adolphus College with this recipe—being a Swedish-American college, it may have helped his chances of winning by using the well-loved lingonberry preserves from Sweden. As the recipe is a favorite of mine and not your usual holiday cookie, I've included the recipe for you to try. Just be prepared that you may need to make another batch after your family and friends taste them.
If you aren't so handy in the kitchen or the holidays have you too busy to bake, you are in luck. There are also great options for purchasing locally made holiday sweets and baked goods all along the North Shore.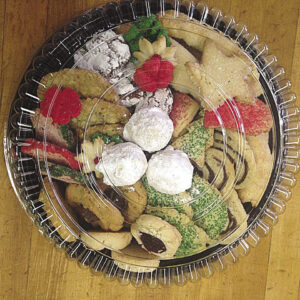 In Ely, Plum Bun Bakery offers a variety of holiday baked good specialties, drawing from traditional and ethnic inspirations. Their Christmas cookie variety box is a customer favorite, with about a dozen different types of cookies. Owner Liz Serson has found some of her recipes from her maternal grandmother's recipe collection, including her Butterhorn recipe. The Butterhorn is a delicate sour cream pastry rolled up with a walnut and meringue filling.
"In all my years of researching recipes, I've never come across a recipe quite like hers," said Serson.
In addition to cookies, Plum Bun also offers other holiday baked items. They offer two varieties of fruitcakes; one traditional and one non-traditional. The traditional recipe uses candied and dried fruits, while the new recipe uses only dried, natural fruits. Both contain a good amount of rum and brandy and are equally popular with the Bakery's customers. They also offer two ethnic specialties: Polish fruit filled breads and Finnish biscuits. The Polish fruit filled breads are another of Serson's family recipes from her grandmother. The Finnish biscuit is another family recipe, but from her paternal grandmother, and is a rich, milk-based cardamom bread, with eggs, sugar and real butter. If you are looking for something else to top off that perfect holiday meal, Serson also specializes in homemade fruit, pecan and custard-type pies made the old-fashioned way. All made from scratch, their baked goods are made with real butter, nuts, fruits and chocolate. Delicious treats for any holiday gathering or celebration.
Stop in Plum Bun Bakery or pre-order your items by calling (218) 365-2802 to ensure you'll have your holiday goodies. The Bakery is closed on Sunday-Mondays.
In Two Harbors, there is a café that is drawing on its own traditions of making homemade, delicious food and baked goods. Louise's Place in downtown Two Harbors has been serving customers for over 20 years. In 2015, a new set of owners, Marsha and Dan Snowdon, took the reins from Louise and have continued Louise's Place's traditions and recipes. During the holiday season, Marsha continues Louise's tradition of offering an assortment of Christmas cookies for sale, by order and for purchase from their display case. Their cookie assortment includes favorites like rosettes, spritzes, peanut blossoms, and more. Husband, Dan, has also been perfecting their cardamom bread recipe, perfect for that holiday brunch or for a gift.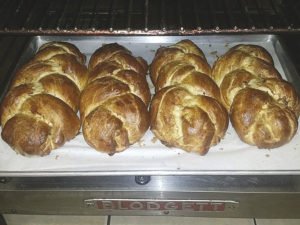 At Louise's Place, Thursdays are Pasty Day, when their homemade pasties are available for purchase. This includes Dan's homemade beef pasty recipe from his homeland of England. Homemade is the name of the game for this restaurant, from the bread and the soups, to the sweet treats. As owner Marsha shared, they like to "make people happy" with the food and treats they offer. Expect to see many happy faces on your next trip to Louise's Place. And while you are there, be sure to check out of their crafts and other items for sale.
Louise's Place is open Monday-Saturday 8 a.m.-5 p.m. Call (218) 834-2176 for your special holiday orders.
In Thunder Bay, there is a golden spot for finding an array of holiday treats: the Thunder Bay Country Market. Every Saturday and Wednesday (Wednesdays through Dec. 21) the market runs in the CLE Dove Building with over 100 vendors selling locally made, baked, and grown goods. There are multiple vendors that sell wonderful holiday baked goods, including Pie.ology, Terrie's Treats & Catering, and others. In addition, you can do some of your holiday gift shopping at the same venue, with vendors selling everything from handcrafts to jams to artwork. Don't miss the Christmas Kick-off on Saturday, Dec. 3 to get started on the holiday season.
The Thunder Bay Country Market runs Saturdays from 8 a.m.-1 p.m. and Wednesdays through December 21 from 3:30-6:30 p.m. at the CLE Dove Building.
---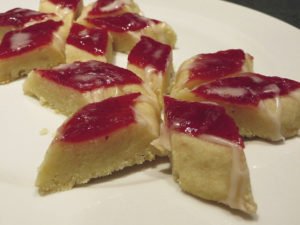 Lingonberry Cookies
By Maren Webb
1 cup butter (at room temperature)
½ cup sugar (scant)
1 teaspoon vanilla extract
2¼ cups flour
Jar of lingonberry jam (either strained through a sieve or as is)
Glaze:
Powdered sugar
Vanilla extract
Water
Preheat oven to 325 degrees F. Cream together the butter and sugar. Add in the flour and vanilla extract and combine. You may need to use your hands to get the dough to form (the warmth from your hands will help). Take the dough and divide into four equal parts. Roll each into long lengths about the length of your cookie sheet, about one inch in width. Put two lengths on each cookie sheet and flatten the rolls a little.
Bake for 12-15 minutes. If you want to use strained lingonberries, put your lingonberry jam through a fine mesh sieve while the cookies bake, using the back of a spoon to push the jam through the sieve. This will result in a more attractive final result, but using the straight jam will also taste delicious. Prepare your glaze by combining powdered sugar, a few drops of vanilla (or vanilla sugar, if you have it), and water to spreading consistency. Slowly whisk in small amounts of water, so you don't add too much.
When fully baked, remove cookie sheets from oven. Immediately (while on cookie sheet), put the lingonberries down the center of each length and spread or drizzle with glaze. Cut into diagonal pieces and enjoy!
This recipe was inspired by a recipe from Mrs. K. B. Olander, which she received from a cousin in Sweden.