The Two Harbors Ukulele Group began as the brainchild of Alan Anderson as part of a worldwide resurgence of ukulele groups.
"We started six or seven years ago in a very humble fashion. I started playing the ukulele and I knew others in town played as well. I put an ad in the paper and sixteen people showed up to play together the next week," said Anderson.
Following the impressive initial turnout from a small advertisement, the group began scheduling more regular sessions and were soon asked to play at local events. The strictly volunteer-run group now performs between 23-26 times a year. Notable performances include playing for the kids at Birch Grove Community School in Tofte, for the nuns at St. Scholastica, at Bent Paddle Brewery in Duluth and Heritage Days in Two Harbors.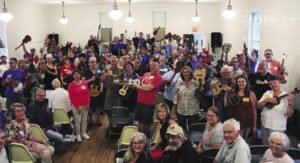 The biggest event of the year for the Two Harbors group is the free International Ukulele Carnival in the town of Silver Creek, located between Two Harbors and Beaver Bay. Last year, the carnival saw more than 105 participants hailing from nine different states and two Canadian provinces. This year, participants arriving Friday evening of the festival weekend can enjoy a jam session and dance. Saturday is jam-packed with workshops and an afternoon concert. There is a Sunday morning Ukulele Breakfast and Church Service, followed by a social and jam session before saying goodbye until next year.
Due to steady growth in recent years, this year's carnival is the inaugural event in a new facility in Silver Creek. The township is converting an old shop building into a hall that will be able to fit about 200 people for the Saturday concert. The addition of a stage and a dance floor will only add to the allure of the biggest ukulele festivals on the North Shore.
"Our sixth carnival will take place August 19–21 this year. There are no limits to the number of registrants and participants can register online. There will be music vendors and an open mic in the old facility," said Anderson. "There is also camping available on-site."
Two new events this year include a live singalong at 4:30 p.m. on Friday, August 19 and a post-concert catered meal following the Saturday afternoon concert.
The core Two Harbors Ukulele Group players enjoy the performances, but pride themselves on their virtuosity, friendship, and camaraderie. Welcoming beginners and being inclusive is important to Anderson, especially at the bi-weekly "Ukulele Saturdays" at the United Church in Two Harbors.
"We are primarily a group of grandparent-age players of all different levels of proficiency," said Anderson. "There are people who haven't had a chance to express themselves musically in a long time. It is all smiles all the time and the emphasis is on fun!"
More information about the group and the Silver Creek International Ukulele Carnival (SCIUC) can be found at www.twoharborsukulelegroup.com.