From August 26-28, Thunder Bay will transform into a locale for finger-licking ribs, live tunes, and even a car and bike/motorcycle show during Ribfest 2016. In its fifth year, this event will bring four "ribbers" from Southern Ontario to battle it out in the rib contest, providing the opportunity to try the best of Ontario ribs. While those south of the border may think Americans lay claim to the barbecue genre, Canadians have a long history with barbecue that includes dozens of rib contests across the province of Ontario. Whether you are a ribfest junkie or new to the scene, Ribfest is a great weekend to check out.
This year's cast of ribbers will include Route 55, Jack the Ribber, Ribs Royal, and Sweet Smoked BBQ from Southern Ontario. They will compete for Best Ribs and Best Sauce, while also offering delicious food for all attendees to purchase. The menu will include slow baked and grilled ribs, barbecued chicken, pulled pork sandwiches, beef brisket, and sides like coleslaw and baked beans. If you can't decide what to try, there's always the menu item called "A Vegetarian's Nightmare," with 1/3 rack ribs, 1/2 pound pulled pork, and 1/4 of a chicken. And if you hope to replicate any of this deliciousness at home, rubs and
barbecue sauces are for sale, too.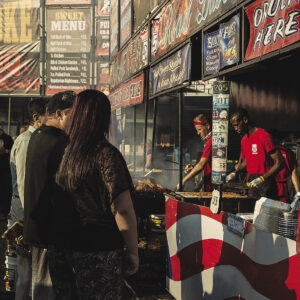 In addition to these ribbers, there will also be a local food showcase for area restaurants to highlight their best dishes. Shikha's Kitchen, Beaux Daddy's, Tastebud's Pitstop, and D'Culture Shock, all local Thunder Bay restaurants, will be serving up tasty fare at the event. From chicken kababs to jambalaya to authentic poutine, there will be a great variety of other foods to try as well as barbecue. And for the vegetarians, be sure to check out these other vendors, especially Shikha's Kitchen, for vegetarian menu items. Wondering how you'll wash down this delicious food? A beer tent is also a mainstay at Ribfest.
Ribfest is hosted in the downtown Waterfront District of Thunder Bay, a short walk from the lovely Marina Park. It will be held in the parking lot of its presenting sponsor, OLG Casino, between Park Avenue and Red River Road. Ribfest is put on by the Waterfront District BIA. This free-entry event attracts tens of thousands of attendees and is a fundraiser for the benefit of Our Kids Count, a community development program aimed at fostering the health and development of children ages six and under. So far, Ribfest has raised over $48,000 CAD for Our Kids Count, thanks to the community and visitor support. Sunday's main stage will feature family entertainment, welcoming families and children of all ages, and there will also be a children's area for the weekend. And if the weather is warm, don't forget about the nearby Marina Park splash pad, if your kiddos need to cool off.
Ribfest has become one of Thunder Bay's largest events and was recognized as a top 100 Ontario Festival. While Ribfest is known for its ribs and delicious food, it also features a great deal of music and other entertainment. Throughout the weekend there is live music on the main stage and street dances in the evening. Friday night is "Rock 94.3 FM Night" with bands like The Hoolies and The Sensational Hot Rods. Saturday night is "Country 105.3 Night" with Chris Krinkie and Straw Dawg and the Scott Skirving Band. Many more acts will be added to the schedule and available for viewing at www.ribfesttbay.com. On Red River Road, there will be the Red River Rumble Car Show. On Saturday it is the bike/motorcycle show and Sunday is the car show. To wrap-up the weekend, the Rib Contest judging and awards is held on Sunday afternoon on the main stage. Will your favorite ribber win?
Red Lion Smokehouse, one of my favorite Thunder Bay restaurants, is located right next to the action during Ribfest. This year, Red Lion will be setting up a pop-up patio like a backyard BBQ with chairs, picnic tables, and grass. Restaurant diners are invited to eat inside or outside on the patio and if Ribfest attendees purchase a drink, they are also welcome to use the patio. Red Lion will have a Muskoka Brewery Tap Takeover, with at least five of their taps featuring Muskoka beer. As the pop-up will be sponsored by Muskoka Brewery, they will be giving away prizes and swag all weekend. The patio will be open Friday and Saturday, noon-10 p.m. It will also feature live music on Friday night by the local band, Mood Indigo.
If you are looking for a place to stay for the Ribfest weekend, the Prince Arthur Waterfront Hotel and Suites is conveniently located a mere block away from the festival. It has over 100 years of history and has been updated to be a comfortable and convenient place to stay that is smoke-free and pet-friendly. It also offers complimentary parking for its guests. For more information, visit www.princearthur waterfront.com.
Ribfest has grown into a major Thunder Bay event and this year promises not to disappoint. Whether you swing by for an afternoon or stay for the full weekend, Ribfest is the place to be August 26-28. For more information about the event, visit www.ribfesttbay.com or follow on Facebook www.facebook.com/ribfesttbay.