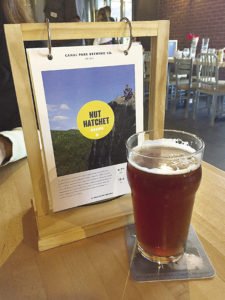 My son and I swooped through the woods in the Mission Creek mountain bike trail system near Duluth. It was the tag end of foliage season and some bright reds and oranges were just barely hanging on. Kind of like me, just barely hanging on to my kid as we finished up our 20-mile jaunt. When we got home, my wife and I quickly regrouped and headed out in the lengthening fall shadows to the Canal Park Brewing Company.
I tried the Nut Hatchet Brown. I wasn't in the mood for anything too hoppy and sharp. This brown drink fit the bill perfectly. It had a dark, amber color. It tasted sweet, but also substantial. It had a toasty effect. With a mellow mouth feel, it fit the bill as we enter the season where I'm supposed to want comfort food.
I educated myself on the IBU score of 22 for the Nut Hatchet Brown. The International Bitterness Units Scale is a measure of the acid found in hops that gives beer that sharp character. Higher numbers mean a hoppier flavor. For example, one of Canal Park's own IPAs has an IBU of 65, as you would expect with that hoppy kind of beer. But the mellow character of Nut Hatchet Brown was just what I needed as we walked out into the alarmingly early sunset that October night.