Impressive waves crashed into the rocky coast of Lake Superior as we drove along Minnesota's North Shore. High winds and cold rain are not the ideal conditions for a canoe expedition in the Boundary Waters Canoe Area Wilderness. We postponed our launch by one day, and switched entry points, but we weren't willing to cancel the trip altogether. Besides, said my dad, "We'd love to see Lake Superior in all of its fury!"
Some of my friends were a little surprised that my aging parents would be willing to camp in these less-than-ideal conditions. Dad hobbles a bit on sore feet, and Mom's flexibility disappeared with her girlish figure. Although they bear façades that look like the doting grandparents they've become, adventurous spirits still smolder inside.
At the landing on Saganaga Lake, my partner and I hauled as many of the portage packs down to the water as they'd let us. I chuckled to myself as I lifted the worn pack with a couple of frayed holes into their Kevlar canoe. The faded green canvas with leather straps has a few stories to tell.
"Back in 1971," I often tell people, "my parents did a 109-day canoe trip from Grand Portage up to northwestern Saskatchewan." That trip, undertaken more than a decade before I was born, is also the origin story for my own love of the Boundary Waters and my appetite for adventure.
When I interviewed for a summer volunteer position with wilderness rangers in the Boundary Waters, one of the questions was, "what would your parents think of you spending a summer in the woods?" "Back in 1971," began my answer.
As I planned my four-month sabbatical to Alaska; road-tripped back and forth across the country for jobs; and set off on extended backcountry trips, several mothers (other than my own) asked how my adventures make my mom feel. "Oh she probably worries a little," I tell them, "but she doesn't have much room to talk. Back in 1971…"
Inspired by the writings of Sigurd Olson, and by college biology courses at a field station on the edge of the Wilderness, Dad planned an expedition that would follow the old trade routes of the Voyageur's Highway. He'd just landed a job with the Des Moines Register, and negotiated three months of unpaid leave for his first summer with the trip in mind.
Mom had left her job when they'd moved to Des Moines, and postponed getting a new one. When I asked Mom how she ever agreed to such a trip, her smiling reply was "Oh, I was young and in love."
So, they packed blue jeans, wool sweaters, a pup tent, and a few weeks of food into three brand-new packs from Duluth Tent and Awning. With another couple and a driver, they loaded up the old station wagon with gear and two aluminum canoes, and drove north from their families' central Iowa farms. Their station wagon then went to Montana with a friend for the summer, while the two couples set off on a grand adventure to retrace the route of the Voyageurs.
Mom shudders at the memories of black flies so thick that they were stirred into oatmeal. I shake my head at her complaints about cold, wet blue jeans. Of course she was uncomfortable in those clothes. In college I learned about the saying "cotton kills," and the technical benefits of fleece. Adventure seems to require different gear these days, but somehow people survived before Gore-Tex.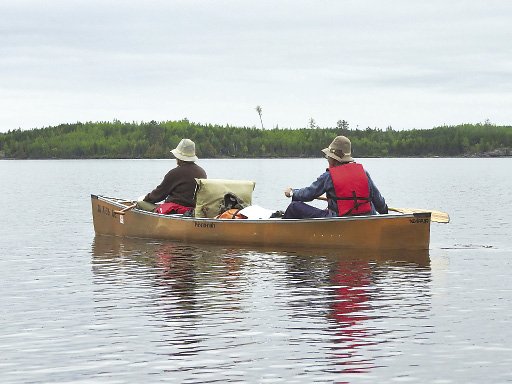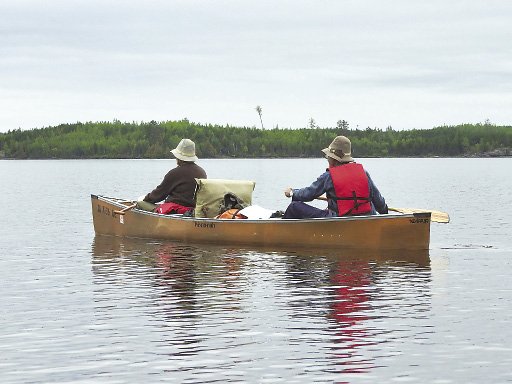 After six weeks of roughing it, the other couple lost their enthusiasm and returned to Iowa. The adventurers-who-would-become-my-parents continued north across Canada. Hudson's Bay Company trading posts became their lifeline. Pilot biscuits, peanut butter, jelly, summer sausage, cheese, and slab bacon are the staples their stories revolve around. They must have bought flour, too, because Mom made blueberry cobbler in the reflector oven. Nothing was wasted, and they carefully saved all of the bacon grease for use in flavoring their bannock.
One of my favorite stories from the trip involves that tin of bacon grease.
On Cedar Lake, north of Lake Winnipeg, they landed in a rocky inlet to take pictures of an abandoned village that had been flooded out by a dam in 1962. While walking back down from the old church, they heard some banging down by the canoe. With a yell, Dad figured it out and started running. He crested the bank just in time to see a black bear escaping. The damage was minimal, though. All the bear had time to do was bite into the bacon grease tin, which lived in the front pocket of the food pack. Two holes in the canvas were the only lasting damage from his visit. Those holes are what made me chuckle as I lifted the pack into their canoe just a few months ago.
The Hudson's Bay Company trading posts provided more than just bacon. Dad was shooting photos on slide film, and mailed film canisters home at each stop. Both of my grandmas made sure that letters were waiting at each trading post, too.
"So how did your moms feel about the trip?" I asked recently. Dad figured his mom had gotten used to his independence on the farm where he was raised. And Mom's response echoed my own. "Oh, I think she had an adventurous spirit. Grandma Keith was a teacher for 15 years before getting married, and she spent some of her summers hiking in the Sierras and traveling Europe."
Another favorite story from the trip is how it finished. With summer ending, Dad needed to return to Des Moines. So they sent a letter to their friend in Montana—the one who was babysitting their car—with the location and the approximate date they'd like to be picked up. They had no idea if the letter had even reached their friend when they paddled into the remote village of Île-à-la-Crosse. The locals directed them to a park where they could camp, and they settled in to wait. Two hours later, their station wagon rolled up the dirt road and the trip was over.
The stories live on, though. If my parents could undertake such an adventure, then surely I could, too! No matter that my mom and I can be shy and bookish; adventure isn't restricted to great athletes or daredevils. Sufficient planning, flexibility, and a willingness to cheerfully tolerate discomfort will take you far.
Our family Boundary Waters trip this year was short and simple. We endured an afternoon of cold, driving rain in order to wake up in the wilderness. The wind calmed, the sun shone, and we caught fish. Mom cooked them over the camp stove, and baked muffins in the reflector oven. We only paddled about a dozen miles, but that's ok. Adventure is a state of mind. And it's not like my parents need to prove themselves. "Back in 1971…"