"I come here today with tears in my heart," began Isanti Dak'ota Hok'api as he led the Indigenous opening ceremony at Gustavus Adolphus College's 55th Annual Nobel Conference in St. Peter, Minnesota. Our mood, which had been lifted by the beautiful music of the Gustavus Wind Orchestra, now sank in response to his words.
Lately, the sky seems to be crying, too. The sky's tears look like record rainfalls—resulting in significant floods, high water levels in Lake Superior, and the second wettest year on record in the Twin Cities.
All of this sadness flows out of our current climate crisis, and the chaos that comes from a world that is getting warmer and also getting weirder.
But you don't need me to give you the details. In the weeks surrounding the United Nations Climate Action Summit—which ended just as the Nobel Conference was beginning—there were hundreds of stories about climate change in the news. The first calculations of human-induced climate change were made in 1896, and by the late 1950s, more scientists were arguing that carbon dioxide emissions could be a problem. This is not a new issue. If you want to be informed, you probably are. Maybe, like me, you know enough to be scared, but have stopped paying attention to the details.
But the Nobel Conference—titled "Climate Changed" because Gustavus students wanted to emphasize that we're already experiencing it—wasn't really about the details. It was about seven people who think deeply about the issue, coming together to share their unique perspectives with an audience of 3,000. After a lecture or two, all of the speakers gathered on stage for a panel discussion.
Perhaps there are tears in your heart, too, and a sadness that would appreciate some wise words.
"Climate scientists are by no means the only diviners of climate change," began the first speaker, Dr. Amitav Ghosh, a social anthropologist and writer. "Farmers, fishermen, and foresters are seeing the impacts and understand them on the ground." Scientists may be doing the climate modeling but "my novelist friends are also busy speculating about the future."
Maybe you're a gardener who has dealt with the dizzying swings from drought to deluge. Maybe you're a Boundary Waters paddler who is noticing red maple trees growing surprisingly far north. Maybe you have fortified your home against the next 500 year flood. Maybe you're a writer who is trying to create a new world with words.
"But such people are generally voiceless as well as poor," continued Ghosh. "Scientists are better able to make themselves heard."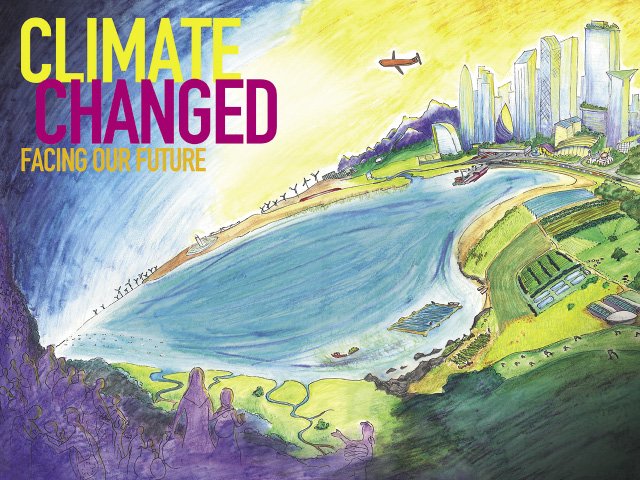 Science holds a special position, agreed Dr. Mike Hulme. After all, he (along with several other panelists) was a member of the Intergovernmental Panel on Climate Change (IPCC) that received the Nobel Peace Prize. He's also a professor of human geography—a proponent of the humanities. Science itself does not contain the answers, he warned, and science definitely does not contain the magical power to unlock political deadlock.
In fact, Professor David Keith, who spoke on climate engineering, suggested that when politicians and activists draw a direct line from science to an action, it leaves people who oppose the action with nothing to attack except the science behind it—with nothing to attack except science itself. In reality, people move from science to values to action. If the values behind a policy action were more explicit, then the argument could center on values instead of whether or not people "believe" in science.
It's hard to underestimate the necessity of science, though, as we struggle to understand the issues and the solutions. Dr. Gabby Hegerl, a statistical climatologist at the University of Edinburgh, told of how—when countries came to the Paris Agreement with commitments about their emissions reductions—the science could warn them that it was not enough.
"Do carbon dioxide molecules have moral standing?" posed Dr. Hulme. Sometimes philosophers and social scientists talk about "survival emissions" vs. "luxury emissions." The CO2 put out by an airplane evacuating hurricane survivors from the Bahamas will warm the globe just as much as the planes that once transported vacationers to that island. But is one more defensible? How do we balance social justice with environmental justice?
Even as a numbers-driven scientist, Dr. Hegerl concedes that "ours is a spiritual crisis." She explained that, "better life has come to mean possessions instead of community, family, et cetera." Dr. Ghosh agreed, and voiced a question that many of us have been contemplating for years, "How can we create a good life that is not a high consumption life?"
Finding balance is hard. Dr. Diana Liverman championed progress that's been made on the Millennium Development Goals set by the United Nations. Millions of people have risen out of poverty. But as incomes increase, fossil fuel consumption rises. As we fight hunger, and poverty, and climate change, the challenge will be to find "triple wins" that address them all at the same time.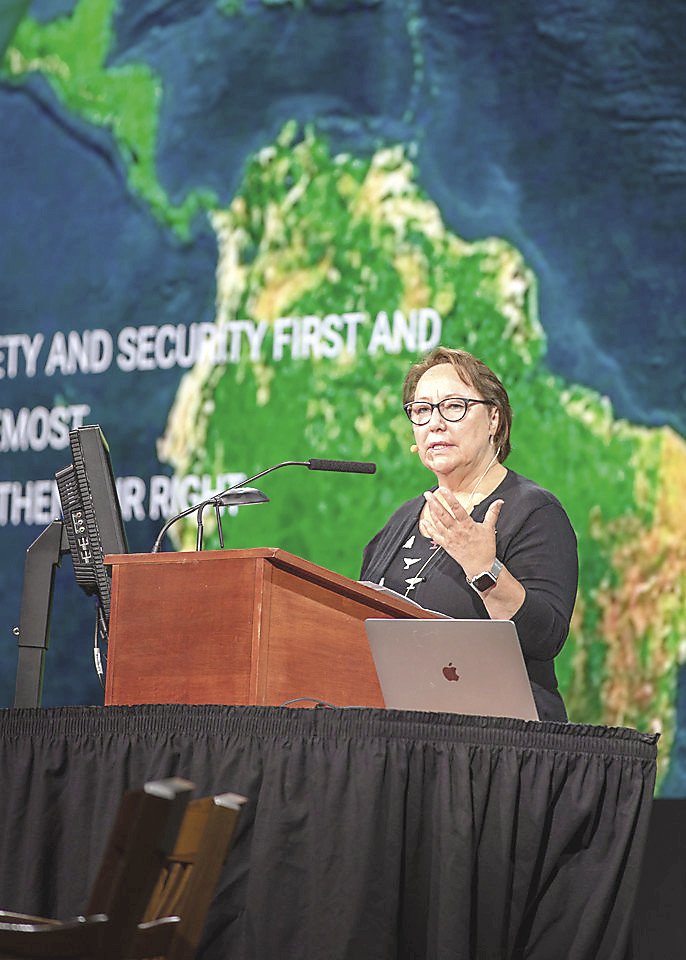 Sheila Watt-Cloutier grew up in a world where the sustainability we seek was once the norm. A Canadian Inuit activist, her memoir is titled The Right to be Cold. Born in Kuujjuaq, Nunavik, Northern Quebec, Canada, she was raised traditionally. "You can learn from those who are still living in that holistic way," she advised. "We are scientists in our own right. Indigenous knowledge is very powerful. It's not anecdotal. Otherwise we would not have survived in the harsh environments where we live!"
She warned us that "wisdom which is sourced from cold and ice and snow is now equally at risk of being lost. It's not just the polar bears. Ice is our university. It is where our youth develop their character and learn life skills—the same skills that the youth in this room will need in order to become change agents."
Watt-Cloutier has been integral in reframing the climate crisis as a human rights issue. "Human trauma and planetary trauma are one and the same." The audience rose to a standing ovation.
During the final panel discussion, the facilitators finally asked the question that many of us had been feeling more and more urgently throughout the two days. "What can we do?"
Dr. Keith almost jumped out of his seat, "Tell your politicians you want it fixed. Enough people need to make this their number one issue that governments feel they have a mandate." He worries that those endless lists of personal things we can do may just distract us from making the big changes.
But Dr. Hegerl insisted that we also have influence as consumers. "Making choices that reflect your values can influence politics as well," she reminded us. And Dr. Richard Alley, professor of geosciences at the Pennsylvania State University, added that we need to "support companies who make the transition [to a carbon-neutral society] possible."
One of the first steps, offered Watt-Cloutier, is "to imagine that we could do things differently. And then imagine not with hope and empty words, but with action."
During the final banquet, Dr. Alley—with the long-range view of a geologist—offered what I felt was perhaps the most hopeful perspective: "We've created big changes before [agriculture, industrialization, etc.] and have learned to live in a new world. We can do that again."
I still have tears in my heart for the world we are destroying. But perhaps I have a little bit of hope, too…for the new world we will create together.
To view the conference program and archived videos of lectures, visit: gustavus.edu/events/nobelconference/2019.