About the time the tin mines in Cornwall, England were playing out, rich deposits of iron and copper were discovered in the Upper Peninsula of Michigan. Out-of-work Cornish miners emigrated and were looked up to, because of their mining knowledge, by the Finnish, Swedish and Italian immigrants who also sought to work the mines. And the Cornish miners brought their pasties into the mines each day for lunch. Before long, other miners followed suit. This tradition carried on to Minnesota's Iron Range. Just about everyone brought pasties into the mines.
In Cornwall, the tradition of the pasty goes back hundreds of years; they were referenced in Chaucer's Canterbury Tales. A traditional Cornish pasty consists of beef, potatoes, rutabagas (the Cornish called them Swedes), and onions, all wrapped into a pastry shell with the tell-tale crimped edges on one side. As arsenic was a byproduct of tin mining, and the miners' hands were covered in dust, the miners used the crimped edge as a handle and ate the rest of the pie. They would discard the crimped edge. The pasty makers would monogram initials into the crusts so each person got their own pasty. Besides the convenience, these meat and vegetable pies provided enough calories to sustain the hard-working miners.
Immigrants of other ethnicities would put their own touches on them. Some say the Finns were partial to using carrots instead of rutabagas. Today, rutabagas provide that greatest area of dispute for most pasty aficionados. All the restaurants I contacted, though, use rutabagas in their basic recipe. Some will customize if you call ahead.
Pasties can be found along the North Shore from Duluth to Lutsen. All pasties featured in this article have one thing in common: the recipes have a connection to the families of or regions from which the restaurant owners had lived. They are generally old recipes to which the owners feel a personal connection. Passion for pasties runs high in these places.
At Louise's Place in downtown Two Harbors, co-owner Dan Snowdon grew up in Northern England. According to Snowdon, "pasties are a very popular item in the small bakeries that exist there. My recipe is inspired by the best pasties I ever ate in the county of Cornwall."
Snowdon uses the traditional fillings of beef, potato, rutabaga, carrots and onion. He says that his is a non-traditional, buttery, flaky crust, "for extra deliciousness." They are served with either gravy or ketchup. If you want a pasty from Louise's, though, you might want to plan ahead. They only sell them on Thursdays. If you call ahead, you can get on their "Pasty List" to ensure you don't miss out.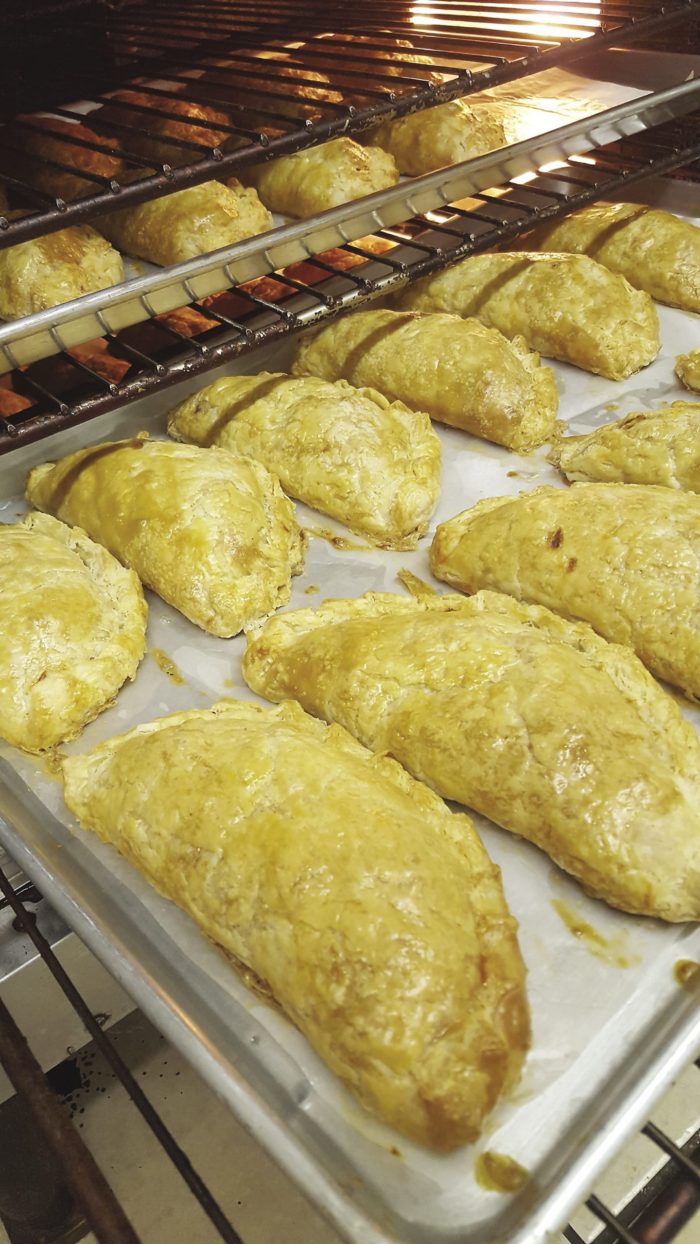 At Lockport Marketplace in Lutsen, co-owner Deb Niemisto got her recipe from her Finnish grandparents when she grew up in Gwinn, Michigan, a mining community on the Upper Peninsula. She says that when her grandparents came over from Finland, they were able to get company housing that had a lot big enough for a large garden and a couple of cows. They were able to grow the potatoes, carrots, rutabagas and onions that went into their pasties. Niemisto makes sure to use extra lean ground beef as well. Her grandmother's shell contained lard, but Niemisto has developed a flaky crust using butter. Their pasties are available daily. She will take special orders to accommodate for taste and dietary needs, such as a vegetarian or low sodium option. Please call ahead for special orders. She also has frozen and refrigerated pasties for take-out.
The Vanilla Bean, with locations in both Two Harbors and Duluth, sells an Iron Ranger Pasty. Jeff Anderson says the recipe has origins in Michigan and England. He got the recipe from his grandmother, Helen Anderson, who was born in Michigan. The recipe was brought over from England when her family emigrated. As for Anderson, he grew up in Ely, where his grandmother would make them for his family. The recipe is old school. It contains diced beef, ground pork, rutabaga, carrots, salt, pepper and butter. The pastry shell is made from Crisco, flour, ice cold water and salt. They, too, can be served with either ketchup or gravy.
The Duluth Grill has been making pasties since 2002. Tom Hanson says that while he's not a native of the Northland, he developed a taste for pasties, pronounced "paysties" by his father, during his childhood travels up North. They got their recipe from a woman in Grand Rapids who swears by using Italian sausage. She said that's how it's done in Grand Rapids. In addition to the sausage, they add rutabagas, carrots, onions, potatoes and ground beef. For their crust they use half house rendered lard from locally sourced belly fat and half butter flavored Crisco to create a pastry pie-like crust. "If it works, don't fix it," says Hanson.
Years ago, my wife Kathy and I were at a dogsled race in the Upper Peninsula. We were helping as dog handlers for a friend. The temperature was in the twenties below zero, and we were waiting at a checkpoint for the dogs to come in. Our friend was having a difficult time, and we waited for hours, until about two in the morning. That's a long time to stand around in the cold. There was a tavern near the checkpoint, and they were selling smallish homemade pasties for a dollar each. We loaded our pockets. Initially, they acted as hand warmers. After the pasties cooled, we would eat one whenever we got chilled. We were amazed at how much they warmed us. Pasties truly are a great lunch-pail meal. It's no wonder miners of all nationalities adopted them.
Those with a family affinity for pasties have brought them to the North Shore. I, for one, intend to take full advantage.