Celebrating Mother Earth
Not everyone is lucky enough to call the North Shore home. For those of us who do, we often take for granted the beauty that surrounds us every day; the forests of whispering pines that provide solitude, the exciting glimpse of a moose or bear when we least expect it, and the tranquility of Lake Superior on a calm, sunny day.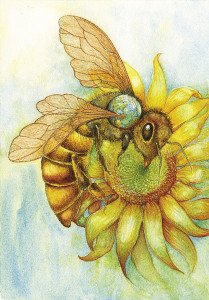 Friday, April 22 is Earth Day; a day that reminds us all to stop and think about our effect on the environment. And politics aside, one thing is clear; we need to protect this beautiful place we all call home. So in honor of Earth Day, I encourage everyone to take a moment and consider how you can make a difference. And get outdoors and enjoy Mother Nature and all her splendor.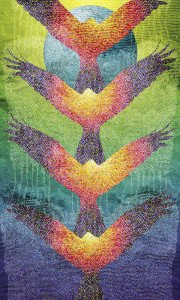 "Let it Bee," by Kari Vick, can be found at the Sivertson Gallery in Grand Marais.
Duluth artist Marian Lansky creates giclee prints, such as "Guardians of the Night," shown here. More of her work can be found at www.kenspeckleletterpress.com.
---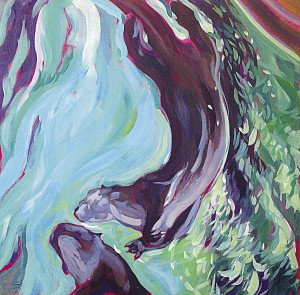 "Reaching a Conclusion," by Kat Corrigan, is one of many otter paintings recently featured at the Great Lakes Aquarium in Duluth.
---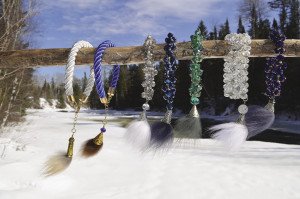 Thunder Bay's Katie Ball creates jewelry, scarves and hats using real fur. She will be holding a fashion show at Black Pirates Pub in Thunder Bay on April 2. Find more at www.silvercedarstudio.com.
---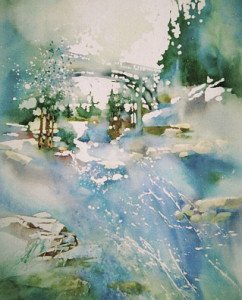 This watercolor of Gooseberry Falls was created by Marie Sweeney. It can be found at Kah-Nee-Tah Gallery in Lutsen.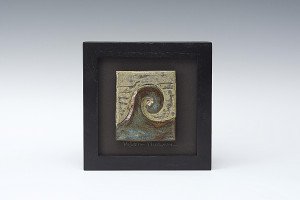 Melissa Wickwire creates unique, handcrafted ceramic tiles, such as this one.
---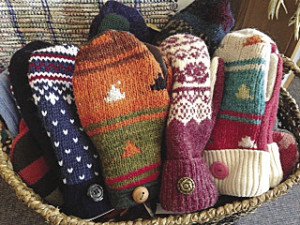 These mittens from Kah-Nee-Tah Gallery in Lutsen are locally made by Gail Englund. She uses old wool sweaters and all the proceeds are donated to Juvenile Diabetes Research.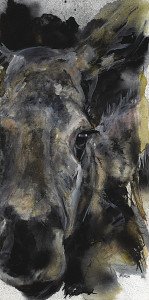 This vertical moose painting titled, "Know Me" was created by North Shore artist Tim Pearson of River Blend Studio.
This reclaimed leather purse by Betty Nash can be found at Gallery 33 in Thunder Bay.
---
Breana's Pick of the Month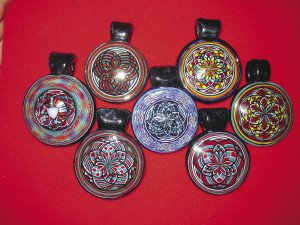 Created by 2nd generation glass blower Tom Crosby, these beautiful fillacello and reticello designed pendants take about 4-8 hours to make, with no stopping. Tom works full time as a scientific glass blower and also spends many hours perfecting his own creations, such as ornaments, pendants and vases.
Reticello is Italian meaning network of lines. Fillacello is an American term for when you fill the spaces between the lines.  All lines and patterns are drawn on a hollow tube with tiny hand pulled molten strings of glass. Eventually, the glass tube is flipped inside out, a very difficult technique, and finished as a pendant or added to another piece of glass.
Tom's artwork can be found at the Cook County Farm & Craft Market downtown Grand Marais on Saturday mornings from May-October.