My dog and I spend a lot of time in remote places where cell phone coverage is nonexistent. Most often, no one knows where we are. While I am confident in my abilities and careful to minimize risks out there, accidents can happen. Then what? I've asked myself this question.
By happenstance, I recently had an opportunity to field test a SPOT GEN4 satellite messenger. SPOT is not the only company to offer such devices, but for the purpose of this column, we'll stick with one brand. The GEN4 allows you to send an SOS message that will notify the local search-and-rescue authorities if you find yourself in an emergency situation. It also allows you to send one-way messages to friends and family to let them know you are fine, along with a GPS map showing your location. You can even use it to summon nonemergency assistance, such as a tow truck. Another device, the SPOTX, has two-way messaging capability.
The SOS works like this. The SOS button is recessed in the device and covered with a protective flap to prevent accidental messaging. When you remove the flap and press the button, it sends a dispatch with your GPS location and (pre-programmed) personal information to the GEOS International Emergency Response Coordination Center. The center then notifies the appropriate search and rescue responders. If you have pre-programmed your personal contacts, the center will notify them as well and provide updates regarding your rescue.
Since 2008, SPOT users have initiated about 7,500 rescues, including some along the North Shore and in the Boundary Waters/Quetico wilderness. Cook County sheriff Pat Eliasen says satellite messenger devices have initiated local rescues. GEOS provides rescuers not only with an accurate location, but frequently the names of people in the party as well.
While a SPOT device has obvious applications in the wilderness, it can be a lifesaver in a lot of situations. Last winter, an Ontario snowmobiler happened upon a scene where a child had a broken femur and sent an SOS with his SPOT. Rescuers were soon on the scene. The devices are frequently used by boaters, too. No doubt mine will be with me when I'm out on Lake Superior and other waters. Is your cabin or camp located outside of cell phone range? If so, SPOT could prove invaluable if you have a medical emergency.
If you only need a satellite messenger for an occasional trip into the Boundary Waters, you can rent one from a local outfitter. If you spend a lot of time in areas outside of cell coverage, they are relatively inexpensive to purchase. My GEN4 has a suggested retail price of $149. To use a SPOT device, you need to go online to activate it and select either a yearly ($11.95 per month) or monthly ($14.95 per month) service plan. Once you've activated the device and selected a plan, you can enter in your preprogrammed messages for family and friends. The device can also be set to provide GPS tracking at intervals ranging from five to 60 minutes, allowing your family and friends to follow your progress.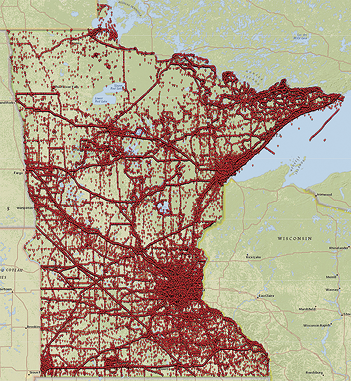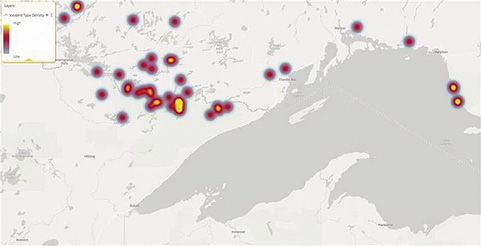 In Minnesota, SPOT has initiated about 150 rescue operations. Perhaps unsurprisingly, most were boating-related, but the list also includes medical emergencies, hiking incidents and motor vehicle accidents. The messaging and tracking aspects are popular. SPOT provided me with a heat map of Minnesota showing approximately 454,954 total uses in the last 12 months. Much of the use is along the North Shore and in the BWCAW. Another map shows SOS calls in the Lake Superior region within the last 12 months. Many are in the Boundary Waters.
Unfortunately, not every SOS call is a true emergency. Last summer, there were a couple of well-publicized incidents in the BWCAW where inexperienced wilderness users inappropriately used their device. In one instance, a group became tired during a paddling day trip from their campsite and decided they didn't want to make their way back to camp. So, they sent an SOS. As a result, numerous folks dropped what they were doing to perform an unnecessary wilderness rescue.
We have excellent search and rescue teams in the Northern Wilds, but their services should not be taken for granted. Most search and rescue units are comprised of volunteers from the local community, often coordinated through the sheriff's department. Sheriff Eliasen said rescue operations also involve his department as well as other agencies that, depending upon the location, may include state conservation officers, the U.S. Forest Service, the Border Patrol, Canadian authorities and more. Not only is this a mustering of considerable human resources, but it is expensive, too.
Presently, there is no charge for rescues in the Boundary Waters or other locations, but well-publicized non-emergencies like the ones last summer inevitably leads to calls for setting up a system to pass the costs on to the party being rescued. Such systems are in place elsewhere in the U.S. Through SPOT, you can even purchase insurance plans to pay rescue costs, including aircraft. Anyone planning to spend time in remote regions is well-advised to research whether having such coverage is necessary.
On the other hand, I'd assume most folks who are reading this are savvy enough to know when they are in a situation where pushing the SOS button is appropriate. When you get down to it, a SPOT device is something you hope to never use. But if you are ever faced with a matter of life and death, your fate may depend on it.