It takes a special sort of genius, I think, to devise innovative cocktails that delight the palate and warm the belly on a cold winter night. This genius must have a keen sense for blending flavors, the spirit of an alchemist, and an artistic flair. For this article I sought out establishments with a reputation for quality and spoke with their knowledgeable experts. They are Emily Vikre of Vikre Distillery in Duluth, Mari Skaf at The Sovereign in Thunder Bay, and Seth Johnson at Lutsen Resort.
Emily Vikre grew up in Duluth, and as the child of a Norwegian mother, holds dual citizenship. After studying biology at Carleton College, she moved out East, where she worked as a science journalist and as a museum educator. She eventually earned a Ph.D. in food policy and behavioral theory from Tufts University.
Lake Superior had a grip on her, though, and she would reacquaint herself when she visited her mother. It was at a wedding on one such visit that she met her husband Joel, who ironically was from out East. During one visit home with Joel, they were sipping whiskey at her mother's house. The conversation turned to distilling spirits, and it dawned on them that Duluth was a great place for a distillery: It had an abundance of great water and proximity to the grains used in making spirits. The idea possessed them, as they were attracted to the notion of moving back to Duluth. What followed was a couple of years of research, fundraising, acquisition of materials, and an apprenticeship on Bainbridge Island.
By 2013 they had all their license to distill and started making gin. That's when Emily's creative genius inspired them to make some very innovative spirits. Gins infused not only with juniper berries, but with spruce or cedar. They have also developed the first aquavit produced in Minnesota, vodka, and now several varieties of whiskey. Throughout it all, the North Shore has been their inspiration.
They have designed a place where people can come and enjoy some very creative cocktails as well. Before the age of covid, they had a cocktail room. Now they only operate outdoors. That will not change during the winter months, either. Tapping into the Norwegian spirit of "friluftsliv," the free-air life, they are creating their Winter Wunderbar in the back of their building. They will build fires and, as Emily says, "capture the joy that is winter."
Warming cocktails will, of course, be served. Emily has developed a line-up of winter and holiday-themed cocktails, featuring their own spirits and house-made liqueurs and syrups, to sip around their backyard fire. There is the Minnesota Martinez, which contains their spruce gin, vodka, an herb liqueur, vermouth, and a spiced ginger syrup. Also on the menu is a mizo caramel old-fashioned. Their take on a Manhattan blends whiskey, fig vermouth, and a house-made amaro. They have a variety of hot drinks for a cold winter night as well. There is the Norwegian hot chocolate. It contains geitøst (brown goat cheese), white chocolate, lingonberry, and aquavit. You can also order hot toddies and spiced hot cider. Speaking of spice, there is the Patience Young Grasshopper. In it you will find ancho chili aquavit, whiskey, mint eucalyptus syrup, and a quinine tincture.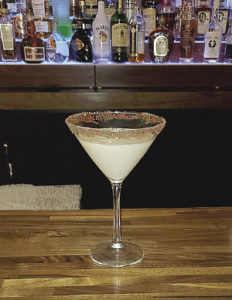 Further up the shore in Thunder Bay, The Sovereign has been serving up good food and drinks for about 10 years. Owner Scott Arnot moved back from Toronto with a desire to open a bistro pub that serves quality food. They are well known for their brunch menu. According to front of house/bar manager Marie Skaf, this winter's menu will include their famous chicken and waffles with maple bourbon syrup, egg salad sando, a Japanese finger sandwich, and their Full Sov, a traditional breakfast with in-house smoked bacon. Their dinner menu will also feature many hearty items for winter.
Their line-up of winter cocktails is out as well. It stars their Sov Nog, which is a house-made eggnog that Skaf says, "tastes like a liquid Captain Crunch." It can be served alcohol free or with Sortilege maple whiskey. Either way, it is topped with fresh grated nutmeg. They will also have their honey chili bourbon with chili-infused honey, ginger beer, and bourbon that is sure to warm their patrons on a cold winter day. Or you could try their seasonal old fashioned, where they mix maple syrup into their traditional old-fashioned syrup.
At Lutsen Resort, food and beverage supervisor Seth Johnson revealed some highlights from their new winter cocktail menu. There is Santa's Stumble, a sugar cookie themed martini with bay leaves, amaretto, and vanilla vodka. It is shaken until frothy and served in a glass rimmed with Christmas-colored sprinkles. Another soon-to-be classic is A Winter's Walk, which plays on the Moscow mule. It contains Vikre juniper gin, ginger beer, fresh lime juice, and pureed lingonberries. For hot drinks they will have a house mulled wine. This combines North Shore Winery's Boundary Waters Red with apple cider, honey, cinnamon, star anise, and cloves. Another hot option is their Comet's Coffee, Cocoa, and Cordials. One selects coffee or cocoa, then adds either Bailey's, Kahlua, RumChata, or Screwball Peanut Butter Whiskey.
So, wherever you are, there is a dedicated cocktail alchemist near you, just waiting to warm you with their wintery concoctions of spirits. Or perhaps you can take inspiration from these recipes and develop your own version of wondrous winter warmth.