As the days get longer, and the sun's warmth melts away the snow, many anglers start thinking about open water. This is only natural, as there is something invigorating about standing in moving water drifting a fly after a long, dark winter. However, the last gasp of the dark season is also a chance for the ice angler to enjoy some great fishing in splendid weather. Early April ice is generally still pretty decent in the north country of Ontario, although it always pays to be extra careful and wary, particularly near river mouths and outflows. There are very few times an ice angler can sit back and soak up some rays while fishing on the ice, but early April is one of those times.
LOCATION
The key to cashing in on last ice walleye is to understand the fish are on the move towards the spawning areas. For many lakes and reservoirs, this will be via an incoming river or creek. Walleye start staging as early as February and by late March and early April, they will be nosing into the bays where rivers run in. Some last ice anglers presume you should fish as close to the river mouth as possible. This is not always the case. I've found many staging walleye will hold well out from the mouth, cruising the bays or setting up on nearby points. They also seem to work shoreline during the late winter period, perhaps using them as a guide towards the rivers. You generally don't have to fish too deep in late winter; often you will be in 15 feet of water or even less. Generally, the late winter spots are well known and anglers will cluster on them. On clear water lakes, expect the peak bite to be the hour just before dark and for about an hour after. On some well-used lakes, the river mouths and entry bays have fishery protections on them, to keep anglers off the staging fish. Check your Ontario sport fishing regulations and make sure you are up to speed about where you want to fish.
TECHNIQUES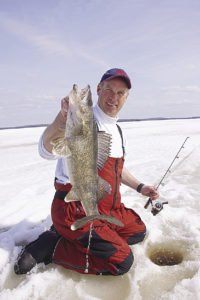 Keep it simple is the rule of the road for late ice walleye. My preference is to jig, as an active lure seems to attract the attention of lovelorn walleye. The number one presentation is a quarter-ounce jig head with a 3-inch minnow. Jig heads should be brightly coloured to get attention and I like glow heads at first and last light. Drop the jig to bottom and lift it with a subtle action. Every once and a while, let the jig and minnow suspend just a bit off bottom. Sometimes no action after some steady jigging will trigger a strike. On the flip side, a jigging spoon such as a Swedish Pimple or Northland Fire Eye Minnow can be jigged fairly aggressively with sharp snaps. The thump and flash of the spoon attracts and triggers walleye that are very active. Sometimes, adding a minnow head or tail to a spoon can be used as a "sweetener." I like bright-coloured spoons weighing a half-ounce with a little flash on them, but don't be afraid to experiment.
The other main winter walleye presentation is called a set line. This technique is done by setting a minnow or small sucker on a hook with a weight and leaving it. Some people like to use a trigger mechanism called a tip up, or they use a soft tipped jigging rod and place it on a dowel, rod holder or five-gallon bucket. The trick is to have a minnow lively enough to attract attention, but not too lively or the walleye won't catch it. With larger minnows, use a good-sized treble hook and weight so the bait is "anchored." Hook the minnow just below the dorsal fin. Larger walleye often cruise right to the minnow and look it over well before eating it. Watch the tip of your jigging rod for any signs of frantic minnow action. If you have a hit on a large minnow, let the fish run for a bit before setting the hook. This will allow the walleye to get the minnow turned in its mouth. I really encourage you to photo and release larger walleye as they are usually females and are loaded down with eggs. Fish under two pounds are better eating and are mostly males.
HOT SPOTS
Nearly any lake with walleye in northwestern Ontario will have some kind of bite going at last ice. Everyone has their favourite lake, but I'm partial to Lac des Mille Lacs, northwest of Thunder Bay. It's dark-stained water ensures a good daytime bite for walleye and the fish really start to stage in Sawmill Bay, Poplar Bay and a few other spots by the end of March. Shebandowan, a little closer to Thunder Bay, is another good late ice option, although you need to be mindful of closures at river mouths. Whitefish Lake, closer to the border, is also a popular walleye destination with several winter outfitters that can put you up in shack. Of course, there are many lakes scattered along the border that have great fishing late ice walleye fishing as well. A little investigative research will go a long way.
The last days of winter can be some of the very best of all. Get out and catch some last ice walleye before Mother Nature takes the hard water away for another year.