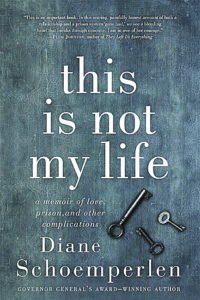 A Memoir of Love, Prison and Other Complications
By Diane Schoemperlen
HarperCollins Publishers Ltd., $24.99
What is it like to fall in love with a murderer serving a life sentence in prison? This is Not My Life is a candid memoir written by award-winning author Diane Schoemperlen—who was born, raised and educated in Thunder Bay and now lives in Kingston—about her roller-coaster six-year relationship with a convicted murderer. There's romance, love, humour, joy, laughter, anger, frustrations, heartbreak, challenges and an intimate look inside Canada's prison system, its bureaucracy and how it affects inmates and the people who love them. "Prison is both like a secret society with its own rules, written and unwritten, and a foreign country with its own culture, customs and language," writes Diane.
Woven throughout the book are Diane's reflections about the influences on her life, including growing up in Thunder Bay. It's a powerful story of a complex love relationship that consumes Diane's time and creative energy as she tries to make it work, while balancing the needs of a successful writing career.—Elle Andra-Warner