Look almost anywhere and you'll see evidence of people advocating for the "eat local" movement. Clever slogans, countless internet resources, bumper stickers and posters are just a few of the encouraging sources you might stumble across.
But why should a person choose to eat local? And how? During the month of July, Sawtooth Mountain Clinic will be focusing on those two questions, shedding some light on a simple concept that sometimes seems a little complicated.
We are fortunate to have access to a lot of great produce at our stores. So why should a shopper choose to buy local if given the option? For starters, local food is often more flavorful because it's in season. Because it's grown nearby and not shipped a long distance, the buyer can be certain produce was picked at the height of ripeness. Most locally grown food was picked within 24 hours of being sold.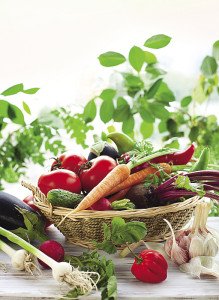 When you buy a locally grown vegetable, you know exactly what you're getting because, in most cases, you can talk to the person who grew it. If you want to know the farming practices of the tomato you're about to buy, all you have to do is ask. And, because the tomato wasn't grown 1,000 miles away, shipped in a truck and handled by countless people before getting to you, the chances of contamination are quite low. The more hoops your food has to jump through before it gets to you means more chances for the food's safety to be compromised.
Food purchased from local farmers also supports the local economy. When you hand your money to a farmer vendor, you know exactly where the dollars are going and whom they are supporting. And the farmer is not the only thing your money supports. Purchasing locally grown food supports the environment because it helps to maintain responsibly managed farms.
So, how does an interested shopper go about getting locally grown food? One way to get local food is to grow it yourself. Even a small garden can yield enough produce to keep your table full all summer. For those not gardening themselves, local markets and locally grown options at grocery stores are an excellent choice.
Cook County currently has two markets where people can shop for produce. The Cook County Farm & Craft Market fills the Senior Center parking lot every Saturday from 9 a.m.-1 p.m. The Local Food Market, located in the Community Center Parking lot every Thursday from 4-5:30 p.m. is a testament to the season's bounty with farmers selling everything from strawberries to rutabaga. Cook County Co-op also regularly offers locally grown produce, especially in the height of summer.
If you find yourself down the shore a ways, make a stop at the Finland Farmer's Market, running every Thursday from 5-6:30 p.m. under the pavilion at the Clair Nelson Center. Credit cards are accepted at this market, making transactions fast and easy.
And last but certainly not least, Two Harbors has a vibrant market every Saturday from 9 a.m. to noon. Located at the Band Shell Park, shoppers will find plenty of fresh produce for their summer meals.
More information and questions can be directed to Kristin at 387-2330 or via email at kristin@sawtootmountainclinic.org.