Some say that cooking with fire is in our DNA. It's not too far from the truth, as for thousands and thousands of years cooking over an open fire was the only way to cook your meal. Eventually, our ancestors started to build fire rings and eventually hearths, transforming the way food was cooked. Spring forward to the present day and we're embracing our roots by cooking with fire. Whether for the delicious meals it can help create or for the fun of cooking in a different way, wood-fired and grilled food can be found along the North Shore this summer.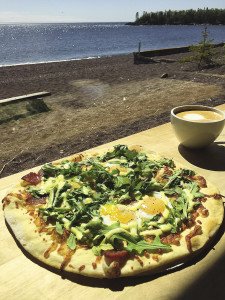 In Grand Marais, Sydney's Frozen Custard and Wood-fired Pizza is harnessing the potential of the cooking fire with its wood-fired oven, resulting in delicious pizzas, flatbreads, and new breakfast items. Nine years after Sydney's got its start, owners Bruce and Pam Block expanded their menu beyond frozen custard, Chicago dogs, and pita sandwiches by adding a wood-fired pizza oven. Already known for their delicious frozen custard, the pizza oven has helped round out their menu options, whether you are looking for a sweet treat, breakfast, or a satisfying dinner.
While Syndey's got its start in Grand Marais in 2002, the idea was first planted while the Blocks were living outside of Chicago in the late 1980s. To escape the busy city life, Pam and Bruce would drive into the country and visit the small towns along the way. Each town seemed to have its own little ice cream shop. They loved the experience and the ice cream.
"We fell in love with the idea of building our own little shop somewhere, someday. It turned out that somewhere was Grand Marais," said Bruce.
After a potential location materialized along the beautiful East Bay with views of Artists Point, their dream began to take shape and the new shop was named "Sydney's" after the newest addition to their family, their daughter Sydney.
In 2011 Sydney's wood-fired pizza oven made its first appearance, and with it a new era for the business. Their expansion into dinner has proved most successful, now being known almost as much for their pizza as for their frozen custard. The key to this success likely comes back to the oven itself and the creativity it inspires. Can't quite get that unique flavor when you make pizza at home? Wood-fired ovens, like Sydney's, exceed 850 degrees Fahrenheit for a fast bake that cannot be achieved in a home oven. Locally sourced, kiln-dried maple firewood fuels the oven and creates the all-important radiant heat. It also helps them achieve that flavorful char.
In addition to the oven, Sydney's imports flour from Italy for its crust. Their classic pizza is the Margarita Pizza, an Italian flour crust topped with tomatoes, fresh basil, and grated parmesan. "It's simple perfection," said Block. This is one of many pizza varieties that make use of top quality ingredients to achieve an excellent pizza experience. Pair your favorite pizza with one of their craft brews or a glass of wine, and find a spot on their rooftop deck for a memorable meal this summer. In 2016, Sydney's was awarded 1st place for the View category in the Northern Wilds Reader's Choice Restaurant Awards. Unsurprisingly, they also placed second in the Pizza category.
While wood-fired pizza may be found at several places along the North Shore, Sydney's is entering new territory this summer: breakfast from the pizza oven. With the Block's oldest daughter, Tara, at the helm, they have created a new breakfast menu. This new menu features wood-fired breakfast pizzas, like the Benedict Pizza, with eggs and fresh hollandaise, and wood-fired quiches. They plan to expand into other baked goods in the future. Another new creation from the wood-fired oven has been fruit tarts. We should all be excited to see what comes next out of their oven!
"We designed Sydney's to be a place for everyone to relax and come and enjoy the beauty of their surroundings, locals and tourists alike," said Bruce.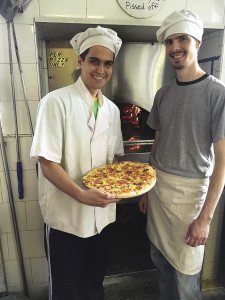 Be sure to swing by this summer to enjoy some fire cooked fare and even catch one of their many weekend musical events starring local musicians.
If you are heading north of the border, there is another spot to try wood-fired pizza. Joe and Pina Stefanile, originally from Southern Italy, serve up pizza and gnocchi to visitors passing through the border area. Pizzeria Primavera 61 is located just minutes away from the Pigeon River Border crossing (6845 Highway 61) on the Canadian side. With an oven imported from Italy and many authentic Italian ingredients, the Stefanile's aim to bring a bit of Italy to the area. "Everything we do in Italy, I do here," said owner, Pina Stefanile.
This unique venue is open seasonally from May to October for lunch and dinner starting at noon. Wednesdays they serve up their homemade gnocchi with meatballs and Thursdays through Sundays they have their full pizza menu. This casual spot is best enjoyed when you call ahead to order (807-964-1721) from their menu, available online at www.pizzeriaprimavera61.com. It is a cash-only establishment, so Americans; remember to exchange some money before you arrive. It is a take-out spot, with a tent and table set-up for those that would like to eat before they go. With fruit trees and a nice yard, it is a pleasant locale for a delicious meal.
Entering its eighth season, Pizzeria Primavera 61's menu has grown to sixteen pizza options. This year's new addition is Pizza del Mer with seafood. The ever popular Primavera 61 Special, with proscuitto, Italian ham, salami, and mushrooms, is great for the meat-lover. For the veggie-lover, try the Campagnola with fresh tomatoes, eggplant, roasted red peppers, mushrooms, black olives, and artichokes. While more Canadians currently frequent Pizzeria Primavera 61, I'd recommend that more Americans stop on by and try this authentic wood-fired pizza. Just don't forget to call ahead to order to avoid a wait.
Whether with your barbecue grill at home or while dining at one of these wood-fired oven locations, be sure to appreciate the history of cooking over fire and all the wonderful flavors it brings us this summer.