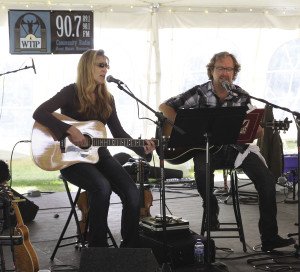 For Jim and Michele Miller, performing music is like a date night. The Hovland couple has two boys, ages 5 and 12, so they have to line up a sitter anytime they're scheduled for a gig. But that's ok with them.
"It gives us a reason to get out," Jim says.
The Millers play a mix of American roots, folk, bluegrass, country, a little blues, traditional Irish, Appalachian music and some rock 'n' roll; in short, a little bit of everything. Jim plays guitar and banjo. Michele, who Jim calls "the backbone of everything," plays guitar, fiddle, mandolin, banjo and harmonica. The couple's trademark is their tight vocal harmonies, which Jim likens to the Everly Brothers.
While they enjoy playing with other musicians, the couple often performs as a duet. Why? Because it is difficult to coordinate schedules and sitters with other family–oriented musicians. The Millers are part of the group Blueberry Jam with Andy and Amy Schmidt and Pat Flack, all of Hovland. The Schmidts also have children, so the two couples have trouble getting together to practice and play. The Millers also perform as Wild Berry Jam, with Michele's children and Flack.
Jim, the more outgoing of the two, says he enjoys meeting people in the intimate settings of many Cook County venues. He likes to engage and interact with the audience. Sometimes, Michele says, he gets "silly" and she needs to rein him in. The interplay between the couple becomes part of the show.
"Music gives you an opportunity to connect with people in a moment of time," Jim says.
Michele, on the other hand, likes the way music crosses through time. The traditional music she loves keeps getting recycled as it passes from one generation to the next. She says traditional songs often have universal themes, such as love, family and the land, which every generation holds in common. She recently returned from visiting her daughter in Northern Ireland. There, she was able to fulfill a dream: playing traditional music in an Irish pub.
If you want to hear the Miller's music, you'll have to catch a live performance. They've only recorded one song so far, but are endeavoring to do more. They've set up a bedroom "studio," but the challenge remains of finding time to record.
If you want to hear the Millers live, watch for their performances in the calendar section of this publication. If you live in Cook County, chances are they will play somewhere near you. They typically perform at Cascade Lodge, Gun Flint Tavern, Lutsen Resort, Moguls, Voyageur Brewing Co., Bluefin Grille, Hovland Town Hall, Birch Terrace, Radio Waves and Fisherman's Picnic.