Just about every community seems to have one: a festival. These events bring people together and celebrate some unique characteristic of the community. Interestingly enough, these unique characteristics often involve food. And it works. Food, fun, community, and charitable giving are the driving forces behind these festivals. Four festivals that exemplify this are the Booya Festival in Finland, Fisherman's Picnic in Grand Marais, Ribfest in Thunder Bay, and the Blueberry Festival in Nipigon.
Booya at the Booya Festival in Finland
Finland is a small community a few miles inland from Lake Superior on Highway 1. It, not surprisingly, is populated by many people of Finnish descent. Finnish people have long been drawn to community projects. Many of those projects now revolve around sustainable agriculture. Finland has embarked on a path toward economic stability by producing locally-sourced, high quality food. It is not surprising, then, that their community comes together in the fall to celebrate their harvest.
Booya is a meat and vegetable stew that is slow cooked in large vats for community celebrations. It is the perfect way for the people of Finland to celebrate their harvest. The broth is generally started the day before from beef bones and chicken. Selected vegetables are added gradually at strategic times and allowed to simmer for hours. Ingredients for the Festival's Booya has traditionally included beef, turkey, chicken, pork, onion, rutabaga, potatoes, green beans, garlic, carrots and various peppers. Fry bread is a popular accompaniment. Also for sale are hot dogs, brats, grilled corn and baked potatoes.
The festival itself began over 20 years ago by the Zion Church in Finland. It is now run by the Friends of Finland Booya Committee. In addition to the food, there are kids' games, fire department demos, and a classic car show. Proceeds from the festival go to the Claire Nelson Scholarship Fund. This year, the festival will be held on September 14 at the Claire Nelson Center, 6866 Cramer Road.
Fishburgers at Fisherman's Picnic
This year, Grand Marais will be celebrating its 90th Fisherman's Picnic. It is said the picnic began when local commercial fishermen decided to take a few days off and celebrate together. Fishermen came from as far as Isle Royale for the event. This festival now draws thousands into the lakefront community to celebrate its connection to the lakes and streams of the area. Some of the many events during this four-day celebration include fireworks, a parade, live music, the ever-popular fish tossing competition, and log rolling.
Many food vendors line Wisconsin Street, but the most popular is without a doubt the Fishburger stand, run by the Grand Marais Lion's Club, which also plans and sponsors the festival. One will often hear a very non-professional singer intoning, "They're all red-ready, and they're all red hot." Step up to the stand, always in the same location in Bear Tree Park, and you'll get a fresh, Lake Superior herring filet, caught by local commercial fishermen. The filet is breaded and fried and served on a hot dog bun. The generous filet usually extends beyond both ends of the bun. Condiments such as relish and tartar sauce are provided. At $4, it is one of the best food bargains available, but be careful, you may want more than one. Stuart Jackson, who has been running this concession for 47 years, tells customers, "If you try it and don't like it, bring it back." People never bring it back. In a given year, they run through 650 to 900 pounds of herring.
The Lion's Club donates all the proceeds from the Fisherman's Picnic to charity, annually funding projects to enhance the community, including grants to local schools, aid for individuals to purchase glasses, or assistance to people in need when tragedy strikes. The Lion's Club is in need of new members and volunteers to help run this event. This year, Fisherman's Picnic will be held from August 1-4.
Ribfest Ribs
Further up the lake shore in Thunder Bay, Ribfest also has a focus on food and charity. Held this year on August 23-25, it features a competition between three professional ribbers. Those in attendance get to vote. Originally sponsored by the Waterfront District BIA, it is now run by Our Kids Count, a charitable organization that focuses on improving the lives of children age six and under. In addition to amazing barbecue, local vendors offer such items as pulled pork, tacos, bannock burgers, and corn on the cob, to treats like ice cream and pretzels. There is also a beer garden.
In addition to the food, entertainment includes lots of live music, the Inner City Rumble Car and Motorcycle Show, a Kub Kar Rally, and a celebrity appearance by Robby Wolfe from American Pickers. The venue for the event has changed this year and will be held on the CLE grounds, 425 Northern Avenue, the same location as the Country Market.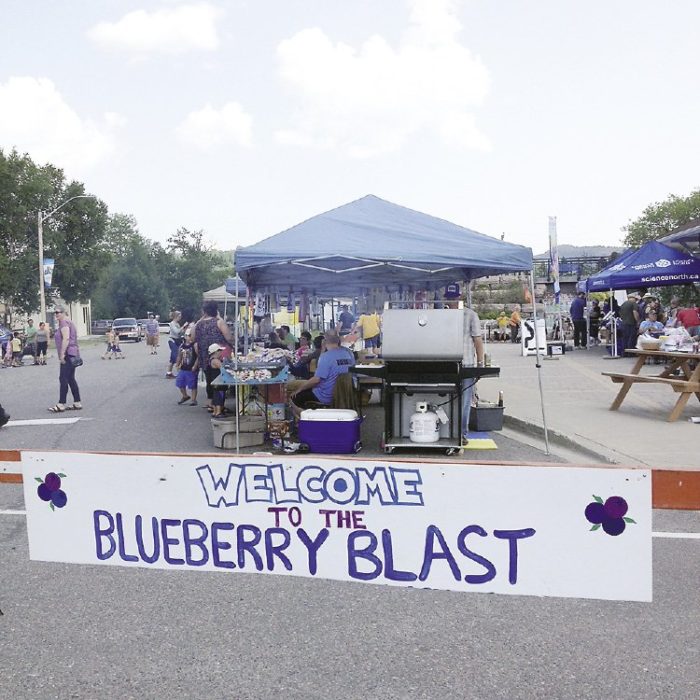 Blueberries at the Blueberry Blast Festival
Further along the shore of Lake Superior, where the majestic Nipigon River meets the big lake, the community of Nipigon is holding its annual Blueberry Blast Festival. According to CarolAnn Banning, the focus of the festival is "designed to be family focused, encouraging participation and interaction of all age groups, awareness and respect for the environment, and boosting morale through blueberry picking, entertainment, activities, food, fun, music, and dance."
Indeed, the festival features guided blueberry picking. There is also a pancake breakfast, blueberry perogies for sale, menu items containing blueberries at La Luna Café, and fresh wild blueberries for sale. There will also be food from the China Gardens Restaurant as well as hot dogs, hamburgers and smokies. The festival also features live music and a magician. This year's festival will be held on August 17-18.
Food, fun, community and money raised for charitable events. These local festivals not only bring people together around food, they work to aid and improve their communities. I feel a road trip coming on.