Not far from the winsome home which doubles as an art studio, Kari Vick proudly points to a small structure standing on her property near Lake Superior.
"I use this spot during the art crawl each year," Vick says. "But there's something else in here I wanted to show you."
That something else, it turns out, is a nest. And a bird. An Eastern phoebe, to be exact.
"She gives me a story to tell," Vick says, smiling coyly in her humble yet matter-of-fact style.
And so it goes for this illustrator, painter, writer and all-around creative spirit who has called Minnesota's North Shore her home for more than 30 years. There are stories everywhere in Vick's eyes and imagination. To find them, all one needs to do is simply be open to seeing them.
"I try to create imagery around things that happen to me in nature," Vick explains of her artistic style. "The antics of ravens frolicking in my garden. The bear that visited my apple tree. The crabby mouse I met out in a cranberry bog. I like to say they give me stories, from playful to profound."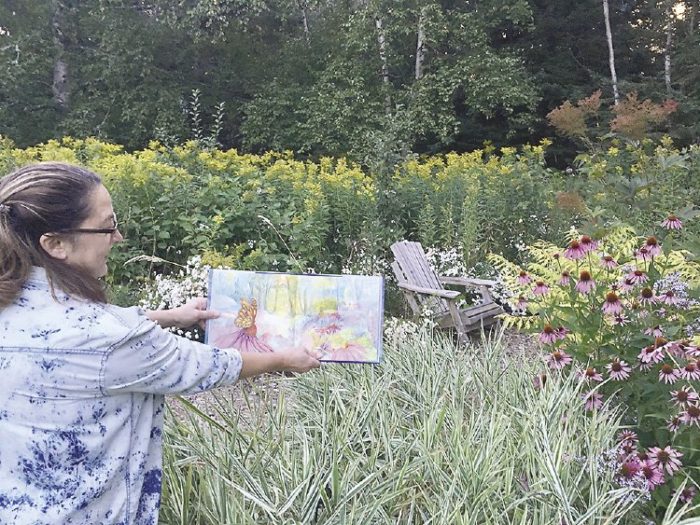 These stories have propelled Vick into an award-winning illustrator of books, including I Know You're Here, which is a story about loss. Vick teamed with author Krista Betcher for the book, a working relationship that clicked almost immediately, both artists agree.
"Working with Kari is a true collaboration," Betcher says. "She combines to my overall vision with her life experience and innate creative ability to create illustrations that are beyond my wildest imagination."
In addition to I Know You're Here, Betcher and Vick recently teamed up once again for another project titled Lead On, which is scheduled for release this fall. This children's book is about diversity, leadership and human relationships, particularly for young people. Betcher says both of the books they've partnered on showcase Vick's wide-ranging talents.
"Kari's vision for the natural world is highlighted in I Know You're Here," she says, "and her vision for the innate goodness of people shines through in every detail of Lead On. She is truly a multi-talented artist."
Kari Vick grew up in Red Wing, Minn., a small community in the southeastern part of the state nestled on the banks of the Mississippi River. Her father was an art instructor and the creative fires sparked to life early on for Vick.
"From about the age of five, I would sit with him and 'help' him grade student work," Vick says. "I've always considered myself an artist."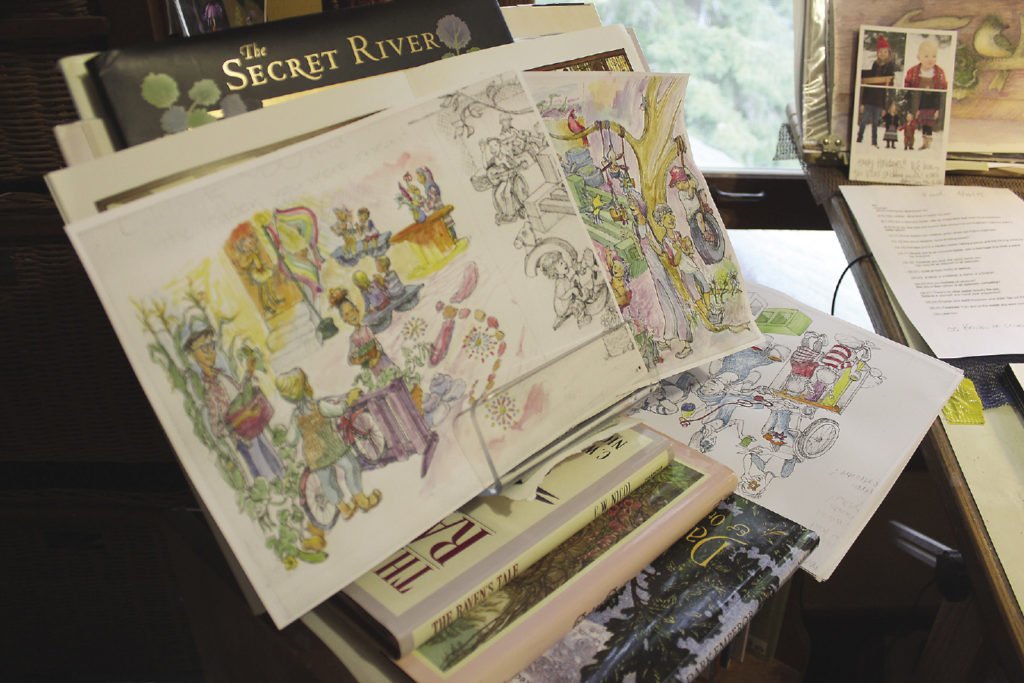 Vick worked at the Sivertson Gallery in Grand Marais for many years before opting to become a full-time artist about 10 years ago. These days, she works primarily out of a charming room in her Lutsen home that's been dedicated as a studio space for all things creative. It's here where she spends many hours drawing, painting and writing, all artistic forms in which Vick is held in high regard.
On a recent casual sunny summer afternoon, classical music (Bach's Partita in A minor) plays quietly from an old radio situated behind a stack of papers, brushes and paint in Vick's studio. Postcards collected from many of the country's national parks line the windowsills and other high spots throughout the room, a sign of travel as Vick and her husband Jim like to spend significant amounts of time each May exploring America. Portraits of people and animals share space on the walls, as do collages of endless color and varying shapes. A calendar on the studio's door is stuck on January, which happens to be one of Vick's favorite months of the year.
"I love the cold," she says without hesitation.
For Vick, Minnesota is home. And the Lake Superior region provides everything she needs for inspiration. In fact, all she has to do is step outside.
"In addition to the phoebe who took up nesting in my studio space, and the four orphaned squirrels who adopted me, my garden and the forest are constantly giving me stories," she says. "I don't really know why such things happen to me, other than that I am open to the possibilities of nature."
To learn more about Kari Vick's artwork, visit: karivick.com.