Do a quick Google search for tobacco cessation and your browser will be littered with various websites promoting any number or tobacco-themed awareness days. Cleverly named (like Kick Butts Day and Through With Chew), these set-aside days and weeks all aim to accomplish the same thing: encourage tobacco users to not be tobacco users anymore.
But, for most people, it isn't that simple. A well-coined phrase or a pamphlet might be intriguing and might even start someone down the road to cessation but, often times, people looking to quit a tobacco habit need more than what a single day or a single handout can offer.
"Most people understand that smoking is dangerous but it's still not easy. Realizing how quickly your body begins to heal as soon as you stop smoking can be a motivator," says Hartley Newell-Acero, community health specialist at Sawtooth Mountain Clinic.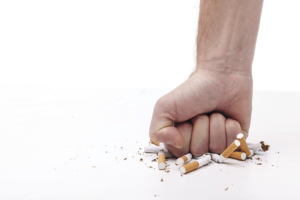 According to the Centers for Disease Control, smokers who start down the path to cessation start to see immediate benefits. Within 20 minutes, blood pressure and pulse rate decrease and within 12 hours, the blood's carbon monoxide levels normalize. 48 hours after cessation, taste and smell senses improve. Three months from a last cigarette, lung function improves and by nine months, coughing and shortness of breath have noticeably decreased. The one year mark cuts the previous smoker's risk of heart diseases in half, not to mention saved the pack-a-day smoker over $2,000.
All this information is good and fine, but like awareness days and pamphlets, facts go virtually nowhere in helping the smoker quit if there's no support behind it. "It's tough stuff, no matter what," says Newell-Acero.
That's where QUITPLAN® Services comes in. A free quit-tobacco service that has helped more than 145,000 Minnesotans in their efforts to quit, QUITPLAN® exists to help current smokers become previous smokers with "No judgments. Just help." Offering everything from a text message support service to one-on-one phone coaching sessions with trained tobacco counselors, to quit kits, including a two-week supply of gum, lozenges or patches, QUITPLAN® assists people who want to be tobacco-free be exactly that. Available to anyone who lives in Minnesota, the services are also completely free and completely confidential.
Other support services are also available. Call it Quits, a referral program operated by the Minnesota Department of Health, allows health care providers to use a single form and fax number to refer patients who use tobacco to a variety of quit-line support services. Talk to your Sawtooth Mountain Clinic provider at your next visit about your desire to quit smoking and he or she can connect you with the service best suited to your situation.
If you're interested in learning more about QUITPLAN® visit www.quitplan.com, call (888) 354-PLAN (7526) or ask to talk to a nurse at Sawtooth Mountain Clinic at (218) 387-2330. There's a million reasons to quit. Pick one and take the next step to get the support you need to make that reason work.