The North Shore Health Care Foundation (NSHCF) in Grand Marais is celebrating 23 years of helping non-profits in Cook County fund health care-related projects and initiatives. The six original board members established the foundation with the goal of boosting the health of the Cook County community as a whole and the individuals within.
The organization is currently supported by a 16-member volunteer board of directors with an impressive combination of skills from previous and current careers. Executive director Karl Hanson is part of a small paid staff working hard to make sure funds are allocated to projects that will have the most impact.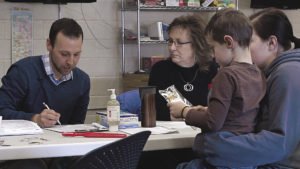 "The foundation is small compared to others; most have millions and millions of dollars. We have a $750,000 endowment that we've built up over the years," Hanson explained. "We give about $60,000 a year through quarterly grants. We try to be niche funders by coming in and buying something that is needed but isn't going to be funded any other way. Because most of our work is done through other people, we aren't always the most visible within the community."
Another one of the unique challenges of the foundation is pinning down the definition of health care in our ever-changing environment. According to Hanson, there are only about 30 eligible entities that are considered health care providers in Cook County.
"Health care is such a huge thing; it's endless. We talk a lot about health care and what it actually is," he said.
Local organizations supported by the Health Care Foundation includes the Sawtooth Mountain Clinic, Cook County Higher Education, and the Care Partners of Cook County. They also collaborate with other foundations like the Delta Dental Foundation as part of the oral health initiative.
The NSHCF's four-year-old partnership with the Oral Health Task Force has made preventative oral health available for low income Cook County youth. Through collaboration with local dentists, they have offered free screenings in the community schools, free days at the dentist, and materials for fluoride well testing for families with children.
Since 1993, the non-profit has given over $669,569 in grants to health care providers in the region. Examples of projects that have been recently funded include the purchase of a Spot Vision Screener for the Cook County Independent School District 166, a new adjustable exam table for the Sawtooth Mountain Clinic, and support for community mental health trainings through Cook County Higher Education.
Though the NSHCF is primarily focused on giving money to organizations and established entities, there is one exception for individual allocations. When an individual community member is diagnosed with cancer, they are eligible to apply for a set sum to help with costs associated to getting to see specialists in Duluth or Minneapolis. The Cook County girls' volleyball team supports that program with a fundraiser.
Annual Health Care Foundation fundraising events include a fall golf tournament sponsored by local businesses, as well as a summer barbecue. The group accepts monetary donations in the form of monthly payments and one-time gifts, as well as donations of time spent filing and helping with mailings. More information can be found at www.northshorehealthcarefoundation.org.